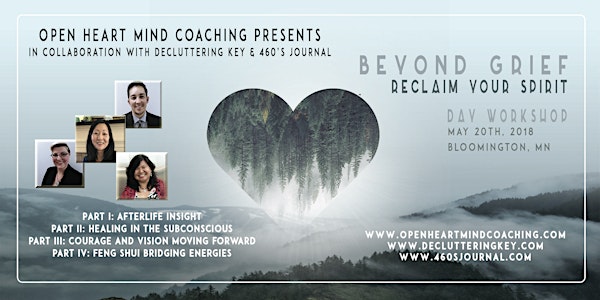 Beyond Grief - One Day Workshop
When and where
Location
RE/MAX Building 7700 France Avenue South Bloomington, MN 55435
Refund Policy
Refunds up to 30 days before event
Description
"You cannot find peace by avoiding life."
~Virginia Woolf
If you've received this invitation, chances are that you or someone you love is suffering from a major loss of a beloved friend or family member. Perhaps it was as recent as last week, or maybe the loss occurred years ago... but the pain of heartbreak, sadness, or loneliness feels as fresh as they did in the beginning. Or perhaps it's the opposite. You feel numb. Stuck. Colors aren't as vibrant. Your once clear vision of the future... now fogged up... lost in an abyss of "why does it matter?" Your home is cluttered. Your car is cluttered. Your life is cluttered. You feel... empty... just going through the motions.
JOIN US FOR A SHIFT
Beyond Grief Workshop was put together and designed to
Help you move forward

Heal your heart shattered in grief

Reclaim your power

Get back in alignment
In other words, we will help you shine the light on where you had fallen unconscious and tap into the power of your sub-conscious mind... reclaiming your Spirit.

4 Speakers, 1 Workshop.
Together, we will give you the tools to clear away the grief and unresolved emotions, breakthrough of unsupportive beliefs and patterns, and come away with new tools, strategies, and understandings to help you move forward and once again find the joy and gratitude that you deserve and deeply yearn for.
MORNING SPEAKERS (Click Names for more information)
Catherine LLeras, R.M.T. - Psychic-Medium & Spiritual Channeler | Afterlife Insight
The after-life is often a place of mystery for people. Many question its existence and this can often leave us wondering if our loved ones are safe beyond the life in which we knew them. Catherine's work often brings her in communication with the loved one's of those who seek her help to find a way to move forward... seeking insight... seeking closure. Catherine will share her experiences, her insights, and the many fascinating lessons she's been given to pass on to others in their healing journey.
Mel LLeras, C.Ht. - Subconscious Behaviorist & Bio-Energy Therapist | Healing In The Sub-conscious
Mel introduces people to their own natural ability to heal on a physical, emotional, mental, and spiritual level. He creates the bridge between their conscious and sub-conscious minds in order to awaken them to their own spiritual connections, abilities, and journeys. In this segment, he'll introduce you to your own spiritual energy by strengthening your connection between yourself, your healing environment, and those powers that are far more Divine than ours. Through this process of opening your healing channels, your own auras will likely present themselves to you and you'll KNOW that you are connected to a loving energy that simply awaits your permission to help you heal fully and completely.
Tess Vergara - Strategic Interventionist & Awakening Coach | Courage and Vision Moving Forward
Tess's mission is to alleviate spiritual depression, self-abuse, self-abandonment and related financial and relational distress that creates internal conflict and distrust in self, life, God and others. At this workshop, Tess will help you clarify your vision, and align with an empowering future that will naturally propel you to take the next steps, and move forward into realizing all the wonderful joy, success, and fullness of life that awaits you.
Su-Yoon Ko - Feng Shui Master, Elemental Jewelry Designer, Professional Organizer | Feng Shui Bridging Energies
Su-Yoon's work in the realm of bereavement is beyond therapeutic for those who seek her help. Through her practice and skill, she teaches people how to physically alter their energy spaces to clear the path for healing, for moving forward. She'll help you to recognize how your objects- or the ones inherited when you've lost someone- effect you energetically, and how letting objects go, along with crystals and stones, can help harmonize the internal and external energies in your homes and lives.

AFTERNOON BREAKOUT SESSIONS
The second half of the workshop will be focused on interactive break-out sessions where guests can work in smaller groups with each of the morning speakers. It is during this time that you'll have an opportunity to ask more questions, continue to refine your clarity, and learn how to apply everything that was shared earlier in the day.
INVITE!
Please share and invite others for a day of healing!
FAQ's
Parking Options
The building has a large free-parking lot as well as parking for bicycles and is located within walking distance of a bus-line.
Food
We will be taking breaks throughout the day as well as an hour break for lunch. There are many food options (grocery stores, restaurants, coffee shops) in the immediate vicinity.
Contact with Questions
Tess Vergara
tess@openheartmindcoaching.com
(T) 612.293.8479