About this Event
BEYOND DIVERSITY (hosted by Forefront, Ipswich Bay Advisors, Surfside Capital Advisors and The Vieras) is a unique opportunity to engage in a real dialogue on inclusion, millennials /Gen Z perspectives in the workplace and pipeline creation. Our goal is to demonstrate to participants an example of healthy, curious dialogue and to normalize conversations between young professionals and senior leaders.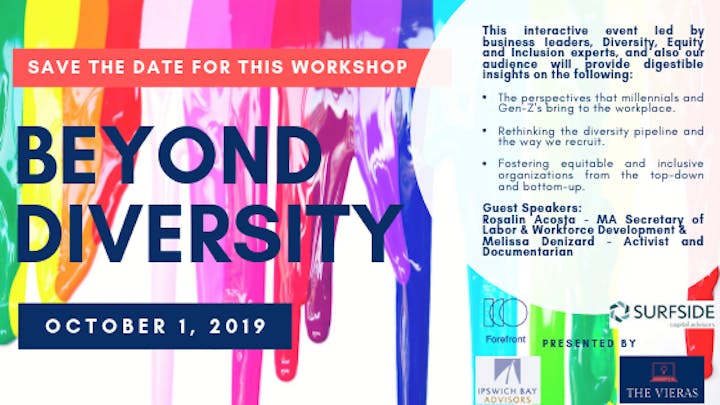 To honor Hispanic Heritage Month, please consider making a contribution to these 3 amazing Hispanic organizations: Conexion, Association of Latino Professionals for America, and Amplify LatinX.
Program:
Start time: 6 – 6:30pm (Networking)
6:30-8:00pm Speakers + Activities
Refreshments will be served.
Speakers:
Rosalin Acosta (MA Secretary of Labor & Workforce Development)
As Secretary of Labor and Workforce Development in Massachusetts, Secretary Acosta leverages her passion to make the world a better place for the next generation to ensure that workers, employers, and the unemployed have the tools and training needed to succeed in the Massachusetts economy.
Prior to joining the Baker-Polito Administration, Secretary Acosta spent over thirty years in the banking industry and is known for her ability to drive positive performance outcomes aligned with a company's mission. She has been named one of Boston's Most Influential Women from the Women of the Harvard Club, El Planeta's Top 100 Most Influential Hispanics in Massachusetts, and Get Konnected's 100 Most Influential People of Color in Boston, to name a few. Involved in many civic and community endeavors, Secretary Acosta is a recognized leader, public speaker and cultural ambassador on matters of diversity, motivating youth and Latino Leadership. The common strands that run through her life and career are leadership, mentorship, passion and success. Her work in her previous roles as Board member of The Boston Foundation, Board Overseer at Boston Children's Hospital where she was a founding member of Milagros Para Niño's, and Corporate Advisory Board member for the Boston Chapter of the Association of Latino Professionals for America (ALPFA) has touched the lives of many.
In addition to her non-profit work, Secretary Acosta was a Director and Planning Member of the Merrimack Valley Workforce Investment Board and was appointed a Northern Essex Community College Trustee by Governor Baker. Born in Cuba, she earned a Bachelor of Arts from Wesleyan University in Connecticut where she was a member of the Women's Varsity Ice Hockey Team. She is the proud mother of five children.
Melissa Denizard (Activist and Documentarian)
Melissa Denizard, a native of Haiti, is a 20 year old activist, documentarian, and senior at Babson College. As an activist, she uses her many talents, including public speaking, film, and the written word, to bring attention to the intersections of race, gender, and social class in the United States' political framework. She also uses digital media as a medium to spread her message of social justice and equity through videography and graphic design. Since high school, Melissa has been committed to social justice, particularly pro-Black liberation. She has prior experience with leading and organizing local social justice organizations and movements. Through her work with social justice and documentary filmmaking, Melissa has gained expertise in project management, film editing, event planning, fundraising, community outreach, and social media branding.
Melissa runs a blog both on YouTube and her personal website that focuses on the intersection of race, gender, and social class in pop culture and politics. In 2018, her YouTube video, Unbraid with Me: Is Hair Political? was featured on Brut Media and Refinery29. Later that year, her blog post, "Don't Tell Me to Smile: A Commentary on Harassment in the Service Industry" was adapted into a TEDx talk for TEDxTarrytown. With a concentration in entrepreneurship, Melissa is a social entrepreneur in the making. As an alumni of the Young People For Fellowship, Melissa had the opportunity to expand upon her technological social venture Voice, which is an online platform that aims to make digital organizing more equitable, efficient, and sufficient for contemporary activists. Partnered with Babson College, Melissa is also currently creating an initiative that will aim to help Flint, MI's entrepreneurs cultivate entrepreneurial skills to build wealth that will accumulate to help the city eventually emerge out of both the Flint Water Crisis and decades of poverty.
Parking: Street parking - sign up for SPOT HERO to reserve a space in advance for a better price than day of.
In honor of Latino Heritage Month, please make a donation to one of our Latino-driven organizations**