Description
APLD Bay Area PANEL DISCUSSION:
BEYOND DESIGN-ONLY:
Diversifying For a Well-Rounded Business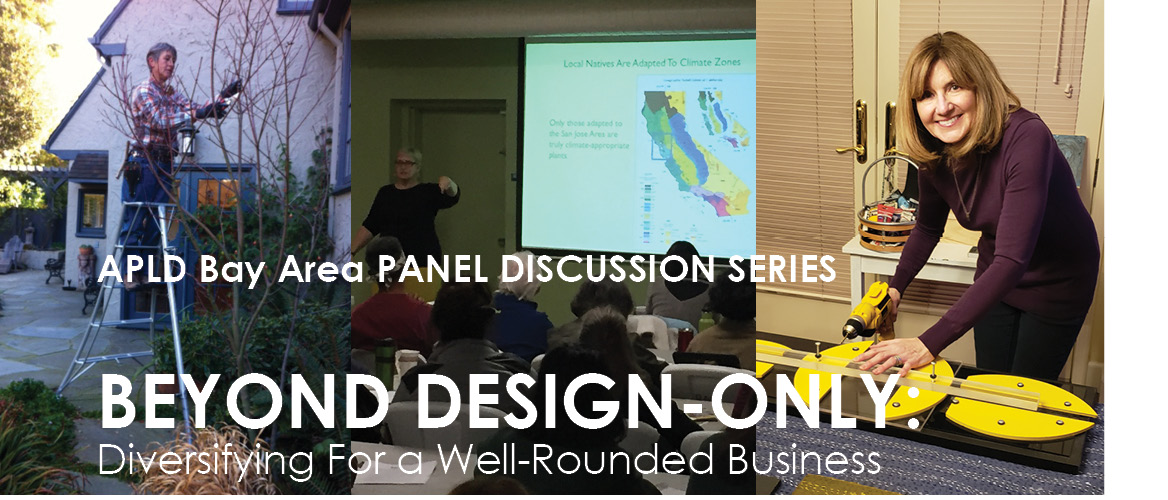 At times self-employed landscape designers can find it difficult to make a steady living doing design work exclusively, especially when first starting out. It is necessary to juggle dozens of projects a year and to be an expert time manager to keep a steady cash flow. Many have found ways to diversify their business by marketing their specialized skills to the public and other designers in order to supplement their income and stay busy all the time.
Join us for this informative panel discussion with experienced APLD landscape designers who will share their strategies for balancing their time and income between landscape design and other related services such as: aesthetic pruning, maintenance, seasonal maintenance reviews , express or on-site garden design, irrigation design & troubleshooting, nursery work, container garden design/installation, teaching/public speaking, garden writing, garden coaching, site measuring & base sheet preparation, CAD & Sketchup services, water budgeting & MWELO calculations, lighting and water feature design, garden photography and more!
APLD CEUs = 1.0
More details to come.