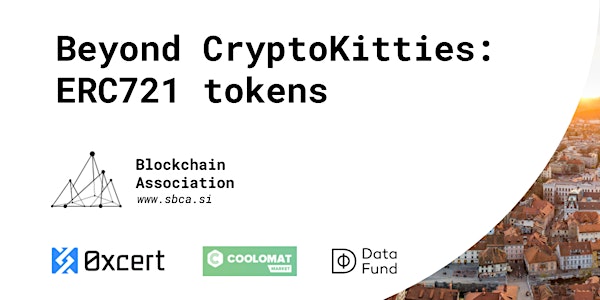 Beyond CryptoKitties: ERC721 tokens
Event Information
Location
Sputnik
128 Tržaška cesta
1000 Ljubljana
Slovenia
Description
How to tokenize real-world assets? Let's discuss the future of NFTs and their use cases with William Entriken, the founding father of ERC721 and with local experts.
Blockchain Association is presenting Non-fungible tokens event in the cooperation with 0xcert, on a monthly educational gathering.
3 - 2 - 1 - Launching the Sputnik rocket!
18.15 Opening remarks
18.20 Keynote speech: ERC721
William Entriken
William Entriken is the creator of the ERC721 non-fungible token standard on the Ethereum blockchain. He is known on the web as @fulldecent, on of the more important figures in the Ethereum landscape. William will discuss the road that lead to ERC721, its importance and future potential.
18.40 Creating an open protocol for non-fungible tokens
Kristijan Sedlak & Jure Zih (0xcert)
0xcert is an open source protocol for certified non-fungible tokens. It is used for storing proof of a unique digital asset, in order to validate the existence, authenticity and ownership of unique digital asset. The protocol functions as a modular and pluggable solution; also powers an advanced integration layer for various dapps and relay applications.

19.00 I, Token
Franci Zidar (Institute Danes je nov dan)
Ever since its inception, blockchain has carried a promise of decentralised and self governed systems capable of improving, and in some cases replacing existing models of social and financial interactions. While the hype and general blockchain awareness are fast increasing, the real world impacts are still somewhat elusive. It feels like there are some missing pieces to this complex puzzle, and NFT might just be one of them.
Participate in the blockchain experiment: http://x.co/volitve
19.20 Break
19.35 Using NFTs in the global groceries marketplace
Damir Srpčič (

Coolomat

Market)

Coolomat Market will change the online e-commerce grocery sector with an innovative approach connecting customers and producers, big and small, over a new innovative online platform utilizing blockchain technology and open source software. A big "game changer" is the connection to physical click & collect pick up point devices – Coolomats.



19.55 GDPR on the blockchain
Mitja Pirc (

Datafund)



Personal data is the most important raw material in the information society, which organizations collect today. But is this information always collected in a legal way? What are the possibilities of abuse? Are we aware of them and what can we do?
We will reveal how the new EU Data Protection Regulations (GDPR) combined with the appropriate use of decentralized technology can radically change the relationship between individuals and organizations, and how can we take advantage of this change in mutual benefit.



20:15 Round table: The future of non-fungible tokens
William Entriken, Kristijan Sedlak, Mitja Pirc
20.30 Gathering
After the official program, we will meet each other in person and discuss future opportunities. The cost of catering is covered by the donation of event sponsors.
--------
The event is of a social and informative nature, intended for gathering between cryptoenthusiasts, members of the Blockchain Association and partner organizations, in order to connect, foster knowledge exchange and educate about blockchain technology, its impact and examples.
We are looking forward to your participation and to collective progress of the development of the Slovenian blockchain ecosystem.

Welcome!
Date and time
Location
Sputnik
128 Tržaška cesta
1000 Ljubljana
Slovenia