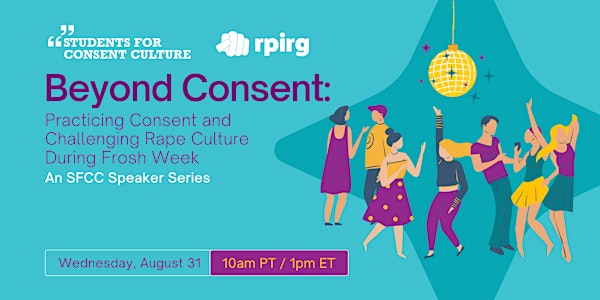 Beyond Consent: Consent and Challenging Rape Culture During Frosh Week
Join us for our next event on August 31 at 1pm ET - focusing on back-to-school.
About this event
Join us for the next installment of SFCC's Speaker Series "Beyond Consent"!
Each month, this series hosts grassroots activists and allies in the anti-violence movements in order to train, educate, and inspire a new generation of leaders, communities, and organizations in the fight to end violence.
On August 31 at 1pm ET, we will focus on back-to-school in relation to practicing consent and challenging rape culture during frosh week. The first half of Fall semester has been deemed as the "Red Zone", with having more than half of known sexual assaults occurring during this time. Red Zone coincides with the countless parties and "rush" events held by Greek sororities and fraternities. Building and practicing consent culture during this time is crucial, as it challenges rape culture in a time that has traditionally normalized and accepted this dangerous culture. Stay tuned to our socials for speaker announcements!