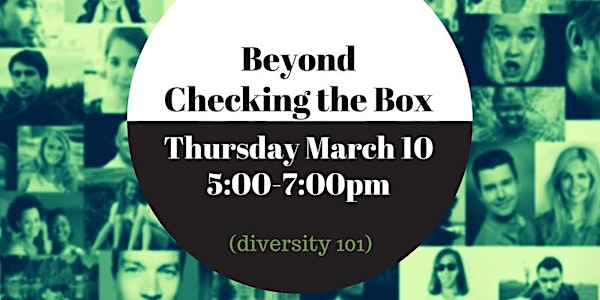 Beyond Checking the Box: Exploring Cultural Competence (Diversity 101)
Description

BOARDS WITH BRAINS is SVP's open-to-all nonprofit governance education series. Join us for our 2016 trainings, like this one: Nonprofit Boards know "diversity" and "inclusion" matter…but often struggle to push beyond the buzzwords and move their organizations into action. In this session, participants will dig in to and gain an understanding of cultural competence. With this understanding, they'll better be able to identify and take steps to address dynamics of privilege and power in their own organizations
About this Session:
The goal of this session is to expand the conversation about working with and in service of diverse communities. Participants will review fundamental concepts relating to diversity and inclusion, and explore the "-isms" we face (racism, sexism, classism, etc.), and how various forms of privilege and bias can contribute to the powers of oppression. Unpacking these and discussing various forms of bias will help enable participants to identify areas for action to take back and address within their own organizations. Outcomes for the session include:
A heightened awareness of how their personal biases may appear when working with diverse clientele within the nonprofit sector of Boulder County

Form an action plan to take to their respective organizations which will focus on creating a more culturally competent and inclusive environment
About our Presenter:
TBD
About the BOARDS WITH BRAINS series:
SVP Boulder County believes strong nonprofits deliver better results. For our nonprofits to be wildly successful, we believe strong leaders – both staff and board – help create adept organizations. Our BOARDS WITH BRAINS professional development series was designed with that in mind. We've got a variety of nonprofit leadership topics, as well as 'tracks' and levels to help attendees identify which sessions suit them best.
Our per-session fee is a below-market $40. Individuals or organizations can purchase a transferable, 8-punch pass (giving you a $10 discount on each ticket), and, each session also includes a limited number of scholarship slots (just ask).
Please note, SVP closes registration two days prior to each session and all attendees are asked to register in advance. Day-of drop in participants will be expected to pay on site with a credit card (please note, scholarship and 8-pack pricing is not valid for drop-in attendees), and should understand there may not be sufficient quantities of session handouts and materials available for them.
Find the full roster of classes in our 2016 BOARDS WITH BRAINS series on this page of our website.
Organizer of Beyond Checking the Box: Exploring Cultural Competence (Diversity 101)
Social Venture Partners envisions a more vibrant and thriving Boulder County community for all. We harness the collective power of nonprofits and philanthropic changemakers to accelerate community impact through programs that build connections and relationships, educate, build leadership, and improve business practices.