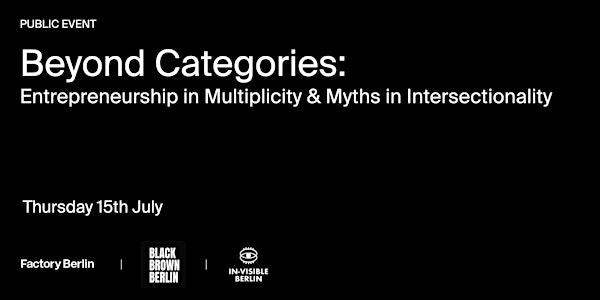 Beyond Categories: Entrepreneurship in Multiplicity & Myths in Intersection
Our culture is pushing back against labels and binaries, but boxed categories still persist.
When and where
Location
Factory Berlin Görlitzer Park Lohmühlenstraße 65 12435 Berlin Germany
About this event
Our culture is pushing back against labels and binaries, but boxed categories still persist: are you a 'founder', 'organizer', 'in-tech', 'social entrepreneur' or 'other'? Industry standards' are lacking in their ability to encompass the hybrid narratives of who we are as people with purpose. The stereotypes (re)produced around people and their businesses as singularly aimed entities harm the organization's culture on every level and seeps out into the mainstream- reinforcing misconceptions and myths.
To deconstruct and discuss this, Rea Eldem of IN-VISIBLE and Rhea Ramjohn of Black Brown Berlin host a panel of intersectional activators, Yolanda Rother of The Impact Company, Sanaz Azimipour of MigLoom e.V., and Nuwella D. Bruch of Ó WATER who are breaking the moulds and the mythology behind being 'founders', 'social entrepreneurs' and 'community organizers'. To unbox all of this and cross over the categories in our community, join us for an evening of reconnecting and open-ended mingling with drinks in Factory Görlitzer Park's courtyard.
Agenda:
- Opening keynote by Rhea on Intersectionality- definitions and practice
- Opening discussion led by Rea on problematic definitions of social entrepreneurship and the pressure of choosing categories
- Panel discussion
- Q&A from audience
- Wrap Up and Networking
Speaker & Moderator bio:
Rea Eldem
Rea Eldem is an entrepreneur and gender equity advisor with start-ups and corporates who aims at fighting sexism at the workplace. As the founder of IN-VISIBLE BERLIN, Rea practices Design Thinking as a mind-set for transformation and facilitates workshops and trainings with her team to support teams in their (un-)learning journey. She guides strategic approaches for companies that aim for structural change with regards to diversity, equity and inclusion. Rea also holds several lecturer positions at various universities such as the HPI and the Berlin School of Economics and is the co-captain of Factory Berlin's Womxn's Circle.
Rhea Ramjohn
Rhea Ramjohn is a Trinbagonian writer, producer & presenter representing ancestral codes via vernacular poetics. As co-founder of Black Brown Berlin and Factory's LIP Circle, her work centers BIPOC empowerment, equitable and inclusive initiatives, and the amplification of marginalized expressions, most evident in her short film Live chile! commissioned by Germany's Haus der Kulturen der Welt. She is the creator and executive producer of Tanti Table and hosts the science podcast Hormonal. With foundations in African Diaspora and Cultural Studies, community service and education sectors, Rhea has more than two decades of pedagogy, literary, and performance experience between the Americas and Europe.
Panelists
Yolanda Rother of The Impact Company:
Yolanda Rother is a conference curator, community activator, speaker and moderator, and has worked internationally to tackle issues on open government, diversity, urban development and decolonization. She is the Co-Founder of "The Impact Company", a diversity inclusion business and leads Europe projects at Stiftung Zukunft Berlin.
Sanaz Azimipour of MigLoom e. V.
Sanaz Azimipour is a Berlin-based activist, community organizer, and researcher. She studied mathematics, economics, and gender studies and works in the field of intersectionality and social justice in the context of migrants and refugees. In 2020 she co-founded MigLoom Organisation. MigLoom is non-profit migrant self-organization that aims to support and empower the self-determined political participation of first-generation migrants and fight against racism, migrantophobia, and unequal power structure toward migrants and refugees.
Nuwella D. Bruch of Ó WATER
Nuwella D. Bruch is the founder & CEO of Ó WATER and passionate about holistic health and vitality. With over 15 years experience working globally as a curator of experiences. She works well under pressure, speaks several languages and is an uplifting team and community builder. Coming from a multi-continental family and as a Mother of Twin boys, Nuwella has a talent for creating harmonious connections and building bridges.
Limited On-Site Access Covid-Safety Rules:
- Please provide a negative Covid Test (not more than 24hrs old) or proof of full vaccination
- We advise you to take a Bürgertest in advance to safe time on entry. We will charge a fee of 5,00 €, if you need a quick test on-site.
- Please wash / disinfect your hand hands regularly