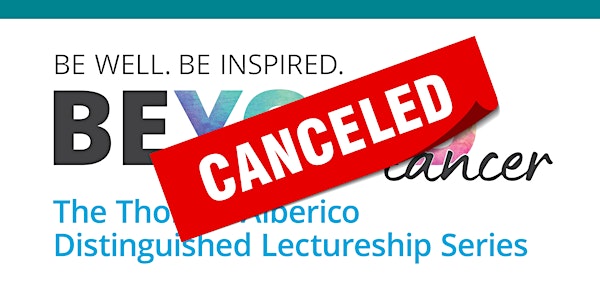 Beyond Cancer: The Thomas A. Alberico, MD Lectureship Series
This event has been rescheduled due to weather. Please follow the Sentara Brock Cancer Center Facebook page for updated event information.
When and where
Location
Westin Virginia Beach Town Center 4535 Commerce Street Virginia Beach, VA 23462
Refund Policy
Refunds up to 7 days before event
Eventbrite's fee is nonrefundable.
About this event
Please join us for this premiere event designed to educate, support and honor cancer patients, survivors and their families.
Spend your afternoon surrounded by a community of those affected by cancer — from current patients to caregivers to survivors in remission. Purchase your ticket today and let us thrive together in a world beyond cancer.
Doors open at noon. All tickets are general admission.
If you need assistance with parking and building accessibility, please contact sentara-events@sentara.com.

Siddhartha Mukherjee is a pioneering physician, oncologist, and author who has redefined our public discourse on human health, medicine and science. A profoundly influential voice in the scientific community, he is best known for his books, The Emperor of All Maladies: A Biography of Cancer, which earned him the 2011 Pulitzer Prize, and The Gene: An Intimate History which won international awards and was recognized by The Washington Post and The New York Times as one of the most influential books of 2016. He is also the author of a TED Original book, The Laws of Medicine: Field Notes from an Uncertain Science. His published works exhibit an outstanding literary skill that has left an indelible mark on our culture, as The Emperor of All Maladies has been adapted into a documentary by filmmaker Ken Burns, and was included among Time magazine's 100 best nonfiction books of the past century.
Dr. Mukherjee's achievements as a writer and educator build upon his career as a renowned medical scholar. His groundbreaking studies into the composition and behavior of cancer cells have pushed the boundaries of modern medicine. His innovative research signals a paradigm shift in cancer pathology, and has enabled the development of treatments that reach beyond current pharmaceutical models toward new biological and cellular therapies. Serving as an associate professor of medicine at Columbia University and as a staff cancer physician at the university's medical center, Dr. Mukherjee generates hope for countless patients and families around the world, while revolutionizing our blueprint for healing. He writes for The New Yorker, The New York Times Magazine and many other publications, has received numerous awards for his scientific work, has published his original research and opinions in journals such Nature, Cell and the New England Journal of Medicine, and lives in New York City with his wife and daughters.

Carole Stockmeier is the Senior Vice President of Safety & Reliability Solutions at Press Ganey. She leads development and integration of methods and solutions to help healthcare organizations optimize safety and performance excellence. With over 20 years of experience and expertise in safety science and high reliability organizing, Carole was a founder and Chief Operating Officer of HPI (Healthcare Performance Improvement). She has coached healthcare leaders across the country in comprehensive safety and reliability culture transformation resulting in recognized and published outcomes in safety and performance excellence. Prior to the formation of HPI, she served as the Director of Safety and Performance Excellence at Sentara Healthcare, recipient of the 2004 AHA Quest for Quality Prize and the 2005 John M Eisenberg Patient Safety and Quality Award.
In 2017, Carole was diagnosed with breast cancer. Having spent her career working in healthcare, her experience as a patient has given her first-hand perspective on safety, quality, and experience of care in the healthcare industry.
Carole is an editor and contributing author of Zero Harm: How to Achieve Zero Harm in Patient and Workforce Safety. She enjoys mentoring and is a member of the Old Dominion University Women's Initiative Network (WIN), a professional development program for first-generation college students. Residing in Chesapeake, Carole enjoys playing the flute and spending time with her 10-year-old son, Max. Their favorite things to do include climbing at the Adventure Park, making and building, and escaping from escape rooms. They are members of Hope Lutheran Church in Virginia Beach.
Carole holds a Bachelor of Science in Health Policy and Administration from the University of North Carolina-Chapel Hill and a Master of Health Administration from the Medical College of Virginia.

Iris Lundy is the Senior Director of Health Equity for Sentara Healthcare, an integrated delivery health system serving Virginia and northeast North Carolina. Working with internal and external stakeholders, she integrates health equity into company culture, values and policies.
Prior to accepting this role, she served as Sentara's Director of Accreditation and Regulatory Standards. Iris has over 20 years of healthcare experience, serves on several boards and facilitates Sentara's Health Equity Advisory Board. Her personal goal is to educate and inspire others to live their best and healthiest life.
Iris served her country as a non-commissioned officer in the United States Army. She received her Bachelor of Science in Nursing from Old Dominion University and her Master of Health Leadership from Western Governors University.