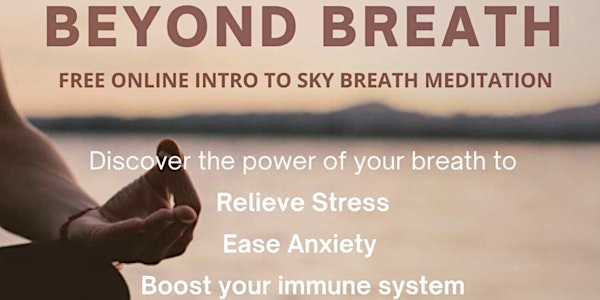 Beyond Breath - an Introduction to SKY Breath Meditation
Discover the power of your breath to relieve stress, ease anxiety and calm your mind in a free LIVE and interactive session.
About this event

-Discover more about SKY Breath Meditation
Get your questions answered about how our signature breath-meditation technique works. Then you'll understand why people at NASA and Google are using it too!
-Learn how your mind may be stunting your growth
Your mind creates your reality and, sometimes, it gets a little dusty in there. We'll demystify the secrets to overcome the negative thoughts that may be holding you back from your full potential.
-Try out a calming breathing technique
Experience the power of harnessing your breath consciously. You'll get to learn a new breathing technique, preparing you for deep meditation.
-Experience a unique guided meditation
Enjoy this bubble bath for your mind and soak into a deep state of relaxation. Whether you're new to the practice or experienced, you'll enjoy how quickly you can let go to finally meditate.
Sign up now!
Have a question for the organizers? Please contact us at paloalto@us.artofliving.org
Science Backed. From Harvard to Yale, SKY is bringing peace to millions!
Check out What Yale and Harvard have to say about our signature technique "SKY Breath Meditation".