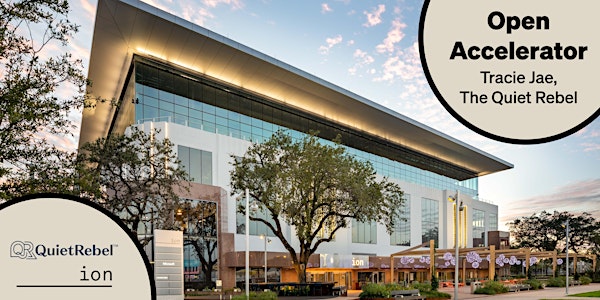 Beyond Bias: Essentials for an Equitable Community
Creating space for "Diversity, Equity and Inclusion" should never be an afterthought.
When and where
Location
The Ion 4201 Main street Houston, TX 77002
About this event
During this seminar, Tracie Jae, Founder of The Quiet Rebel, will share a paradigm shift designed to disrupt the current DEI model.
Diversity, Equity, and Inclusion (DEI) is the accepted workforce best practice. As organizations continue to find the mix of techniques for their particular culture, we began to see the addition of other words like Belonging, Justice, and Access. Meanwhile, the impact appears the same - a focus on making space for "others" rather than actively creating a welcoming environment of mutual respect and acknowledgement. We have chosen to modify rather than innovate.
A common understanding of our shared humanity benefits workplaces by broadening perspectives, offering practical inclusivity, and recognizing the value of lived experience. The HUMAN Centered Equity™ (HCE) framework invites us to make decisions based on five core elements: Honesty, Urgency, Meaningfulness, Accountability, and Nuance. This approach bridges the gap between skeptics who believe the work is over and those who are overwhelmed with both the enormity and the slow progress we have made. HCE addresses the 'how' more than the 'who' and gives us a lens through which to view daily decisions and ongoing policy. HUMAN Centered Equity™ equips leaders with 'sticky', actionable tools to drive meaningful change.
About the Speaker
In business and in life, Tracie Jae is The Quiet Rebel. Her work in the world is creating incremental and organic shifts to the status quo using conversations as instruments of change. Whether working with individuals, communities, or organizations, she creates space to ensure that voices are heard and thoughts are respected. Her proprietary frameworks include 100 Voices Guided Conversations and HUMAN Centered Equity™. As often as possible, she incorporates silence in her work to offer participants opportunities to seek their own truths.
Tracie holds a BA in Business Management and MA in Strategic Communication and Leadership. Her commitment to service spans over two decades of volunteerism and vocation in Houston's non-profit sector, including five years in education.
Now that her three daughters have matured to adulthood, she delights in hot coffee, bubble meditation, and recharging so she can slay new dragons.
Location: Conference Room 028