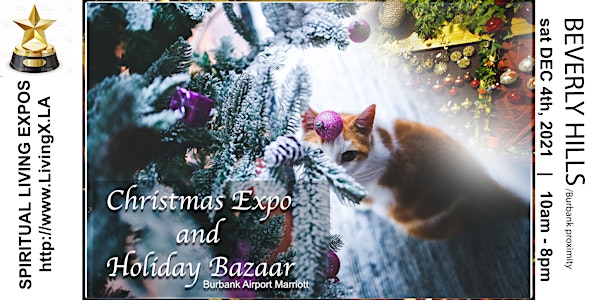 Beverly Hills Metaphysical Faire | Burbank, Ca | LivingX LA Expositions
Clairvoyants, Psychics, Healers, Crystals, Art, Jewelry, Shaman Spears, Crystal Bed, Aura Photography, Healthy Products and Top Speakers
When and where
Date and time
Saturday, December 4, 2021 · 10am - 8pm PST
Location
2500 N Hollywood Way 2500 North Hollywood Way Burbank, CA 91505
About this event
SPIRITUAL LIVING EXPOS | Event | or homepage http://www.LivingX.LA
Themed Metaphysical psychic and crafts exposition
- - - - -
There are LIVE GNOMES under the tree
Get into the Spirit of Christmas with Elves, Gnomes Leprechauns and Faeries.
Craft Bazaar for all your Holiday giving.
Clairvoyants, Psychics, Healers, Crystals, Art, Jewelry, Shaman Spears, Crystal Bed, Aura Photography, Healthy Products and Top Speakers All Day!
- - - - -
SPECIAL GUEST: Brenda Dickson, star of "the Young and the Restless
FEATURED VENDORS and SPEAKERS
FEATURED: Dr. Christian Toren, internationally distinguished Master Clairvoyant
FEATURED: Crystal Sound Bath w/Dr. Kathleen Dixon - healing for the Season
FEATURED: Helen Haig - Spiritual Coaching sessions
FEATURED: Samuel and Paulina Kiwasz - Sacred Geometry pendants
FEATURED: Joe Blanton - stop EMF from your cell phone
FEATURED: Aura and Chakra imaging from Golden Light and Love
FEATURED: Terrie Huberman transformation level readings
FEATURED: Goddess Divine - hand-made soaps and candles
FEATURED: Danielle Cheri Energy Readings
FEATURED: Apolla's Shaman Spears
FEATURED: Shelly Hofberg - our sold-our reader from the last event
FEATURED: Dr. Eve - doctor of Alternative Healing Practices
FEATURED: Teri Lynn Cansee - Tarot and Astrology specialties
FEATURED: Christine Cappuccine - Talk to your Spirit Guides and Angels
FEATURED: Terry Brussel-Rogers - Self-Actualization hypnosis
FEATURED: Andi Tomlinson - clairvoyant-clairaudient healer
FEATURED: Spanda Makt - Soul Portraits
FEATURED: Lali Kakar - Vedic Palmistry
... and more, more, more
10 AM Raffle
- - - - -
THE EVENT
The Christmas Expo and Holiday Bazaar is Saturday, December 4, 2021 10AM-8PM.
- - - - -
FREE ADMISSION with Newsletter signup below:
FREE Entry for the first time when you subscribe to the FREE Newsletter here: https://gem.godaddy.com/signups/208120/join
- - - - -
AMENITIES
. 10AM Raffle has loads of FREE Gifts including Readings, Crystal Bed Healing, Jewelry, Sessions, Merchandise and Crystals - so arrive early at 9:45AM!
. Brand New Crystal Sound Bath presented by Dr. Kathleen Dixon is at 4PM to rejuvenate your body, mind and soul!
. FREE On-site Luxury Parking for the first time at the Burbank Airport Marriott as well!
. Hot Cocoa and Apple cider available at the StarBucks inside the Lobby steps from the Grand Ballroom.
- - - - -
WHERE and WHEN
Time: 10AM-8PM in the Grand Ballroom of the 4-Star Burbank Airport Marriott.
Location: 2500 N Hollywood Way, Burbank CA 91505. Free Abundant Parking.
- - - - -
NEW VENDOR SIGNUP
SPIRITUAL LIVING EXPOS | Event | or homepage http://www.LivingX.LA
(see Online Vendor Information Page)
Vendors: 310.427.1700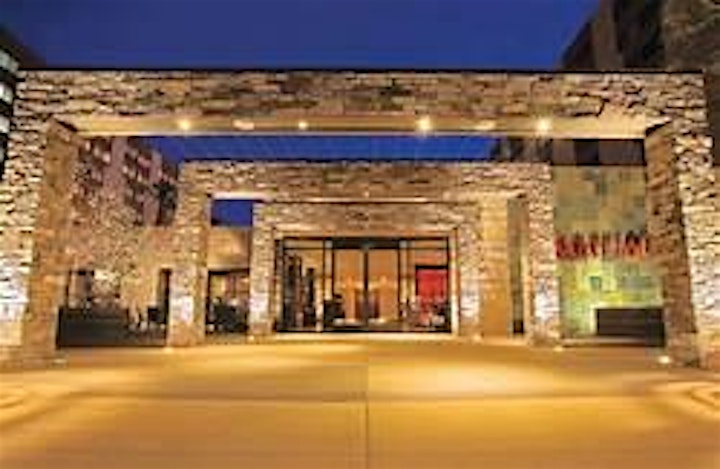 Burbank Marriott Airport Hotel
2500 N Hollywood Way, Burbank CA 91505. Free Abundant Parking.
About the organizer
Sought after for his expertise on "the Other Side", Dr. Christian Toren von Lähr has been a focus of hundreds of interviews.  He is renown in the industry as one of the world's premiere clairvoyant Psychic Mediums having performed over 50,000 Reading sessions. Dr. Christian'sexpertise in Clairvoyant Medical intuition is second to none in the world.  Dr. von Lähr remains the only practitioner of this style that is over-sold-out every weekend, wherever he appears in the country.