Between Yellow Face and White Washing: Asian Americans in (and on) Film
Description
The 2017 Art of Brooklyn Film Festival presents:
Between Yellow Face and White Washing: Asian Americans in (and on) Film
Racial impersonation is one of the oldest traditions in filmmaking. Conventions like yellow face— where white actors use exaggerated makeup, costumes and gestures to " play Asian"— has fallen out of favor, but in recent years significant Asian roles have simply been rewritten and recast, sidelining Asian actors yet again. White washing controversies around major Hollywood films like Avatar, Aloha, Dr. Strange and Ghost in the Shell have had a huge impact, but it seems that the industry is slow to learn this lesson. (As we plan this panel a new white washing controversy has erupted around the casting of a white actor to portray Native Hawaiian Purple Heart winner Ben Kanahele in his own story.)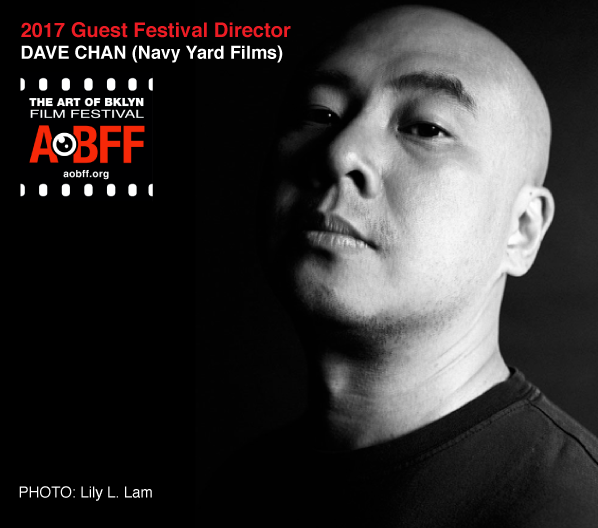 AoBFF Guest Festival Director Dave Chan leads a lively industry panel discussion on the mis/under-representation of Asian-Americans in a Hollywood that can't seem to stop white washing Asian stories. This panel will address creative solutions on how to correct this from a grassroots level on up. Panelists include Celia Au (Gotham, Iron Fist), Becky Yamamoto (Fort Tilden, Good Enough), Eddie Shieh (Split End, Film Labs Present series), David Huynh (Hamlet, Vietgone) and Anne Hu (Cake, Balloon).
Dave Chan is an award-winning writer and producer from Brooklyn, NY. His "Family Guy: What The Phuc?!" spec script placed in the Top 15% as a Second Rounder in the prestigious Austin Film Festival. His other scripts have also gone on to be a Winner or Finalist in the esteemed Nashville Film Festival, Moondance International Film Festival, International Family Film Festival, American Movie Awards, Los Angeles Screenplay Contest, WorldFest-Houston International Film Festival, and Amsterdam Film Festival. He was a script consultant for such films as "Ambushed" starring Dolph Lundgren and several TV pilots, one of which was sold to FOX for development. Dave is a co-producer of Michael Goldburg's award-winning short films, Rye Manhattan and What's Eating Dad? He is also a co-writer and co-producer of Michael's feature directing debut, Sure-Fire, a hilarious con man comedy set in New York City, which was the very first project on Seed&Spark to make over 200% of its initial crowdfunding goal! Dave is the founder of Navy Yard Films.
Celia Au has been working on different sides of the industry in front and behind the camera. As an actress, Au can be seen in the recent Netflix/Marvel hit show IRON FIST and CBS's MADAM SECRETARY. She can also be seen acting alongside Kobe Bryant, Lebron James and various NBA superstars in the Nike Film "BRING YOUR GAME". Au was an ensemble lead in Martin Scorsese's REVENGE OF THE GREEN DRAGONS directed by Andrew Lau (Infernal Affairs) and Andrew Loo, playing the volatile Bobo. Currently, she is finishing off a feature film SNAKEHEAD directed by Sundance-winning director Evan Leong. As a filmmaker Au has directed and produced short films, Music Videos, and recently a Virtual Reality Project.
Anne Hu is an award winning director, writer, editor, and actress who is currently a Senior Producer/Editor at HBO. She has edited theatrical film trailers and television commercials for The Walking Dead, Breaking Bad, Vice Principals, The Young Pope, Game of Thrones, and more. Her clients include AMC, Fox Home Entertainment, and Netflix. Her award winning films have been accepted into various festivals including the Cleveland International Film Festival and the Nashville Film Festival.
David Huynh is a NYC-based actor. He was last seen in the Midwestern regional premiere of Vietgone in the role of Quang. Other productions include: Henry IV part 1, Much Ado About Nothing, Henry V, Two Gentlemen of Verona (Houston Shakespeare Festival), Cymbeline (New Orleans Shakespeare Festival), Hamlet (Oregon Shakespeare Festival tour). NY Theater: Romeo and Juliet. He has appeared in promotional materials across a range of industries, from a national Popeyes ad to the advertising campaign for the Royal Shakespeare Company's collaboration with the Shanghai Dramatic Arts Centre on the Mandarin translation of Henry V. His advocacy work includes a TEDx Talk on whitewashing and yellowface in the entertainment industry entitled "Asian Enough?"
Eddie Shieh (pronounced 'She'+'yeah') is a Native New Yorker, Asian Tourist, Dad of Twins, Filmmaker at Night and member of the Writers Guild of America East. He was a distinguished nominee to the 2014 Fox Global Directors Initiative and 2015 NBCUniversal Television Directing Fellowship and shortlisted at the first European Sundance Screenwriting Lab 2016. His short works have garnered numerous awards and nominations from Academy® Qualifying and international festivals. His short film Mr. Chavan screened with AoBFF in 015 and appears on Brooklyn On Demand (www.bkod.com). Eddie also served as a global advertising agency Creative Director for worldwide brands and predicts weather with his surgically repaired joints (no app yet).
Becky Yamamoto is a NY-based comedian and writer. She co wrote and co starred in the webseries pilot "2 Chans" which won Best Actress (Comedy) at NYTVF. Her webseries "Uninspired" was an official NYTVF selection and received acclaim from The Onion AV Club, Indiewire, Mic, Bust and Glamour. She has appeared in independent films such as "Fort Tilden" and "3rd St. Blackout". She also appears in the second season of the critically acclaimed Vimeo series "The Outs".