Between the Panels Summer Shorts is an empowering series of comic book workshops for teens and adults. Tell your story in word and image.
About this event

Katy Korkos aka Rambo Granny, Student
Between the Panels: Summer Shorts 2021
June 5 - July 24, 2021
11:00 am - 12:30 pm MST (Type in your time zone HERE for local time)
Teens and Adults
Pay-What-You-Can
7000 BC's Between the Panels comics workshops for teens and adults continue with Summer Shorts! Summer Shorts is an abbreviated 8-week workshop series to keep you learning and creating throughout the summer. Sharpen your pencils, roll out the virtual paper, pull on your bermudas, and prepare to draw upon your strengths. Join us as we explore a storytelling medium like no other. Drop-in students are welcome!
Non-profit arts organization 7000 BC has been bringing comic book workshops and presentations to libraries, schools, and other venues across New Mexico for more than 15 years. Rather than using an illustration-based approach, participants combine word and image through fast-paced, hands-on workshops focused on how a story is told using the unique storytelling medium of comics. We show how it's possible for anyone to produce their own comics.
Between the Panels : Summer Shorts 2021 Details
Workshops are designed to work as a series or as individual lessons. Each workshop focuses on a different aspect of the comics creation process.
Once registered, you'll get a weekly reminder about upcoming workshops unless you tell us to stop. We won't send you anything else. We use Zoom for workshops, so you'll have to sign up for a free Zoom account as well.
Materials are simple - paper and pen or pencil. A nice dark pen will make it easier to share over Zoom what you're working on. On occasion we'll ask you for other common household objects, nothing fancy.
Workshops are presented for a Pay-What-You-Can Donation.
Any amount $1 or more
Suggested Donation - $25 per workshop
Need-based scholarships are available
Still have questions? More information is available on the 7000 BC website. or by emailing 7000 BC's Education Coordinator Jeff Benham at jeff(at)7000bc.org.
Between the Panels : Summer Shorts 2021 Schedule
Summer Shorts includes some workshops that are not available during the full 16-week sessions. If you register for all 8 Summer Shorts Workshops, you will be invited to a free special event on Sunday, July 25 which will include a brief workshop and a critique session.
The Workshops:
Saturday, June 5
The Unexpected Three-Panel Comic (Stories are Everywhere)
Accidentally creating comics. Welcome to the language of comics and the landscape of our brains.
Saturday, June 12
The Down Elevator to Back Story (Design Sheets and Fictional Pasts)
Speak swiftly and carry a big sketchbook. What floor, please?
Saturday, June 19
Thumbnailing with Kaiju Claws (Enhancing Story with Tiny Broad Strokes)
How many ways can you trim your thumbnails and still have them be your thumbnails?
Saturday, June 26
Mini Comics! What's the Big idea? (A Grand Story in Eight Tiny Pages)
An instruction manual for making your way between extremes.
Saturday, July 3 * NEW WORKSHOP!*
Picturing Words in Drawings (Text and Image Interacting)
It's a new type of comic once you let the letters in.
Saturday, July 10 * NEW WORKSHOP!*
A Genre By Any Other Name (Forming Stories and Approaching Form)
Is it true that the truest tale is truly dull? A mystery, a rom-com, and a memoir walk into a bar.
Saturday, July 17
The Covenant of the Arc (Character Arcs and Story Arcs)
Weaving the patchwork of pathways through your story.
Saturday, July 24
You Call That A Comic? (Theme Showing Itself as Format)
The object that is your book. How can it contain your ideas?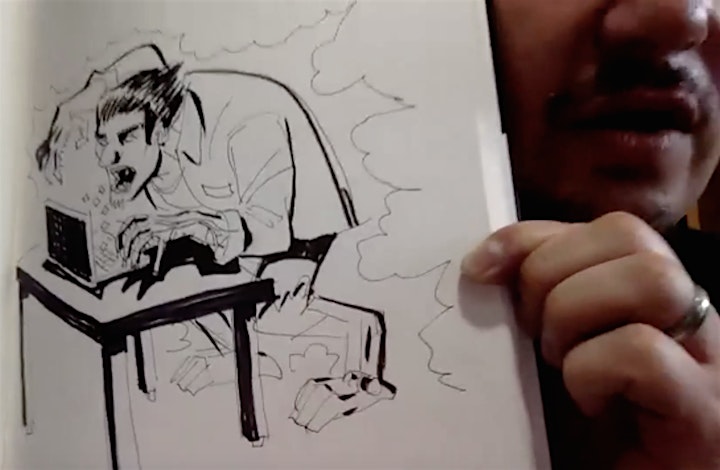 "I came upon the 7000BC series Between the Panels quite by accident. The instructors have created such unusual and creative ways to get people thinking about storytelling and imagery and the world of comics. The exercises stretch the brain and often times the funny bone, all leading to creations by participants that surprise and delight the authors. I would highly recommend this series to comic creators, you will always learn something new."
--- Beverley Kort, Student
7000 BC is a Northern New Mexico-based organization providing opportunities for comics writers and artists to develop their personal styles and storytelling "voices," while promoting an understanding of the cultural significance of comic art through seminars and workshops.
Sol Arts DBA 7000 BC is a 501(c)3 non-profit visual arts learning collaborative.

Organizer of Between the Panels Comics Workshops - Summer Shorts