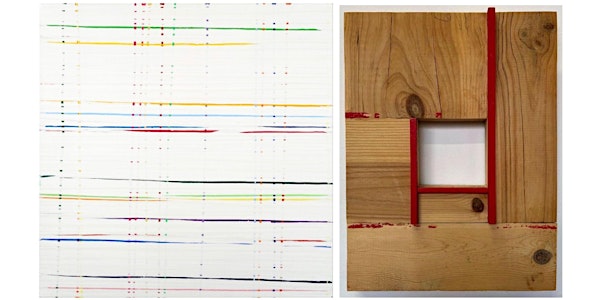 Between the Lines: Rachel Major & Kathleen King
GearBox Gallery presents Between the Lines, an exhibition of paintings by Rachel Major and sculpture by Kathleen King.
When and where
Location
GearBox Gallery 770 West Grand Avenue #suite b Oakland, CA 94612
About this event
The artists share an interest in precarity and chance, evoking meanings that are fugitive and implied rather than explicitly stated. In both bodies of work, boldly colored lines skitter and flex across geometric planes and open spaces.
Rachel Major's current series involves both covering up and exposing. The paintings are made solely by dripping paint onto canvas. Major controls the placement of the drip only to give up that control and allow the paint to move on its own, through gravity and chance, choosing its own path. Occasionally she coaxes the paint to move in a direction that exposes specific colors. Fragments of color are left trying to hide yet pushing to be seen. In pursuing chance operations, Major's paintings almost make themselves. A free flow is conjured, like rivers running or thoughts pouring out and connecting.
Kathleen King constructs painted wood sculptures and assemblages out of scraps of wood gleaned from discard piles and building site dumpsters. Form follows function as supple segments are connected and attempt to hold. The visual language speaks in asymmetrical rhythms and broken patterns. Monochromatic color presents an intensity that relates within the space and directly to the viewer with immediacy. For example, with its armature exposed and radically vulnerable, the sculpture titled "Red Horse" stretches vertically, teetering on precarious legs. Like a young animal or a revolutionary impulse, its potential to rise and become is manifestly present.