Betty Shabazz Int'l Charter Schools Symposium on Culturally Relevant Pedago...
Description
Betty Shabazz International Charter Schools Symposium on Culturally Relevant and Sustaining Pedagogy


Betty Shabazz International Charter Schools (BSICS) is celebrating 20 years of culturally rooted academic excellence. Since we began this work over two decades ago, our institution has grown exponentially, and we are just as committed to culturally relevant education as the day we started. To mark this milestone and prepare ourselves to make an even greater impact, BSICS is hosting its 20th Anniversary Celebration Symposium. The event will be held on Thursday, May 30th on the campus of Chicago State University from 4pm-7pm. There will be a meet and greet reception with light hors d'oeuvres from 4-5pm.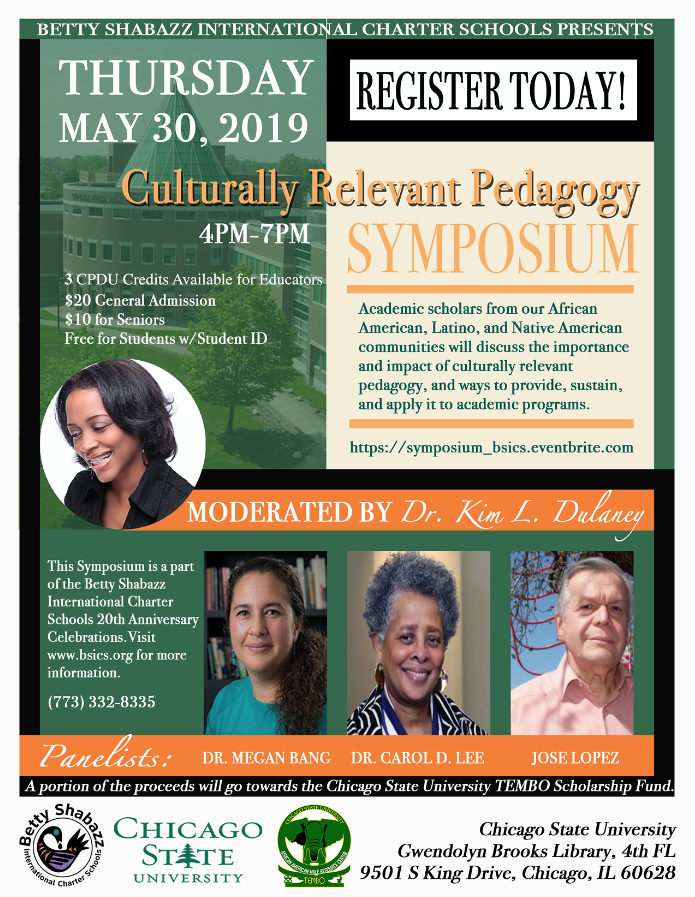 The Symposium panelists will explore the significance and impact of culturally relevant pedagogy for the wholistic development of young people and its implications for community development. They will provide empirically supported illustrations of what such pedagogy looks like on the ground across diverse school and out of school contexts. The panel will be moderated by Kim Dulaney, Ed.D., faculty in African-American Studies at Chicago State University. Dr. Dulaney has a BA in African American Studies, an MFA in Creative Writing, and an Ed.D. in Educational Leadership and Curriculum Foundation.
Panelists will include:
Dr. Carol Lee is a Founder and Board Chair of Betty Shabazz international Charter Schools and Edwina S. Tarry Professor of Education and Social Policy at Northwestern University. She is a former president of the American Educational Research Association, a fellow of the National Conference of Research on Language and Literacy, and a former fellow at the Center for Advanced Studies in the Behavioral Sciences, and a member of the American Academy of Arts and Sciences. She has been a member of the faculty of the School of Education and Social Policy and African American Studies at Northwestern University since 1991.

José E. López is the Executive Director of the Puerto Rican Cultural Center in Humboldt Park (Chicago). For over 40 years, he has been a leading member of the Puerto Rican independence movement and is also the editor of Puerto Rican Nationalism: A Reader. Presently, he is active in developing new/praxis/theory in community and social empowerment, particularly in the areas of educational reform through the Community as a Campus Initiative, and addressing health inequities through the building of a holistic community of wellness in Chicago's Greater Humboldt Park communities. He has served on various Boards including Bethany/Advocate Fund Board and presently, Chicago Public Schools Latino Advisory Committee, and Chicago CHEC Community Steering Committee; Northwestern University.

Dr. Megan Bang is currently the Senior Vice President of the Spencer Foundation. She earned her PhD in Learning Sciences at Northwestern University. Bang continues to teach in the School of Education and Social Policy at Northwestern. While at the University of Washington, Professor Bang also taught in the Secondary Teacher Education Program; the Elementary, Early Childhood and Leadership Preparation programs and directed the Native Education Certificate Program. Her research focuses on understanding culture, learning, and development broadly with a specific focus on the complexities of navigating multiple meaning systems in creating and implementing more effective learning environments in science education.



This event will take place at:
Chicago State University
Gwendolyn Brooks Library
4th FL
9501 S. King Dr
CHICAGO, IL 60628