Description
SUNDAY August 20 at 3PM!
$25 Prepaid; $30 at the Door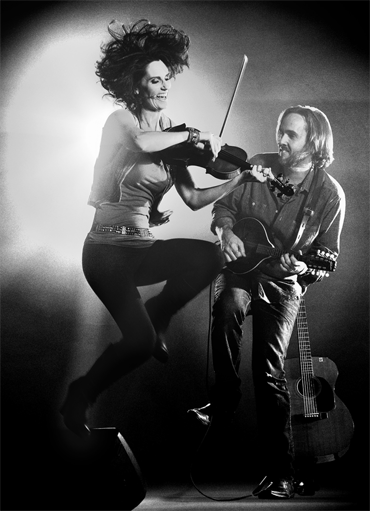 In 2010 I had the pleasure of meeting Stephanie Bettman and Luke Halpin at a FAR-West music conference. I loved their music and their stage presence. Later that year, we ran into each other at the Folk Alliance International conference in Memphis, TN. We shared a lunch of that delicious Memphis BBQ and what better way to get to know someone than to share a meal together. It's taken this long for the stars to align so that Brogden Bay Presents and Four Friends Gallery can present to you Bettman & Halpin and we are delighted to do so.
Stephanie & Luke play original Folk/Americana. Their concerts combine high-energy upbeat roots inspired compositions, beautiful ballads with soaring vocals and heartfelt lyrics, and groovy feel-good songs that audiences will be singing in their heads for weeks thereafter. Interspersed between these songs and instrumentals, they tell stories. They have become as known for their storytelling and playful banter as well as for their hooky whole-hearted songwriting and instrumental wizardry. They have been touring as a duo since 2008, and incorporating a trio and quartet since 2013.
Bettman & Halpin have a well-earned reputation for hypnotizing performances filled with irresistible lyrics, transcendent harmonies and roof-raising instrumentals. They have twice been a featured act at the Walnut Valley Festival in Winfield, KS along with musical heroes Byron Berline, Michael Martin Murphey w/ Pat Flynn, and Tommy Emmanuel. They can also be found performing at various arts centers throughout the US and abroad, including The Smothers Theater at Pepperdine University in Malibu. Their music creates a fully acoustic, delightfully eclectic sound far greater than the sum of its parts: taking the listener from up-tempo down home fiddlin', to soulful sorrowful ballads, to super hooky folk/pop with catchy melodies and lyrics that will stick with you long after the concert is over. Touring together since 2008, Bettman & Halpin have been recognized in various Regional and National competitions, including:
Grand Prize Winners in the So Cal Live Acoustic Music Competition

Winners in Southern California's Topanga Banjo / Fiddle Contest

Most Wanted Artists at Falcon Ridge Folk Festival

Music Connection's Top 25 New Music Critiques

Their 5 CDs have received national and international radio play along with critical acclaim, reaching the top 10 and top 5 on the National Folk DJ chart and number 1 on The Roots Music Report.
"Bettman jams it up like few others as she leads an ensemble with great imagination."
- Maverick Magazine, UK
"...Each song took me to a place to which I wish to return to again and again. And I guess that is why it really does come back, comes back to a great love for what music can do. GET THIS CD!! Highly recommended!"
- Rik James, Americana Backroads KGLT-FM
"...A platform for Bettman's emotive, Joan Baez-inspired vocals, as well as her award-winning fiddle playing, and Halpin's head-spinning mandolin and guitar picking, and his velvety, close harmonies..."
- Music News Nashville
Stephanie Bettman is a true triple threat. An accomplished writer, singer, and fiddler: her lyrics are infused with wit and wisdom, poetry and insight. Vocally she draws comparison to the soaring soprano of Joan Baez and the plaintive emotion of Emmy Lou Harris. Meanwhile, her fiddling, which combines elements of bluegrass and jazz, is inspired by such masters as Stephane Grappelli, Byron Berline and Johnny Gimble. A former actress and trapeze artist, Ms Bettman is at ease in front of an audience and creates authentic intimacy with her crowd no matter the size.
Luke Halpin is a renowned multi-instrumentalist. A master of the guitar and the mandolin, impressive on fiddle, banjo, and adept at nearly anything he picks up. Halpin draws inspiration from the likes of Sam Bush, Mark O'Connor and Tony Rice and holds his own in comparison. A dynamic and sensitive vocalist himself, the harmony blend he and Ms Bettman achieve is chilling and at times simply transcendent. Halpin has a long history in the music biz, having shared the stage with the likes of Merle Haggard, Lone Star and The Steve Miller Band (to name a few). His quirky sense of humor is a perfect foil to Stephanie's dry witty presence.
Come join the party at 3PM on Sunday August 20th!
FAQs
Are there ID requirements or an age limit to enter the event?
All ages are welcome.

What are my transport/parking options getting to the event?
There is plenty of off-street parking. After you turn into 1414 E Thousand Oaks Blvd., continue up the driveway. You will pass Blank Canvas on the left which is the gallery immediately adjacent to Four Friends Gallery. Continue up the driveway where you wil find plenty of parking spaces.

Where can I contact the organizer with any questions?
You may contact Steve Brogden by email at brogdenbay@gmail.com or by cell phone at 805.358.4970. Feel free to leave a voice mail. Steve will respond as soon as he is able.