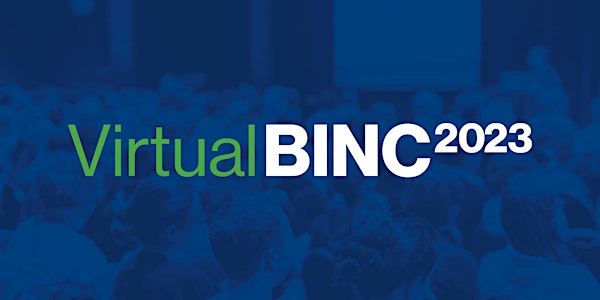 BetterInvesting's National Convention (BINC) Virtual Event 2023
Online 2-day investing seminar on Stock Analysis, Retirement Plans, Portfolio Management, and Advanced Research. Become financially secure.
Date and time
June 3 · 2:30pm - June 10 · 7:30pm PDT
Agenda
June 10
Bite of BINC - May 18
June 3
10:00 AM - 10:50 AM
Use BetterInvesting's Early Warning Radar Tool to Catch Company Problems
---
It's inevitable that some of your stock picks won't work out, making it imprudent to use a "buy and do nothing" approach in your portfolio. This is where BetterInvesting's PERT system can help. While...

10:00 AM - 10:50 PM
Vizualizing Cyclicals on the SSG
---
Cyclicals are companies whose sales and earnings rise and fall alongside the general economic trends. Up, Straight & Parallel lines are not always achieved with cyclicals. How do you determine if a d...

10:55 AM - 11:20 AM
Corporate Presentation: AFLAC
11:25 AM - 12:15 PM
When to Sell Considering Your Total Portfolio
---
Many followers of BetterInvesting methodology confidently use its tools to find stocks to buy, but are far less sure of when to sell. In this class, Cy will start with why it's best to make portfolio...

11:25 AM - 12:15 PM
Financial Ratios Checklist
---
You have done 80% of the work by way of completing your SSG and want to gain additional insights into your company by doing the other 20% using financial ratios. Bakul has a checklist of ten financia...

12:20 PM - 12:45 PM
Corporate Presentation: To Be Announced
1:05 PM - 1:55 PM
Live Repair Shop
---
Join Scott Horsburgh for a Live Repair Shop. Learn about the thought process that goes into analyzing an entire portfolio and each of its stocks, including reinforcing winners and identifying opportu...

1:05 PM - 1:55 PM
ROE vs. ROIC: Ready to Rumble!
---
These two ratios are similar, but there is a major difference. Morningstar uses ROIC in the moat analysis work, yet we use ROE in the BetterInvesting world. Learn what ROIC means and how it is used i...

2:00 PM - 3:00 PM
Keynote: The Road to Normalization & The Closing Bell
---
As we prepare for the second half of 2023, inflation and interest rates will continue to be the focus. Both are likely to remain elevated, but as a path to normalized earnings and economic growth bec...

About this event
7 days 5 hours

Mobile eTicket
This year, the 71st Anniversary of the BetterInvesting National Convention (BINC) will be a Virtual Event. (Note: We are planning an in-person event for 2024.)
Virtual BINC 2023 will be held on two consecutive Saturdays, June 3rd and June 10th at 10:00 AM - 3:00 PM EDT.
Session LineUp
Scheduled Times and Class Descriptions available in Agenda below.
Presenter biographies, FAQs and full details for the Convention at: www.betterinvesting.org/binc
GoTo Virtual Event Platform
Using the new GoTo software, each attendee will have the ability to switch between concurrent classes. If there are two sessions of interest occurring at the same time, you can attend one live and view the second one as a recording at your convenience.
To acquaint yourself with this new platform, you will be automatically registered for our free member-only Bite of BINC event on Thursday, May 18th, 8:00-9:30 PM ET.
Registration to Virtual BINC 2023 includes:
Registration to the free Bite of BINC on May 18, 2023
One registration for $125 is valid for the sessions on June 3 and 10, 2023.
Recordings and handouts for all sessions will be available through December 31, 2023.
More than 14 hours of live investment education classes, including a roundtable, a Keynote presentation, and Corporate Sponsor presentations.
Nationally recognized and rising star BetterInvesting instructors.
Virtual BINC 2023 Cancellation Policy
As you will have access to recordings for all sessions through December 31, 2023, there will be no refunds.
About the organizer
We've helped five million people bring their financial dreams to life.

Who We Are
Since 1951, BetterInvesting has helped over five million people become better, more informed investors. We help our members build wealth through local, regional and national learning events, as well as web-based tools, software, member publications and online resources.

As the nation's largest non-profit organization dedicated to investment education, we provide investing knowledge and practical investing experience through investment clubs, local chapters, online courses and an active investing community.

Our Core Beliefs
Investment expertise can be learned and effectively applied by virtually anyone. Investment education provides the power to make smarter investment choices and achieve long-term financial goals.

Together, we can accomplish more. As part of a community, individual investors multiply their opportunities to learn, share and reach their fullest financial potential.

Financial independence is within reach. Each of us has the opportunity and means to take ownership of our own financial futures.
Check us out by clicking here or at www.betterinvesting.org.