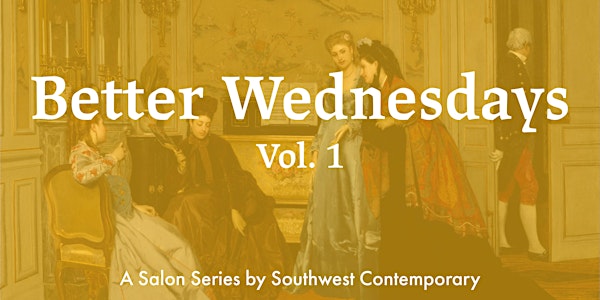 Better Wednesdays Vol. 1
When and where
Location
Southwest Contemporary 1415 West Alameda Street Santa Fe, NM 87501
Description
Join Southwest Contemporary at the inaugural Better Wednesdays salon event! Taking place at Southwest Contemporary in Santa Fe on Wednesday, October 23, 6:30-8:30 pm, Better Wednesdays is our bi-monthly event series designed to draw people together to celebrate, observe, learn, discuss, and have fun with creative work and ideas.
Each salon event features an eclectic line-up of 5-10 presentations spanning various disciplines in an intimate setting. Better Wednesdays Vol. 1, curated by local arts writer, organizer and gallery director Jordan Eddy, features 6 talented presentations: poetry, dance, vocal performance, performance art, visual arts, and botanical fragrance.
You can grab your reserved spot (suggested donation is $15.00) by registering here.
Doors will open at 6:30 pm.
Meet our Vol 1. line-up!

Broken Cloud Press
Broken Cloud Press is the imprint of artist Erin Mickelson. Her work includes printmaking, bookbinding, new & mixed media, artist books, and micro-press publishing. She earned her BFA with a concentration in book arts at Oregon College of Art & Craft and also holds a degree in graphic design. Erin includes both traditional techniques as well as digital & experimental processes in her work, which is held in various private and public collections.

Daniel Bohnhorst
Daniel Bohnhorst holds an MFA in poetry from Pacific University. He recently directed and performed in Teatro Paraguas' revival production of Word Over All: Walt Whitman and Pablo Neruda, a bilingual, theatrical presentation of the poetry and prose of Whitman and Neruda.
He will be reading selections from his debut full-length collection of poetry, which he finished work on this month.

Dryland Wilds
Dryland Wilds is a bioregional perfumery creating scents of place from their wild harvests throughout New Mexico. Its founders, Cebastien and Robin, schlep antique perfume-making equipment way out into the desert and mountains, collecting resins, needles, flowers and leaves and turning them into fragrances that smell like the wild places they were collected from. They strive for their work to benefit the land they are on–-choosing to harvest "invasive" plants, prune forests to reduce the severity of wildfires and educate on how to use unwanted plants rather than poisoning them.

New Mexico Dance Project
Founded in 2019 by husband and wife team Scarlett Wynne and Erik Sampson, New Mexico Dance Project produces original concert works, performance installations, and short films that focus on capturing the imagination and inspiring curiosity. The company exists to widen the spectrum of how dance is accessed and experienced by its audience, emphasizing the art of storytelling as a means of bridging the divides brought on by cultural, racial, and social differences.

At Better Wednesdays Vol. 1, NMDP will present UNPAVED: A Short Film, an original work that explores the emotional and physical response connected to no longer having a home. Motivated by global displacement and individual abandonment, the work portrays two figures wandering without a clear point of reference.

Rosemary Meza-DesPlas
Farmington, NM-based Latina artist Rosemary Meza-DesPlas is known for exploring gender, sexuality, identity, and socio-political topics in her spoken word performances. Meza-DesPlas moves effortlessly through varying tempos and characters to create performances made up of frank and touching vignettes. The visual of her stage presence is accentuated by innovative costumes.

At Better Wednesdays Vol. 1, she will present a set of poetry titled Normative Discontent. A term coined in the 1980s, normative discontent originally referred to a woman's dissatisfaction with her body. Meza-DesPlas stretches the original definition and alludes to the feminine discontent which birthed recent social movements such as Black Lives Matter, Women's Marches, Times Up, and #MeToo. Referencing contemporary socio-political topics, Meza-DesPlas' energetic riffs capture everywoman's emotive highs and lows from anger to disappointment.

Tara Khozein
Tara Starling Khozein is a classical singer, theater-maker, vocal improviser, teacher, and director, exploring the intersections of classical/experimental singing and physical theater.

In the middle of the night is Tara Starling Khozein's series of original compositions for solo voice on poems by playwrights. Inspired by a selection of poems written by Kimberly Belflower in 2018 and 2019, In the middle of the night invokes theatrics, singing, and breath to navigate the razor's edge between tragedy and comedy. Drawing from the traditions of Western classical art song, American radio pop, extended vocal techniques, and Persian folk singing, Khozein composes mostly-repeatable vocal scores for each poem. On October 23, Khozein will premiere the newest work in the series.
Event Partner
Better Wednesdays Vol. 1 is supported by form & concept.
Form & concept challenges the perceived distinctions between art, craft, and design. We dispute the historic use of these terms to divide artists and rank material culture. Our programming acts as a conversation between many converging disciplines, harnessing the power of contemporary creative practice to shatter entrenched narratives. Form & concept mounts exhibitions of regional and international art. We engage the community through educational initiatives including workshops, lectures, and artist residencies.

---
Better Wednesdays is a Salon Series by Southwest Contemporary