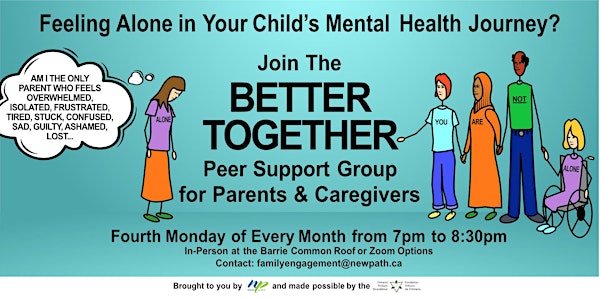 'Better Together' Peer Support Group for Parents & Caregivers
A peer based support group for parents & caregivers to connect, share and learn more about topics related to their child's mental health.
About this event
Better Together is a peer to peer support group for parents & caregivers who have a child or youth with mental health concerns.
We meet on the fourth Monday of every month from 7pm to 8:30pm.
This group is offered both in-person (limited seats) and virtually on Zoom. If you plan to attend in-person, the meetings will be held at The Common Roof located at165 Ferris Lane in Barrie - please RSVP familyengagement@newpath.ca to reserve your in-person seat.
Please indicate in your RSVP email if you need help to attend, New Path offers a Barriers to Participation program.
See you there!
Please Note: This group is non-clinical, peer-based support. We offer parents & caregivers an opportunity to meet other families traveling a similar road, share their experience and learn more about topics they are interested in. This is not intended to provide clinical or counseling services. If you are in crisis, please call the Simcoe County 24/7 crisis line at 705-728-5044 or 1-888-893-8333 or proceed to your local hospital emergency department.