BETTER TOGETHER: Bison Thunder Motorcycle's Women's Conference & Road Rally
Description
The first 100 to register will receive a gift bag of goodies upon arrival of the weekend long event.
Come join us, for this FREE EVENT, along with hundreds of women from around the country for a beautifully explosive 1st if it's kind celebration of women riders sponsored by Bison Thunder Motorcycle. And in the midst of it all, intimately connect with leading women whose love for the open free road never fails. Come meet some of the leading women in the rider community as we host a number of exclusively women's riders' groups whom are here to share their passion, knowledge, and perseverance with you. That's what it's about, we're "better together" with women across the nation no matter what you ride, no matter what your experience...we have your back.
There will be daytime road rally rides, speaker panel consisted of leaders of the women biker communities such as Malinda Johnson of Open Road Girls, Faith Ahlers of the Grizzly Race Team kicking off the Women's World Record 2018, Mattie Murrey-Tegels of Free Bird Rider blog and motivational speaker, Christina Stensby a true inspiration representing The Litas, and Connie Gabrick, long distance rider; true road warrior.
There will Evening entertainment, that will be offered for everyone that is in attendance for free. All you need is a love of the open road and a desire to come and make history. It doesn't matter what you ride, or your length of experience in riding. We invite all women riders to come and be part of the women riders' community, share, learn and experience each other's stories and lives.
---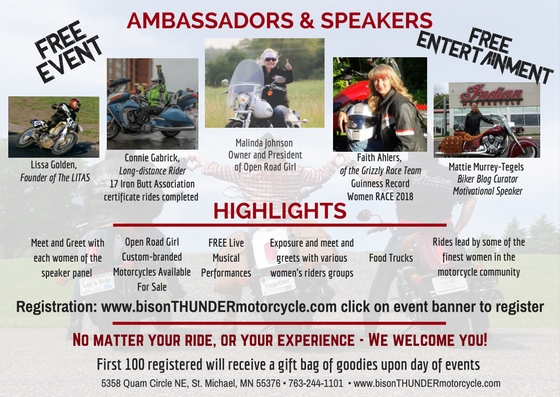 ---
EVENT SCHEDULE:
Friday, August 25th
• Early check-in 4:00 pm
• Evening Entertainment
• Meet and Greet with some of the women panel speakers
Saturday, August 26th
• Check-in
• Ride led by Malinda Johnson of Open Road Girls
• Entertainment
• On-site food and beverages
• Other activities available
Sunday, August 7th
• Blessings of the Bikes
• Morning Ride

For more information:
Marketing Department
Bison Thunder Motorcycle
5358Quam Circle NE, St. Michael, MN 55376
Phone: 763-224-1101
www.bisonthundermotorcycle.com