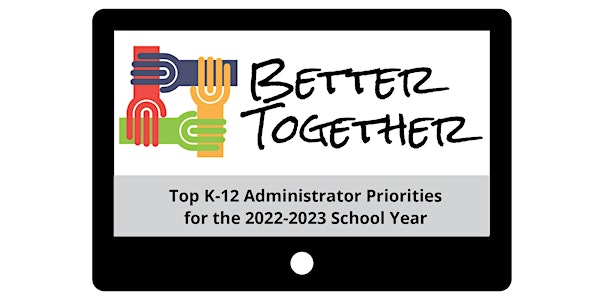 Better Together: A Virtual Event for K–12 Administrators
Make the most of your 2022-2023 school year!
About this event
If pandemic teaching taught us anything, it's that we are resilient and able to adapt quickly. None of us want to convert to remote instruction on a moment's notice ever again, but we can channel this ability to change in exciting ways for the 2022-23 school year. Now is the time to reimagine what teaching and learning can look like in our schools. Now is a time to create authentic learning experiences that truly prepare students for success in the information age. Find out what K12 administrators have identified as their top priorities this year, and discuss ways to successfully address them with other K12 administrators from around the country.
Join us for this FREE 1-hour virtual event to learn and share what's working, what's not, and how best to address the most important issues facing K12 administrators.
You'll receive a physical package to complement the event, and you'll leave with information and resources from our own research as well as from other school administrators to make the most out of your 2022-2023 school year.
We are all better together!