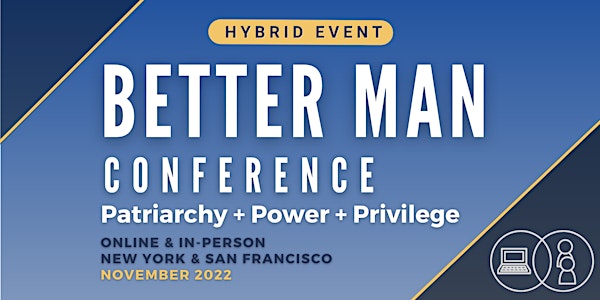 Better Man Conference - Power, Patriarchy, and Privilege
Our 2022 hybrid conferences will offer a series of engaging conversations and activities designed for 'Allies in Training.'
When and where
Location
Julia Morgan Ballroom in the Merchants Exchange Building 465 California Street San Francisco, CA 94104
Refund Policy
Contact the organizer to request a refund.
Eventbrite's fee is nonrefundable.
About this event
Our 2022 hybrid (virtual + in-person conferences) will offer a series of engaging conversations and activities designed for 'Allies in Training.' This year, we will focus on the complicated contexts of patriarchy, power and privilege, and how we can make important paradigmatic shifts within each of those by exuding inclusive, heart-based leadership. Please note: In-person tickets for both New York and San Francisco are limited so don't delay!
What to expect:
Interactive and Engaging Virtual and IRL Experience with diverse experts, facilitators, and participants.
Level Setting and Aligning around "controversial/triggering" topics like Power, Privilege, and Patriarchy that are often roadblocks to showing up as better colleagues.
Practical and Actionable tools to deal with inertia and the fear of making mistakes.
Overview:
Session 1:
The work of being better men and allies in the current climate is full of landmines that can prevent a well-intentioned person from showing up BETTER in the service of their colleagues. Acknowledging that everyone in the room will be in different steps of the journey, we will begin with a dynamic and engaging conversation to level set and align on the terms that can help us all move forward together.
Intended Outcomes: Attendees will learn and align on what power is, where it shows up, its impact and misuse, along with tools to navigate allyship and inclusionary leadership
Session 2:
The systems that run the world were made by (and for) cisgender, heterosexual men. But just because it was made by and for doesn't mean that it works for them. In this section of the conference, we will explore "THE MAN BOX", and look at how systems (governmental, work, family, faith, school, etc) perpetuate an outdated leadership model rife with toxic behavior. We will also explore how these same structures impact/impede an individual's journey of allyship and misguide those in leadership roles.
Intended Outcomes: Attendees will gain an understanding of where and how patriarchy shows up personally and in the world, and learn to develop a new relationship with power.
Session 3:
Privilege is an often weaponized term that is easily misunderstood. What if we take the good/bad binary out of the word and source what privilege has afforded us to then turn it into a tool for inclusionary leadership. Once we have located privilege, we will explore how to use it in the service of others.
Intended Outcomes: Attendees will gain an understanding of what privilege really means and how to leverage it for good.
Session 4:
In the final section of the conference, we will revisit the conversation we began about power, infused with the context setting of patriarchy and privilege. Now that we are aware, we can begin to harness our POWER WITHIN, turning these learnings into practice in our workplaces and the world.
Intended Outcomes: Attendees will gain an understanding of how to live and lead from the heart and use their power in ways that include and support others.
We look forward to seeing you online and in person!
For group ticket purchases of 11 or more, please contact Michele Keele at michele@bettermanconference.com