This workshop is for anyone who is interested in improving the quality of their relationships.
About this event
💙 Did you know that clear boundaries can create more freedom and joy in your relationships?
💙 How good are you at recognizing and communicating your needs?
💙 How easy it is for you to say No, or ask for what you want?
This workshop is an introduction to The Wheel of Consent® - a model of relating which provides a foundation for ease and freedom in all our interactions.
It's an experiential learning for anyone interested in improving the quality of their relationships with intimate partners, friends, or family.
It's practicing consent and bringing your verbal and non-verbal communication skills to the next level.
And - it's a fun way to spend your Sunday afternoon!
WHAT PREVIOUS PARTICIPANTS ARE SAYING:
"This workshop gave me a totally new perspective on communication and connection! It is something that I use in my everyday life all the time now. Zhanna has a gift to create a safe and relaxed environment where it's comfortable to explore intimate things. Great workshop, great energy, great people!
Anna, 36"
WORKSHOP DETAILS:
In person.
Open for both couples and individuals.
Open to all genders and sexual orientations
If you participate as a couple you will have an option to stay together for all the practices.
PRICE: : $25 (per person)
*Please let us know if you are in a financial situation now, where you can not afford spending $25. We will be happy to support you by offering another form of a service/energy exchange.
*The space is limited to 26 people
*Tickets are non-refundable. If you book a ticket and can't make it, you are welcome to find someone to take your spot.
QUESTIONS? Contact: ZhannaRadha@gmail.com
This workshop is based on the Wheel of Consent® as developed by Dr. Betty Martin. I am in training to become a certified facilitator. For more information visit www.schoolofconsent.org.
ABOUT THE FACILITATOR:
Zhanna R Lee is a Certified Tantra Educator and Holistic Intimacy Coach. She works with singles and couples in the area of intimacy and sex using modalities including Tantra, Reiki, sensate focus, WOC®. You can learn more about her here:
www.deliciousexpansion.com
ABOUT THE HOST:
Anna Morgan is a Best Self Studio Founder and a Certified Professional Coach who is specialized in Dating and Relationships. You can learn more about her here:
https://www.bestselfstudio.com/anna-morgan
Join us!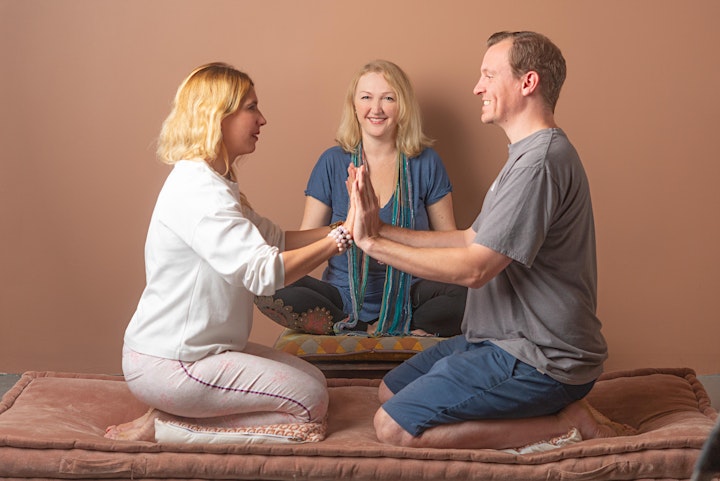 Organizer of BETTER BOUNDARIES FOR BETTER CONNECTION - for couples and individuals