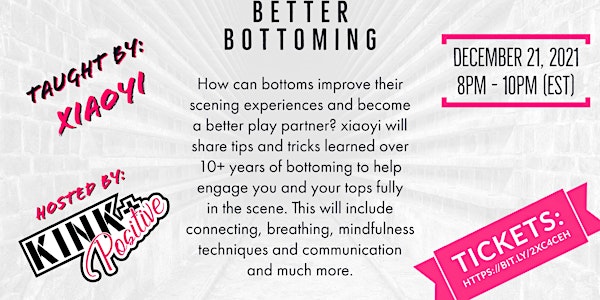 Better Bottoming
How can bottoms improve their scening experiences and become a better play partner?
Refund Policy
Contact the organizer to request a refund.
Eventbrite's fee is nonrefundable.
About this event
How can bottoms improve their scening experiences and become a better play partner? xiaoyi will share tips and tricks learned over 10+ years of bottoming to help engage you and your tops fully in the scene. This will include connecting, breathing, mindfulness techniques and communication and much more.
---
Attendance Agreements:
Due to the adult nature of the classes, all attendees must be at least 18 years of age. By obtaining a ticket you agree that you meet this minimum age requirement. Any under-age persons will be removed from the class/discussion.
No recording of any kind is permitted of the class, video, or audio whether it is the instructor, the audience, or shared screen images. Do not re-broadcast the content to other media outlets, screenshot any part of the class, or share information about people you saw within the class or their stories. By attending you agree to the above restrictions regarding information sharing.
---
About Kink Positive:
Kink+ (or "Kink Positive") is a project designed to help spread information, experience, and knowledge in all things related to kink and sex positive thinking.
---
Presenter Bio:
xiaoyi is a slaveheart and bootblack, who was introduced to this lifestyle in 2010 at a Halloween party. They are poly-play and omni-sensual. She is Honored to be owned by Master Dennis and is the Southwest Bootblack 2016. They flags orange and Leather Worship and loves instigating shenanigans.
xiaoyi's mission is to help create understanding and acceptance among people, for each to learn, grow, and be as they are. She works to do this through education and demystification. She is a speaker, coach, and educator who openly shares their journey in hopes that they might help others who face similar challenges.
Her favorite color is rainbow and her favorite flower is tulips. They live with a chronic illness and strives to thrive every day anyway. When asked if the curtains match the drapes, she will gladly tell you '"I installed hard wood."