Description
Calling all New York City-area consumers, tastemakers and trendsetters who are eager to indulge their individual epicurean appetites. This single-day, one VIP Singles Brunch and two general sessions tasting event is for you! Not your typical run-of-the-mill alcohol event, this one is "BETTER"!
The Better Booze Festival comes to New York City on September 20, 2014 at Center548.
Two floors of tastings from a variety of brewery, winery, and liquor company brands, a selection of delectable food vendors, as well as speakers, classes, activities and entertainment throughout each session.
What makes it better? All beer, wine, and liquor at the event is 100% vegetarian and vegan! And yes, you'll be shocked to learn what is in some of the other alcohol you are consuming!
The Better Booze Festival will showcase alcohol of all kinds that qualifies as vegan (no animal products are used in the making beverage) along with their delicious food pairings that you won't beleive are vegan! Not just for vegans and vegetarians, the Festival caters to the "Conscientious Drinker" who wants to make informed decisions about what they are putting in their bodies.
A portion of the proceeds from the Better Booze Festival will be benefiting Animal Aid USA.
About the VIP Singles Brunch:
With catered vegan eats from Great Performances and Champs and special drinks like The Murph's Famous Bloody Mary, Dorothy Parker Gin and Balls Vodka this VIP hour before the 1st session is a social, scrumptious mingle! Sure to sell out quickly, get your ticket now! A VIP Singles Brunch ticket also includes the 1st Tasting Session.
12:00-1:00 VIP Singles Brunch

1:00-4:00 1st Tasting Session

6:00-9:00 2nd Tasting Session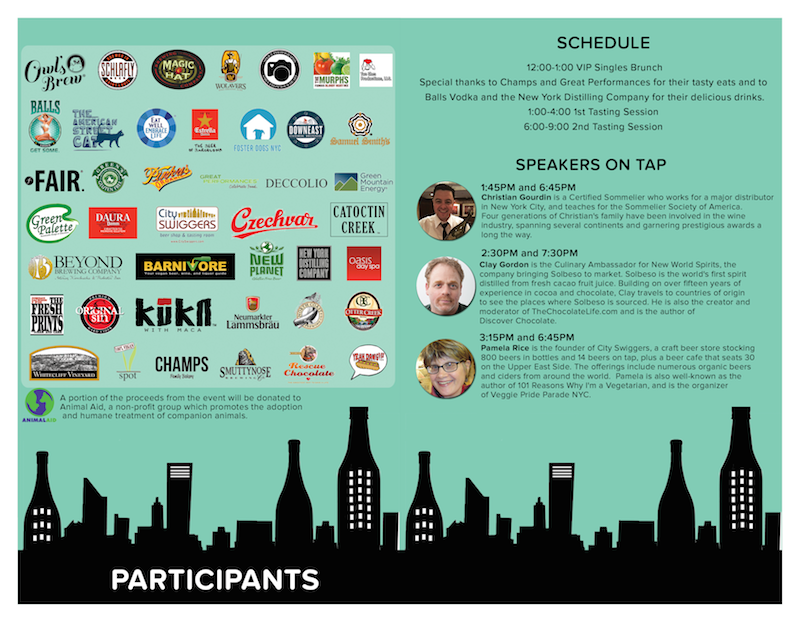 Super Speakers on tap at Better Booze Fest!
Christian Gourdin is a Certified Sommelier who works for a major distributor in New York City, and teaches for the Sommelier Society of America. Four generations of Christian's family have been involved in the wine industry, spanning several continents and garnering prestigious awards along the way.
Christian is speaking at 1:45PM and 6:45PM.
Clay Gordon is the Culinary Ambassador for New World Spirits, the company bringing Solbeso to market. Solbeso is the world's first spirit distilled from fresh cacao fruit juice. Building on over fifteen years of experience in cocoa and chocolate, Clay travels to countries of origin to see the places where Solbeso is sourced. He is also the creator and moderator of TheChocolateLife.com and is the author of Discover Chocolate.
Clay is speaking at 2:30pm and 7:30PM.
Pamela Rice has been a vegan advocate since 1991 when she first began regularly engaging in street advocacy, passing out her pamphlet: "101 Reasons Why I'm a Vegetarian." She also founded and published 50 issues of the vegan magazine The VivaVine. In 1997, her VivaVegie Society gained enough support to incorporate as a non-profit. Soon after, the group opened its Veggie Center of NYC. In 2008 Pamela began coordinating the annual Veggie Pride Parade in New York City. Currently she co-owns and manages City Swiggers, a beer store on the Upper East Side.
Pamela is speaking at 3:15PM and 8:10PM.


Participants (a partial and growing list):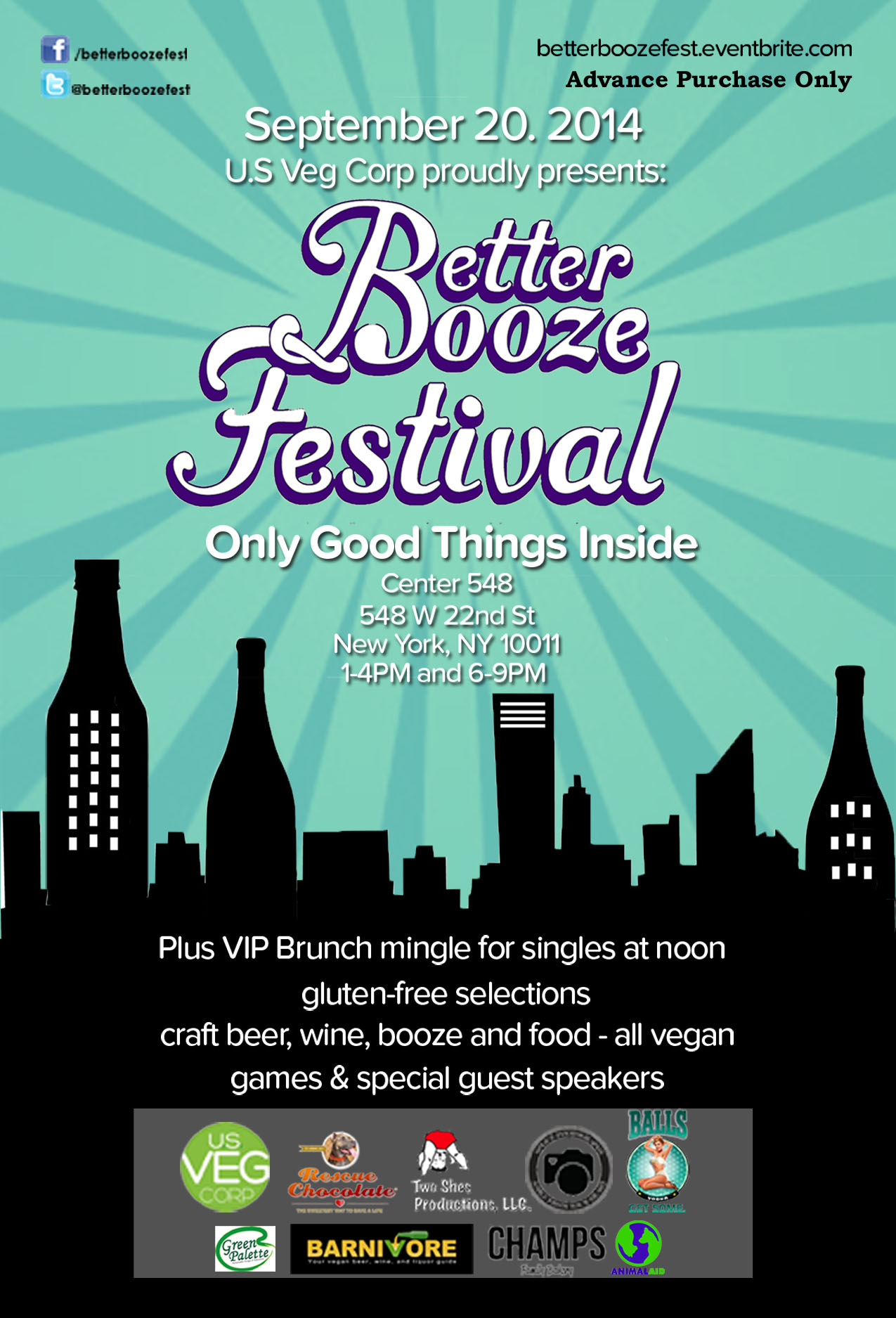 Animal Aid USA
Balls Vodka
Beyond Brewing Company
Catoctin Creek spirits
Champs

Deccolio Prosecco
Estrella Damm
New Planet
Downeast Cider
Eat Well Embrace Life Hummus
Fair Vodka
Foster Dogs NYC
Green Mountain Energy
Great Performances
Jordan Jackson J. Fox
Kuka Beer
Lammsbrau
Magic Hat
North Coast Brewing Co.
NY Distillery
Original Sin Cider
Otter Creek
Owl's Brew
Pinkus Brewery
Rescue Chocolate
Samuel Smith Organic Beer
Schlafly Beer
Smuttynose

The American Street Cat
The Murphs Famous Bloody Mary Mix
The V-Spot
Two Shes Productions
Vegan Revolution
Whitecliff Vineyard