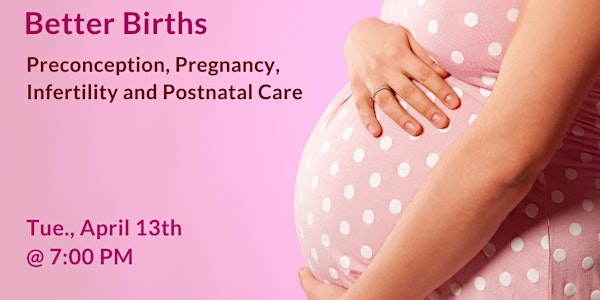 Better Births: Improving Preconception, Pregnancy, Infertility and Postnata
Better Births: Improving Preconception, Pregnancy, Infertility and Postnatal Care
Date and time
Tuesday, April 13, 2021 · 7 - 8:30pm EDT
Location
Absolute Chiropractic 2100 Route 35 Sea Girt, NJ 08750
About this event
[IMPORTANT] This is an in-person workshop and seating is VERY limited to allow for social distancing.
Whether you are preparing to get pregnant, having difficulty being able to conceive or wanting to set yourself up for the most successful birth process and postnatal period, this free community workshop covers all the bases.
Shared in a simple, engaging and relevant style, our Better Births class shares the common threads behind the rising birth challenges faced in our country as well as the key steps and strategies to have the very best health outcomes for babies, mommas and the entire family .
With advances in healthcare we should expect to see better outcomes but instead they are getting worse…
● 31.7% of births in the US are via C-section.
● Approximately 1 in 8 couples are affected by infertility.
● 80% of new moms will experience, at a minimum, the 'baby blues' and 20% will develop a perinatal mood or anxiety disorder (PMAD) which includes postpartum depression, anxiety, and obsessive-compulsive disorder
It's time we take these important topics head on AND empower families to have their very best births possible.
At the class you will learn:
● How stress and environmental toxicity impact fertility, pregnancy, baby health and postnatal depression.
● How gut health impacts preconception, post conception and postnatal outcomes.
● How the nervous system health gets neglected and is actually a key component in all aspects of better births and pregnancies.
Better births, optimal fertility, happy, healthy babies, mommas and families are crucical to a healthy communty.
We can't wait to see you there!
Seating is VERY limited to allow for social distancing so grab your spot now by clicking the link below. You'll be so happy you did.
About the organizer
State of the art, neurologically based chiropractic corrective care center located in beautiful Sea Girt, NJ. We are on a mission to empower the communites of the Jersey Shore to reach their absolute potential. We know that you were designed extraordinarily-and that, when functioning properly not only should you live free from dysfunction and disease, but live the quality life you deserve.