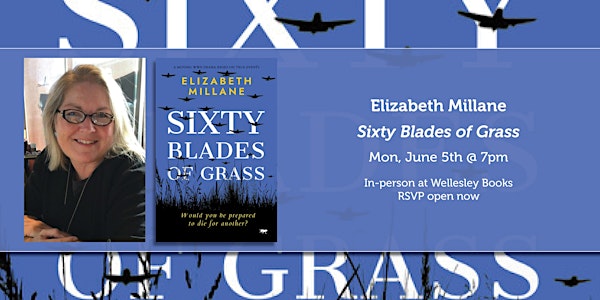 Betsy Millane presents "Sixty Blades of Grass"
The bond between a Dutch teenager and her father is tested as the Resistance wages its secret war against the Nazis.
Date and time
Monday, June 5 · 7 - 8pm EDT
Location
Wellesley Books 82 Central Street Wellesley, MA 02482
Refund Policy
Contact the organizer to request a refund.
About this event
If you would prefer to RSVP by phone, you may call Wellesley Books at 781-431-1160.
Books will be available for purchase at the event. Please note that you must purchase your copy of the book from Wellesley Books in order to have the author sign it at the event.
ABOUT THE BOOK
During the Second World War, Rika, a seventeen-year-old Dutch Resistance fighter, paints in fields overlooking the busy rail yards. Hidden in her artwork is information crucial to the Dutch Underground about the concentration camps and Jewish prisoner transports.
But Rika's covert activities aren't the only thing on her mind. In these uncertain times, even trusting family is risky. She suspects her father of collaborating with the Germans and is determined to uncover the truth.
Across town, her German-born father is also living a double life. But his desire to keep his daughter safe proves inadequate when he invites a German colonel into his home with terrible consequences . . .
With no one to rely on or turn to, Rika knows her greatest challenge has only just begun as she must fight for her own survival . . .
Inspired by the author's own family history, this is a riveting, heartrending novel of danger and betrayal that explores what it takes to lay down one's life for another in the most harrowing of circumstances.