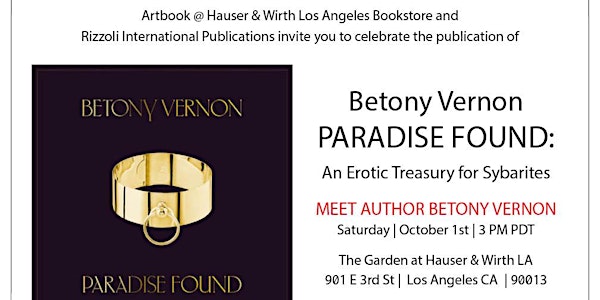 Betony Vernon PARADISE FOUND: An Erotic Treasury for Sybarites Book Signing
Betony Vernon | Book Launch & Signing for PARADISE FOUND: An Erotic Treasury for Sybarites
When and where
Location
Hauser & Wirth 901 East 3rd Street Los Angeles, CA 90013
About this event
"My primary goal as a designer is to better the quality of everyday life, so I imbue my designs with the power to please." – Betony Vernon
Join us Saturday | October 1st | 3 - 5PM for a very special book signing event with designer and educator Betony Vernon celebrating PARADISE FOUND: An Erotic Treasury for Sybarites. This signing will not take place in the bookstore, but instead will be outdoors in the lush Hauser & Wirth Los Angeles Garden event space.
PRE-ORDER A SIGNED COPY OF PARADISE FOUND HERE
A celebrated pioneer in the field of sexology and erotic design, Betony Vernon unlocks the secrets of the sensual realm, taking us on a visual journey to an intimate paradise. PARADISE FOUND: An Erotic Treasury for Sybarites traces the evolution of her mission over three decades and features her renowned "jewel-tools"—artisanal erotic jewelry and instruments of ecstasy of her own design coveted by knowing collectors around the world—alongside poetic advice on their use to reach new levels of pleasure.
The mysteries of the tantalizing ascent of arousal unfold image by image, page by page as the reader is invited to explore sensual empowerment through the sleek chains and cuffs of Sado-Chic. Additional chapters Orchestrating the Senses, Tickle Your Fantasies, Erecting the Temple, and Role Play heighten anticipation within the boudoir. Intimate Bonds and Scepters of Desire illuminate pushing limits with refined implements of ecstasy, while the voluptuous images in The Ceremony weave a dreamworld of pleasure.