Description
​It's that time of year were all you want to do is sit inside in our Onesies. While wearing my onesie trying my best to stay warm and cozy dreaming for spring to hurry on by, I thought "What's better than wearing your pajamas? Wearing your pajamas and drinking with some great people!!
This, was how the "Bethesda Onsie" Bar Crawl was born!!
That's right Bethesda! We are bringing to you our first Bethesda Onesie Bar Crawl!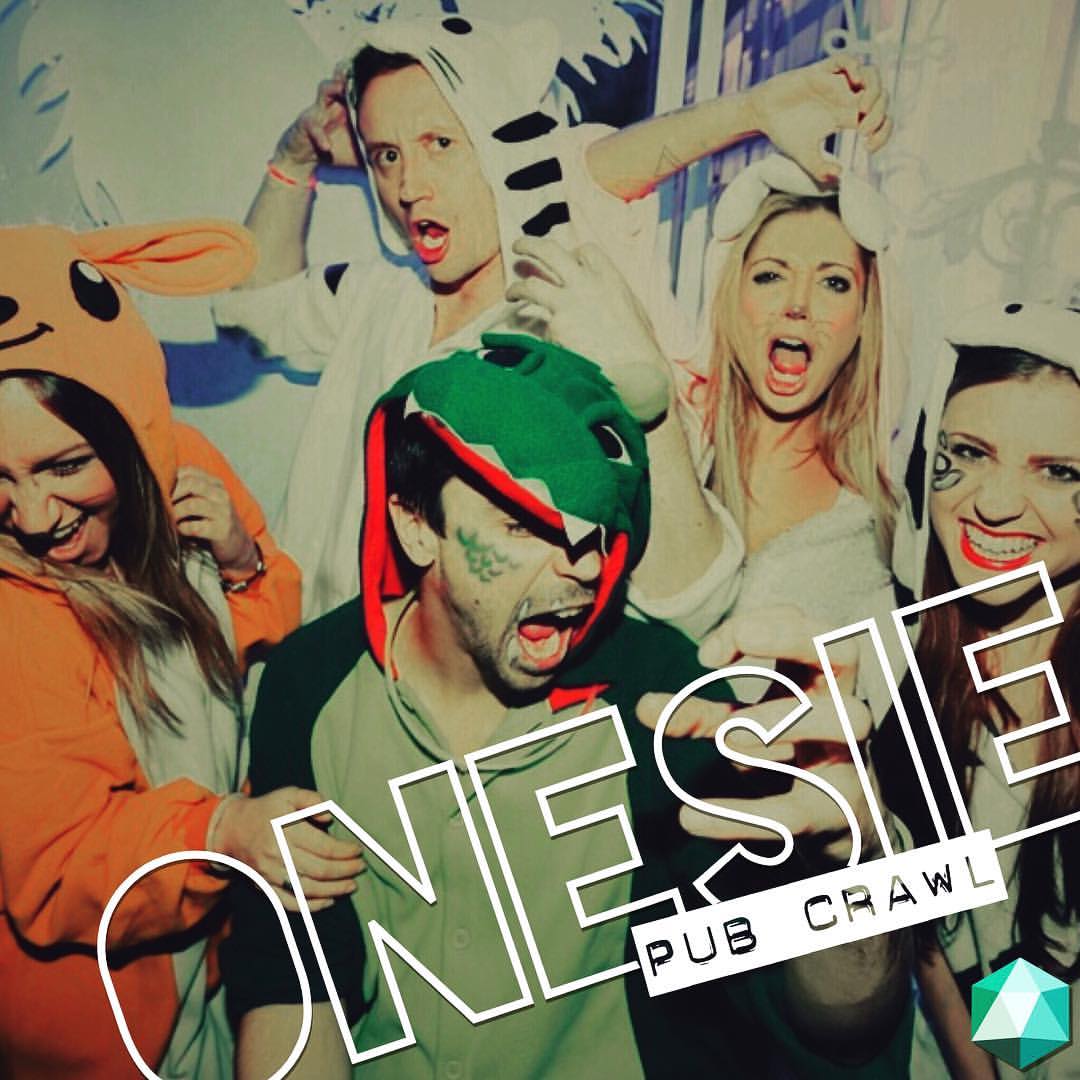 We want everyone to get up off that couch and join us in your Onesie as we will be embarking on a journey through multiple bars in the Bethesda Woodmont Triangle, enjoying exclusive drink specials and making tons of new friends all while wearing and staying warm and cozy in our Onesies.
Don't make other plans! Request the night off from work! Find a babysitter! Do whatever you need to do! You don't want to miss this event!

We're taking over the streets of the Bethesda Woodmont Triangle area for a ridiculously comfortable crawl!!
We want you all out in your Onesies, PJ's, Sweatpants, or Snuggies mingling in and out of 5 different bars and enjoying some great drink specials while making hundreds of new friends.
This will be the largest and most comfortable party in history. We've set up exclusive specials and surprises at our favorite venues, and we'll be crawling in style- and skipping the cover charge!


Getting the best night of your life started is as easy as registering at the Rock Bottom Bethesda anytime between 7pm-10pm. Once that's done, you simply grab your stylish wristband, and detailed bar crawl map or download the Pub Rally app (so you always know where the next big event is), and get started filling that cup with the best booze in town!


To check out the "Bethesda Onesie" pub crawl route, share pics and message our group during the event, download PubRally at http://www.pubrally.com/download
This is a private event that requires a key to join. You must purchase your tickets first to get the key to access the app!
When:
7PM– 2 AM: Friday, December 8th, 2017
or
7PM– 2 AM: Saturday, December 9th, 2017
Bar Crawl Registration @ Rock Bottom 7pm-10pm
Price:
$25 includes FREE After Party!!! Discounts on Uber safe ride home!!!
***ONLINE TICKETS ONLY! BUY NOW!!*** (Prices will increase at door)
Tickets:
https://bethesda-onesie-bar-crawl.eventbrite.com
Tickets Include:
Hundreds of crawlers staying warm, looking comfy, and having a blast.

FREE Cover charges for all bars.

Incredible drink specials at each bar during the crawl.

LED Pacifier

Candy Necklace

Uber Safe Ride Discount

Bar games, prizes, giveaways, and competitions throughout the crawl
*************NO REFUNDS!!!!!!!***************
***Check-in will be from 7:00-10:00pm, @ Rockbottom Bethesda***
Please Note: Participating bars and specials are subject to change at the sole discretion of the bars and/or promoter.
Online ticket sales will end at 9pm the day of the event, "At-The-Door" tickets will be available for $30.00.
A limited number of tickets are available to ensure bars won't be over crowded.
We have EXCLUSIVE hotel discounts with the Bethesda Courtyard Hotel with mention of our event!!
*************NO REFUNDS!!!!!!!***************
Must be 21+ to participate.
Don't drink and drive, arrange a designated driver, take public transportation or call a cab/uber.
SHARE THIS EVENT and LIKE OUR PAGE!!!!
Let's Make this HUGE!!!
Can't wait to see you there!!