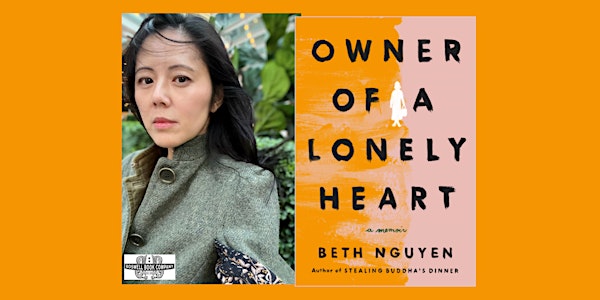 Beth Nguyen for OWNER OF A LONELY HEART - an in-person Boswell event
Beth Nguyen for OWNER OF A LONELY HEART - an in-person Boswell event
Date and time
Starts on Tuesday, July 18 · 6:30pm CDT
Location
Boswell Book Company 2559 North Downer Avenue Milwaukee, WI 53211
About this event
Boswell Book Company presents an evening with Beth Nguyen, author of Owner of a Lonely Heart.
At the end of the Vietnam War, when Beth Nguyen was eight months old, she and her father, sister, grandmother, and uncles fled Saigon for America. Beth's mother stayed—or was left—behind, and they did not meet again until Beth was nineteen. Over the course of her adult life, she and her mother have spent less than twenty-four hours together. Owner of a Lonely Heart is a memoir about parenthood, absence, and the condition of being a refugee: the story of Beth's relationship with her mother. Framed by a handful of visits over the course of many years—sometimes brief, sometimes interrupted, sometimes with her mother alone and sometimes with her sister—Nguyen tells a coming-of-age story that spans her own Midwestern childhood, her first meeting with her mother, and becoming a parent herself. Vivid and illuminating, Owner of a Lonely Heart is a deeply personal story of family, connection, and belonging: as a daughter, a mother, and as a Vietnamese refugee in America.
From Kiese Laymon, author of Heavy: "Beth Nguyen has created a new way to ache that is as comfortable exploring loss, loneliness and longing as it is exploring the contours of joy, survival and, really, the kind of fleshy isolation necessary to make lasting art. The premise here is so compelling, but the execution is otherworldly... This book, and the making of lives it explores, is what memoir writing in the hands of a caring, curious wunderkind can be."
Beth Nguyen, who has also written under the name Bich Minh Nguyen, is the author of three previous books: the memoir Stealing Buddha's Dinner and the novels Short Girls and Pioneer Girl. Her awards and honors include an American Book Award and a PEN/Jerard Award from the PEN American Center, and her work has also appeared in numerous anthologies and publications including The New Yorker, The Paris Review, and The New York Times. Nguyen teaches creative writing at the University of Wisconsin–Madison.
Click here to order your copy of Owner of a Lonely Heart from Boswell. Signed copies and personalization available on pre-orders. Please note that signed copies will not be shipped until after the event.