BETACADE 001

Thursday, July 16, 2015 from 7:00 PM to 11:00 PM (EDT)
Event Details
Please also RSVP on our Meetup page!!                     Sponsorship Info
---
Contact us: betacade@yahoo.com or use #betacade via a tweet. 
BETACADE is small gaming convention/community based in Washington, D.C. It's attendees are given the oppurtunity to be the first to play and test local up'n-coming games. We're inviting independent game developers, designers, and artists to showcase their games, projects, and/or artwork. The event will include hands-on gameplay spanning games from many genres and development phases.
Attendees will have oppurtunities to meet with game developers & designers and discuss the process of building their games. A lot of these creators pour their heart and soul into making beautiful interactive experiences and in talking with them, you'll understand just how important playtime is for their games. 
This will be the first BETACADE and we can't be more excited! We've realized there is a unique and thriving independent gaming community in the DMV region and wanted to create a consistent outlet for creators and players to come together to celebrate this growing artform. The games industry is HUGE and it can be difficult for independent developers to reach their local communities and that's why BETACADE has been produced. It's a channel for creativity, expression, and exposure. 
---
Gamers! Bring yourself and some friends for a night of unlimited gaming! These game creators work very hard to make thier game visions to come alive, so be ready to have some fun playing some of the latest games in Washington, D.C.! 
Developers! Got a game you're working on? Bring it! It doesn't have to be finished, just working enough for someone to enjoy playing some part of it. If you only have a jump button or you're ready to release a new AAA Title (Cough.. Bethesda.. Cough.. Bring FO4). We want to play whatever you got! Also make sure you read the What to Bring section below.
PLEASE after registering to showcase your game email betacade@yahoo.com:
First & Last name

Email

T-Shirt Size (S-XXL) **1 free per team, Discounted $10 shirt for each additional team member.

Game Title

System (PC, Console, Mobile, etc..)

Development phase (how far along are you?)

A logo for your game (If possible). We're sending out a "Who's showcasing" email later.
---
Format:
The format is simple, it's like a mini-E3 wherein developers will setup in various locations and display their games for onlookers to walk by and play. Developers will tend to stand by their games and answer questions. Half way through we'll have a 5 minute break and chat with some of the stand out games & developers, and a word from the prime sponsor. 
---
Venue:  
Laughing Man Tavern's huge Game Room! It's a big open space that's desires large crowds of raging gaming fans! There will be plenty of room to play, network with fellow game industry folks, and of course have fun!
---
**********DEVELOPERS, PLEASE AT LEAST READ THIS BIT..
What to bring:
• Gaming devices (Machines, Screens, & Controllers). There will be 5 venue wall-mounted TV's available at will call. No Reservations. (Bring extra HDMI/AV cables).
• There aren't many power outlets, bringing your own extension cables and surge protectors is extremely advised. Also, bringing your own fold-up table wouldn't be a half-bad idea, too. Keep it classy with a table cloth.
• If you've got swag, we love swag (just in case, swag = stickers, T-shirts, wristbands, etc.).
---
SWAG:
Want a piece of BETACADE history? This is the FIRST BETACADE ("001") and we're planning on expanding around the DMV hosting many events throughout each year. We have limited shirts available for pre-order as a $20 ticket (includes admission) and during the event the shirts will be $15 CASH ONLY.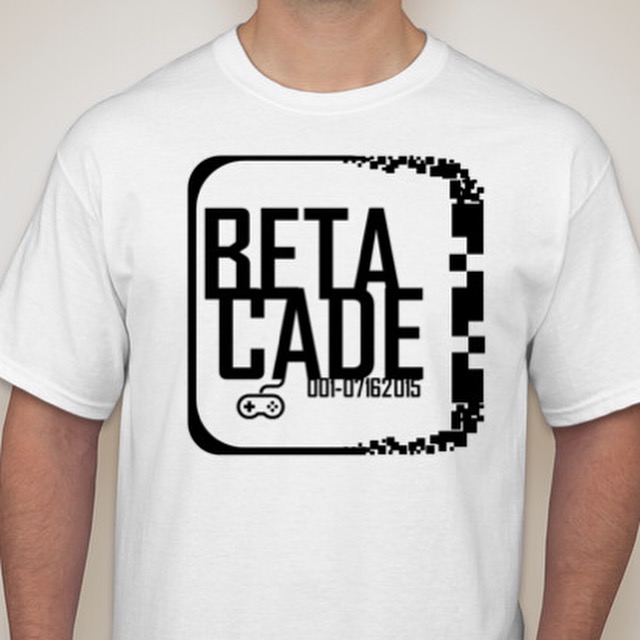 We're looking forward to seeing everyone there!
-BETACADE Team
#betacade | @BETACADE | betacade@yahoo.com 
If you use the app Periscope, we'll be spontaneously periscop-ing throughout the night!
---
*Please note by attending this event, you consent to having yourself and/or your project video recorded and/or photographed by the BETACADE organizers and/or anyone else attending. The BETACADE team retains all rights and ownership to video/photographs it produces, and attendees retain the rights to any video or photographs they produce. You acknowledge that the BETACADE team and/or the attendees can do anything they like with this video and/or photos without your written prior consent.*
---
FAQs
Where can I contact the organizer with any questions?
For all questions pertaining to the event contact us via betacade@yahoo.com or tweet using #betacade
What is being offered within the Sponsorship Packages?
Please visit our Sponsorship information page
When & Where

Big Game Room @ Laughing Man Tavern
1306 G St NW
Washington, DC 20005


Thursday, July 16, 2015 from 7:00 PM to 11:00 PM (EDT)
Add to my calendar