Event Information
Location
Emporium Wicker Park
1366 North Milwaukee Avenue
Chicago, IL 60622
Description
Beta Party is a event showcasing the latest apps/technology by up and coming tech creatives. This event is combined with a laid back atmosphere that includes digital/electronic art and a dj that brings together a creative and fun experience.

Hosted by Jasmine Shells from Five to Nine
Beta Presenters:
REALITY BYTES w/ Deb Kim
https://www.realitybyteschicago.com/
Featuring a full scale Google Tiltbrush (https://bit.ly/2LmRQS9)
Suppliers of virtual reality stations to create stimulating environments, increase attendee interaction and enjoyment, and develop unique and memorable experiences. Everything from arcade shooters and space exploration to new media art and custom 360 videos, we offer content that takes people beyond their wildest imaginations.
DEB KIM
Danbee (Deb) Kim balances her life between designing and illustrating for grassroots social movements and supporting young people find their creative and playful identity. Visit her work at danbeeart.com (@danbee_art on IG)
ONLI PACKS
Functional backpacks with prints designed by local artists for modern creatives and dream chasers.
STRUM86
Some of the biggest opportunities for a social engagement app lie in its culture. That's what makes this special, and why we started it.
All the people that you're seeing share something largely in common with you, being your taste in music. More than that, their personality traits mesh, etc. So you don't have to act "cool" or in any way to make people react more nicely to you. Start talking just like how you would in real life. The person on the other end is likely to react positively.
Music by DJ L O Kari
RSVP in advance for free entry // $5 day of event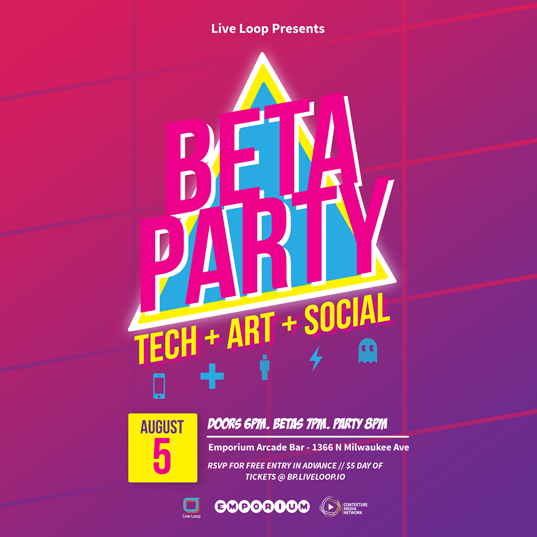 Date and Time
Location
Emporium Wicker Park
1366 North Milwaukee Avenue
Chicago, IL 60622