Description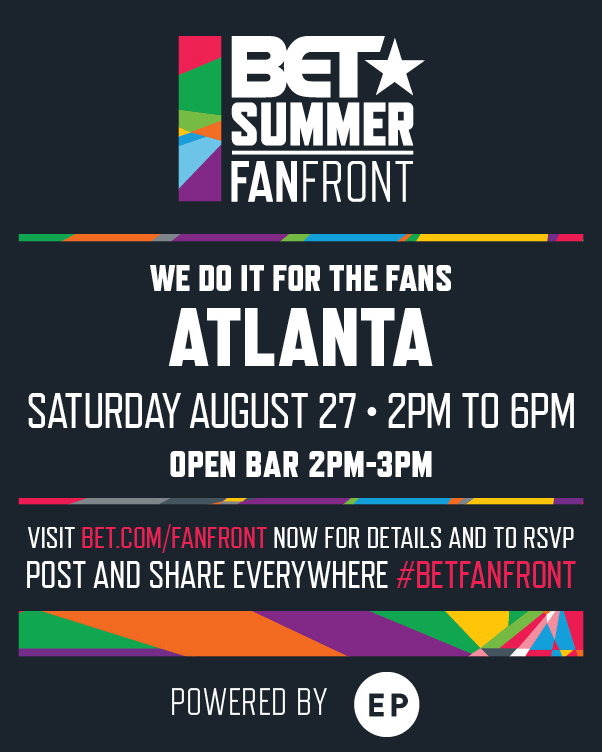 WE DO IT FOR THE FANS | SEE WHAT'S NEXT AS BET KEEPS YOUR SUMMER LIT ACROSS THE NATION!
NEW SHOW SNEAK PEEKS * DAY PARTY SERIES * COMP DRINKS * SURPRISE GUESTS
Organizer of BET FanFront Powered by Everyday People - ATL MUST BE 21+ TO ATTEND
BET Networks, a subsidiary of Viacom Inc.   (NASDAQ: VIA, VIAB), is the nation's leading provider of quality   entertainment, music, news and public affairs television programming for the   African-American audience. The primary BET channel reaches more than 90   million households and can be seen in the United States, Canada, the   Caribbean, the United Kingdom and sub-Saharan Africa. BET is the dominant   African-American consumer brand with a diverse group of business extensions:   BET.com, a leading Internet destination for Black entertainment, music,   culture, and news; CENTRIC, a 24-hour entertainment network targeting the 18-   to 49-year-old African-American female audience; BET Digital Networks - BET   Gospel and BET Hip Hop, attractive alternatives for cutting-edge   entertainment tastes; BET Home Entertainment, a collection of BET-branded   offerings for the home environment including DVDs and video-on-demand; BET   Event Productions, a full-scale event management and production company with   festivals and live events spanning the globe; BET operates in the United   Kingdom and oversees the extension of BET network programming for global   distribution.