| | |
| --- | --- |
| Best tailor in Paris 2016 goes to Boston : meet him | |
Event Details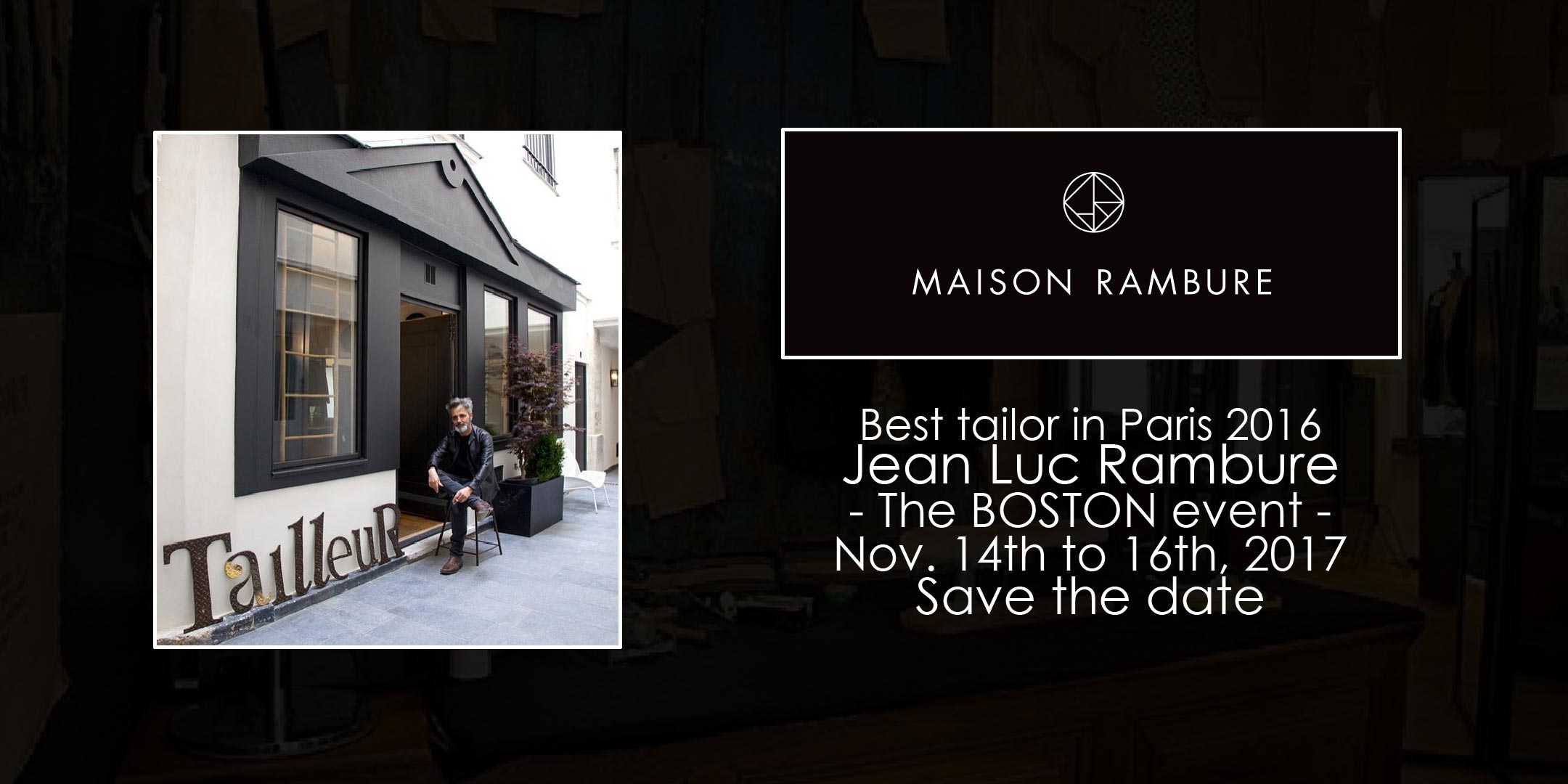 Jean-Luc Rambure, bespoke tailor for men in Paris, will be in Boston, MA, from november 14th to 16th, 2017, to present his work, to gentlemen with taste.
Don't miss it and spend an hour with Jean Luc, to discover his work and the fabric he uses (Loro Piana or Scabal), to take your measurments and - who knows ? - you might end up refreshing your wardrobe with Jean Luc's parisian, chic anc classy touch.
Save the date and pick the good time to meet Jean Luc Rambure in person, in Boston.
See you very soon !
When & Where

Jean-Luc Rambure's Boston event
Back Bay
The actual location will be revealed soon
Boston, MA 02115


Organizer
Jean Luc Rambure is a bespoke tailor for men, working in Paris since 2000.

Even as a little boy, Jean-Luc had an affinity to fabric. At just 5 years old, he accompanied his mother to the fabric store. Growing up around the accoutrements of sewing, he became interested in clothes early on. His grandmother's sewing machine served Rambure for the production of his first clothes; he quickly outgrew his hand-me-down machine and bought his own just a few years later.

Through trial and error, he learned a lot about patterns, needlework and tailoring. Since he also had a passion for vintage clothing, Rambure learned how to alter garments and studied how old masters tailored their garments. Once he turned 20, he decided to move to Paris, aspiring to become a designer and hopefully a men's tailor one day.

Just four years later, he changed his mind and pursued a career in interior design, which led him to move to the US. There, he realized that tailoring was his greatest passion after all, and after just a year abroad, he returned to Paris to learn the tailoring craft with Parisian bespoke tailors. In 2002, he succeeded in becoming a partner in a bespoke tailoring establishment. After 4 years of hard work, Rambure opened his very own tailoring shop, and he now resides at 257 Rue St. Honoré, Paris.