Best-selling author Adam Gopnik at Roosevelt University
Description
The Montesquieu Forum at Roosevelt University
and the
Benjamin Franklin Project at Illinois Institute of Technology
present best-selling author Adam Gopnik,
as part of the
Galileo-Shakespeare Project:
A Conference on the Humanities and Sciences
in the Early Modern World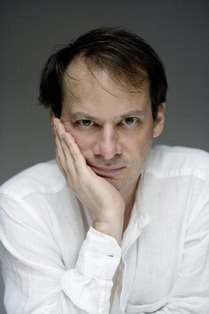 Best-selling author Adam Gopnik has been a writer for The New Yorker since 1986, and his work for the magaine has won both the National Magazine Award for Essay and the George Polk Award for Magazine Reporting. Along with his award-winning magazine writing, Gopnik has written a number of books including Paris to the Moon; Through the Children's Gates; Angels and Ages: A Short Book About Darwin, Lincoln, and Modern Life, and his most recent work, The Table Comes First: Family, France, and the Meaning of Food. Described as "a remarkable speaker and consummate story-teller" with a "comic-personal" style, Mr. Gopnik is a popular writer who was named a Knight of the Order of Arts and Letters by the French government in 2012. We're thrilled to have Mr. Gopnik visit Roosevelt University.
Details:
Nov 13, 2014
5:00pm
Roosevelt University
Ganz Hall
430 S. Michigan Ave
Chicago, IL
Mr. Gopnick is appearing at Roosevelt University as part of the Galileo-Shakespeare Project: A Conference on the Humanities and Sciences in the Early Modern World. The other participants of the confernece will be appearing at the McCormick Tribune Campus Center Auditorium, Illinois Institute of Technology. For more information, click here.
For more information, contact Benjamin Lynerd at 312-341-3722.