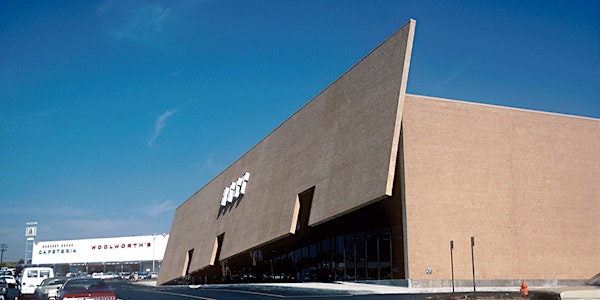 Best Products "Tilt" Showroom
Doors Open Baltimore presentation on Towson's lost post-modern landmark, the Best Products "Tilt" Showroom
Refund Policy
Contact the organizer to request a refund.
Eventbrite's fee is nonrefundable.
About this event
Suggestion Donation: $10
This program is hosted on Zoom. Upon registering you will receive an email confirmation and a Zoom link. If you do not receive a link, please contact ndennies@aiabalt.com. If you do not contact us at least 1 hour prior to the start of the program, we cannot guarantee admittance.
This presentation will dive into the history of the Best Products "Tilt" Showroom, a lost post-modern landmark in the suburbs of Baltimore. The building opened its doors in October of 1978 in the Eudowood Plaza shopping center in Towson and immediately drew praise, criticism and crowds of curious shoppers. The Tilt was built to appear as if the entire front wall of the store had been lifted by a superhuman force and precariously balanced on the edge of the roof. This eye-popping architectural illusion was more than just a publicity gimmick; it was a surrealist-inspired work of art that sought to fuse public sculpture and architecture.
The Tilt Showroom was designed by the firm SITE (an acronym for Sculpture In The Environment) which was composed primarily of young of sculptors and artists from New York with no background in architectural design. During the 1970s and 80s, SITE designed eight other avant-garde showrooms like the Tilt for the home-goods retailer Best Products. These stores shocked the public with their quirky and eccentric designs. They simultaneously became some of the most popular and controversial buildings in the U.S. and made headlines in architectural publications around the world. Sadly, the Tilt and other Best Products showrooms have since been demolished, but their legacy lives on through images and many critics now consider them post-modern architectural works of art.
About the presenter:
William Canup is a rope-access façade inspector and restoration specialist based in New York City. He received his Bachelors (2012) and Masters (2015) of Architectural History from the University of Virginia, and wrote his MA thesis on James Wines and SITE. He has served on the board of the Victorian Society New York since 2017 and has lectured for the Victorian Society and for the Society for the Advancement of Social Studies. He has had the pleasure of being suspended from the tops of the Empire State Building, the Chrysler Building, and dozens of other icons of New York City architecture.