Best Practices of Peer Delivered Services

Saturday, December 8, 2012 from 8:30 AM to 4:30 PM (EST)
Event Details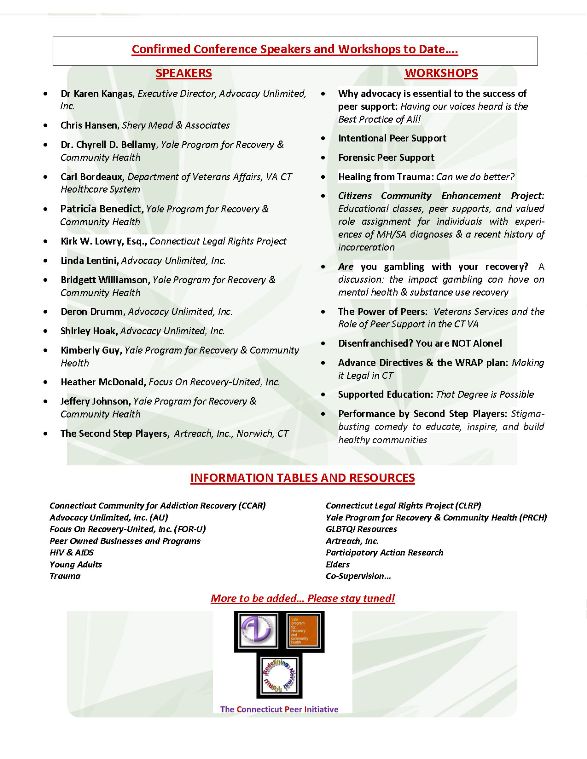 _________________________________________________________________
This is a one day event will feature presentations, discussions, and workshops on Best Practices of Peer Delivered Services that are currently available in Connecticut, and changing the face of mental health services in this state, nationwide, and internationally.
This event will include information and resources on topics such as:
Intentional Peer support
Forensic Peer Support
Veterans
HIV and Mental Health
Supervision and Co-Supervision
Gambling Addictions and Mental Health 
Peer/Recovery Certifications
Young Adults Initiatives
Recovery Coaching
Elders 
Integrated Wellness
Participatory Action Research
Supported Education/Employment 
...and provide an opportunity for networking and information sharing.
Stay tuned for the specifics re: workshop content and the fabulous presenters
as further details will be uploaded soon!
_________________________________________________________________
FAQ's
1) Is there a phone number or email where I can contact the organizer with any questions?
  focusonrecovery@gmail.com
Tel: (860) 704-0556
2) How can someone register without Internet access?
Please email us or call the number above and we will collect your information and complete the online registration for individuals who do not have access to the internet. 
3) What payment methods can I use?
You must complete the registration form and then you will be given a choice of the following payment options:
You may pay by credit card through the PayPal option.
You can pay by check or money order payable to "FOR-U" and mailed to: 
Focus On Recovery-United, Inc.
100 Riverview Center, Suite 272
Middletown, CT 06457
You may request to be sent an invoice.
4) Will you be accepting registrations at the door?
If space is still available we will gladly accept walk-in registrations on the day of the event.
5) Do I need to print out and bring the registration to get in?
No. If you have registered online and recieved a confirmation email, we will have your registration information available without the need for you to bring a printed version.
6) What is your refund policy?
Should you need to cancel your registration, the registration price will be refunded minus a $2.50 administrative fee for cancellations received by 5.00 pm on November 28, 2012. 
7) Is there parking at the event? 
There is FREE parking in Lot D which is located Behind Exley Science Center
8)  Is the venue ADA accessible?
Yes. Accessible entries from Church Street and Lawn Avenue
ADA parking in D Lot on Lawn Avenue – path from parking area to ramp is a steep gradient

All floors accessible

Manual pull doors

Elevators

ADA accessible restrooms on main floor

Auditorium SC150: accessible and companion seating from main floor entrance. Accessible and companion seating at lecture level, access from elevator to ground. Hard of hearing headsets available.
9)  Is lunch included in the registration fee?
Yes. 
Continental Breakfast will be available in the lobby area when registration opens at 8.30am. Lunch, afternoon snacks, and beverages will be provided in the lobby area.
When & Where

Wesleyan University, Exley Science Center
265 Church St
Middletown, CT 06457


Saturday, December 8, 2012 from 8:30 AM to 4:30 PM (EST)
Add to my calendar
Organizer
This event is hosted by the Connecticut Peer Initiative (CPI).
The CPI is a Collaboration between Focus On Recovery-United-Inc. (FOR-U), Advocacy Unlimited, Inc. (AU), & Yale Program for Recovery and Community Health (PRCH).
  Focus On Recovery-United, Inc.
100 Riverview Center, Suite 272
Middletown, CT 06457
Toll Free In CT: 1 (866) 255-5029
Tel: (860) 704-0556, Fax: (860) 704-0767
Email: focusonrecovery@gmail.com
Website: http://www.focusonrecovery.org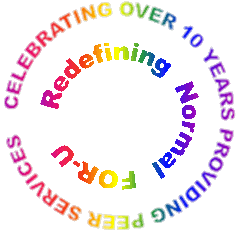 Advocacy Unlimited, Inc.
300 Russell Rd
Wethersfield, CT 06109
Tel: (860) 667-0460, Fax: (860) 667-2240
Toll free in CT: 1-800-573-6929
Email: info@mindlink.org
 Website: http://mindlink.org/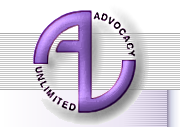 Yale Program for Recovery and Community Health
Erector Square, Bldg. One 
319 Peck Street
New Haven, CT 06513
Website: http://www.yale.edu/PRCH/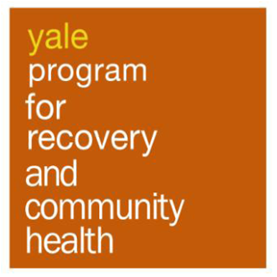 Partial funding for this conference is made possible by a 2012 BRSS TACS Peer-Run Organization Award.
Best Practices of Peer Delivered Services