Best Practices in Learning Support: Math Instruction

Monday, February 12, 2018 from 3:00 PM to 4:30 PM (EST)
Event Details
A GGC e-mail address is required in order to register for this event. Our events are developed specifically for GGC faculty and staff only. All other registrations will be declined.
Best Practices in Learning Support: Math Instruction
This workshop will begin with an in-depth discussion of Student Success Math courses (STEM and non-STEM majors) and assessment practices at GGC. We will examine various methods of incorporating online content modules (i.e. MyMathLab, ALEKS). Participants will gain a better understanding of effective class strategies and assessments for students who are either in Student Success Math courses or who have exited into their college-level math and math-intensive courses.
Outcomes - Upon successful completion of this workshop, participants should be able to:
Understand the student learning outcomes and assessment measures for Student Success Math courses: Foundations Math and Math Access (co-requisite) courses for STEM and non-STEM majors,

Identify ways to incorporate online content modules (MyMathLab, ALEKS) in the preparation of students for courses beyond learning support Math,

Identify particular instructional challenges for developing students' mathematical competencies,

Identifypedagogical teaching strategies to address student challenges at any stage in the Student Success pathway to college-level Math courses and beyond.
This session will be offered twice. Please register for the date that is most convenient for you:
1) Monday, February 12, from 3:00 - 4:30 pm
2) Thursday, March 15, from 11:00 am - 12:30 pm
Facilitator: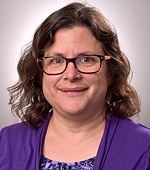 Ms. Jenny Kerven - Instructor of Mathematics
Jenny Kerven is a mathematics instructor here at GGC. She has two master's degrees from Florida State University: one in mathematics, and one in mathematics education. This balance between her understanding of math and her understanding of learning has helped to create the teacher she is today.
Kerven worked as a teaching assistant at Florida State University for four years while working on her master's degrees. After graduate school, she took a one-year temporary position teaching at Gainesville College. At that point, she decided it was time to challenge herself by leaving her comfort zone and teaching high school. She taught at Yeshiva Atlanta High School for two years, until her children were born. After returning to the workforce, Kerven taught mathematics in the Dekalb County School System (Martin Luther King Jr. High School) for six years. During that time, she built up her "toolbox" of teaching strategies which she now brings to GGC.
When & Where

GGC, Center for Teaching Excellence
1000 University Center Ln
L-Building, CTE Conference Room (L-2135)
Lawrenceville, GA 30043


Monday, February 12, 2018 from 3:00 PM to 4:30 PM (EST)
Add to my calendar