Description
We are excited to host subscription expert and author Robbie Baxter who will share her insights and advice on how to optimize your software as a service (SaaS) product and business.
In the Membership Economy, no one product is as important as the ongoing relationship with your customer. Access trumps ownership, relationships take priority over transactions and communication is multidirectional, transparent and integrated into the product itself. What does this massive transformational trend mean for your strategy? Join Robbie Baxter, author of the Amazon bestseller The Membership Economy. She'll cover the following and much more:
What subscription pricing means for product strategy

The roles digital community can play in your product offering

Why some products become habits and others don't

How to design to mitigate churn (without hiding the cancel button)

Onboarding tactics to build superusers
This interactive session is guaranteed to inspire new ideas and provide opportunities for reflection and practical implementation.
About Robbie Baxter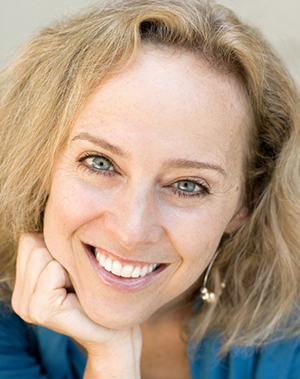 Robbie Baxter is the founder of Peninsula Strategies LLC, a management consulting firm, as well as the author of the The Membership Economy: Find Your Superusers, Master the Forever Transaction & Build Recurring Revenue, a book that has been named a top 5 Marketing Book of the Year by Inc.com and has over 150 5-star reviews on Amazon. She coined the popular business term "Membership Economy" and is a featured expert on LinkedIn Learning.
Robbie's clients have included large organizations like Netflix, SurveyMonkey and The Mail Newspapers in the UK, as well as dozens of smaller venture-backed companies. Over the course of her career, Robbie has worked in or consulted to clients in more than twenty industries.

Before starting Peninsula Strategies in 2001, Robbie served as a New York City Urban Fellow, a consultant at Booz Allen & Hamilton, and a Silicon Valley product marketer. She has an AB from Harvard College and an MBA from the Stanford Graduate School of Business.

You can learn more about Robbie on LinkedIn and find her on Twitter at @robbiebax.
Raffle Prizes
After Robbie's talk, we will be raffling off several copies of her book The Membership Economy: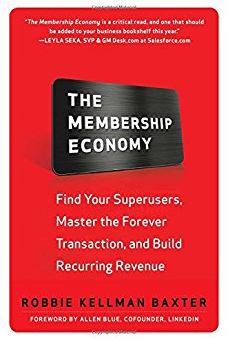 Meetup Agenda
6:00 to 6:30: Check-in, dinner, and networking
6:30 to 8:00: Robbie's talk plus Q&A
8:00 to 9:00: Raffle prizes followed by networking
Note: tickets are non-refundable.
About our Sponsors
Our sponsor UserTesting makes it easy to obtain user feedback on your product so you can improve your customer experience. Learn more at usertesting.com.
Our sponsor Coreography provides corporate video and webinar solutions. Learn more at coreography.com.
Our sponsor productboard provides courses and consulting in Agile, Scrum, and Lean. Learn more at productboard.com.
A big thank you to Intuit for providing the space for our event!