| | |
| --- | --- |
| Best Practices for Branded Video Content + More @ Dec. LAPPG Meeting | |
Event Details
This month's LAPPG meeting will be filled with Holiday Cheer as we invite you to participate in our 5th Annual Food Drive for those needing some help in our community this season. This festive and fun meeting will include THREE presentations, an end of the year prize giveaway, networking and holiday refreshments.

Join us on 

Wednesday, December 9th, 2015
Doors open at 7pm
for

Emerging Trends and Best Practices in Branded Video Content

Brands and organizations around the world are doing everything within their power to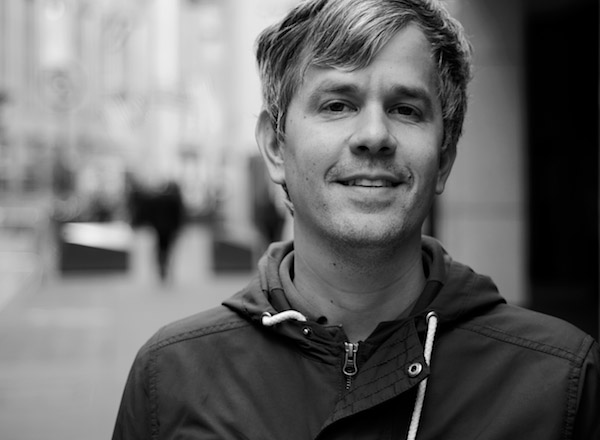 create compelling videos in order to engage new audiences. In his role at Shutterstock, Derick Rhodes, Director of Footage, has had a front row seat for the explosion of branded content videos over the last few years, and in this presentation he'll analyze what works (and what doesn't!), walk us through a few case studies of how brands effectively use video, and talk about how filmmakers and post-production professionals should think about working (or not) with brands.

+


RAID Storage from HighPoint Technologies
HighPoint Technologies, Inc. will be visiting the group this month to showcase their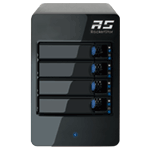 RocketStor RAID Storage options for Mac and PC editing platforms. They will be able to answer your questions about their affordable high-performance solutions and about important factors when deciding on what solution would meet your needs.

HighPoint has always been on the frontlines of the storage industry. Their experienced in-house hardware and firmware engineering teams allow them to work closely with technology partners to quickly bring reliable, cutting-edge storage products and solutions to market. Their pioneering attitude towards product development, combined with two decades of storage expertise, has streamlined their production methodology.

+



 The Latest From Zaxwerks

We are excited to have Alex Dow, VP of Marketing at Zaxwerks, return to the group to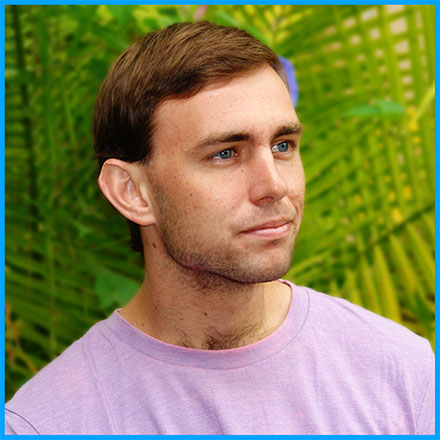 show us the new Zaxwerks product, 3D Flag v4. This new version is all about speed and beauty and is geared for the user that values his render time. 3D Flag is the fastest way to get 3D cloth into your projects without having to know anything about 3D. He'll show how easy it is to setup your first flag, customize it, and get it off to your client. He'll also show some real-world examples that can help with every day work.


Alex's depth of knowledge and infectious attitude has helped people all over the world discover how easy 3D motion graphics can be, right inside of After Effects, when using Zaxwerks products.



+
5th Annual LAPPG Food Drive
It's that time of year again where we think about those in the community who may need a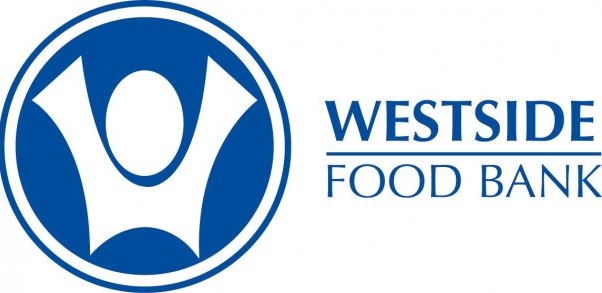 little extra helping hand. Please bring non-perishable food items to our meeting and help us break last year's record of approximately 250 cans! All donations will benefit the Westside Food Bank.

For each item you bring up to the first 10 you will receive a ticket for our very popular monthly giveaway. You are of course welcome to bring as much as you are able to!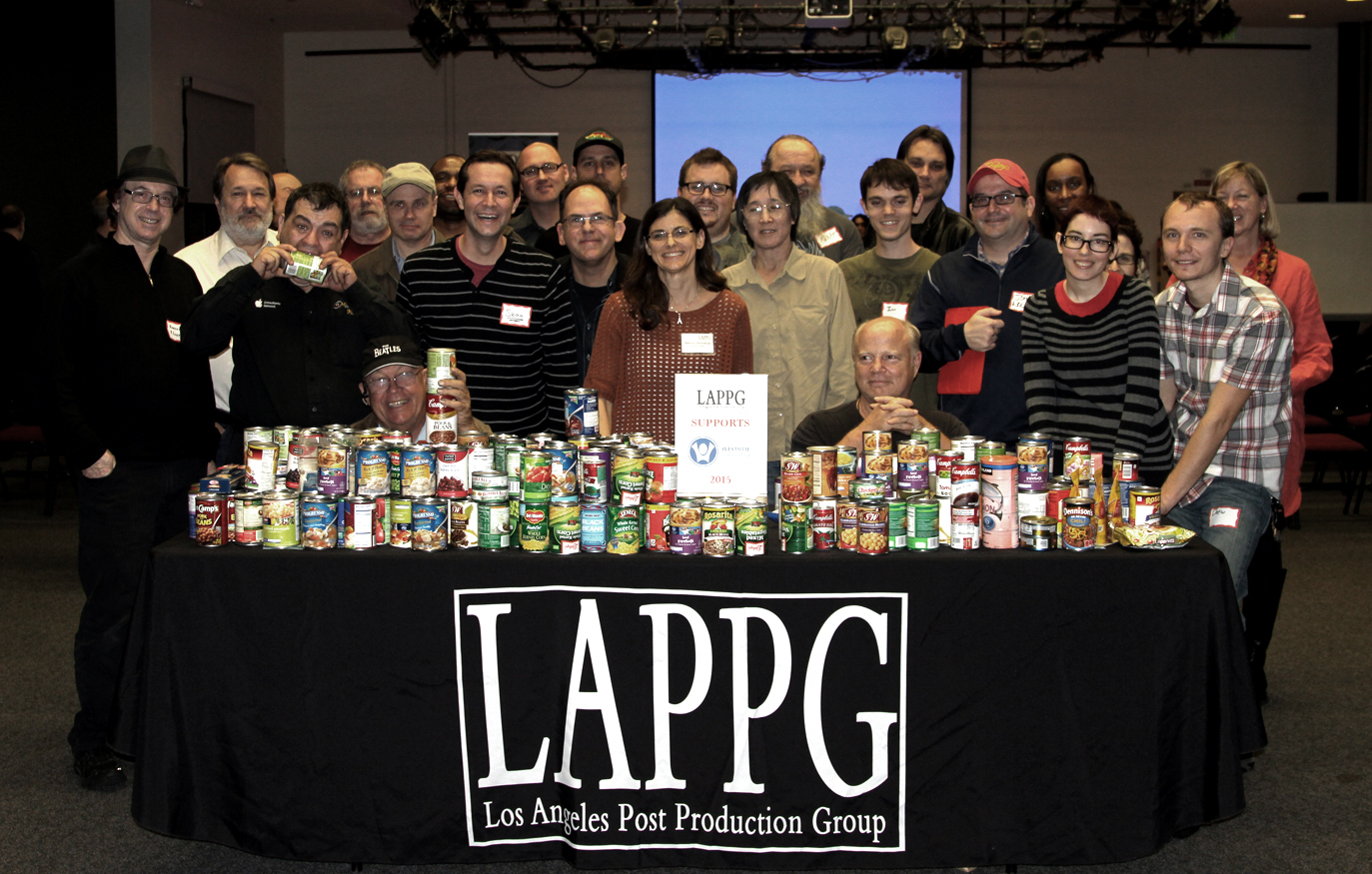 2014's LAPPG Food Drive

***As always there will be plenty of time to network, enjoy some coffee and participate in our great giveaway which includes thousands of dollars of amazing prizes from our generous partners!

$5.00 kindly requested at the door will include 1 giveaway ticket.
Location:

***Street parking is available as well as a Crossroads Parking Lot on 22nd street parellel to the venue.
Click for a map here.



---
ANNOUNCING L.A. POST FEST - CREATE YOUR STORY IN POST

Ready for a challenge? The Los Angeles Post Production Group has recently launched an editing competition for our members and the post production community at large.
L.A. Post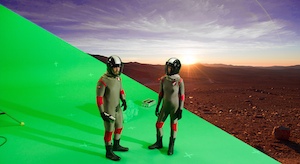 Fest is an opportunity to explore the role post production has in storytelling by supplying footage from a green screen sci-fi short film "Protocol" and additional assets including Music from Sony Creative Software, Images from the European Southern Observatory and the option to use Blackmagic DaVinci Resolve 12.
In this apples to apples competition, entrants will use their creative vision, storytelling and post production skills to make their own version of the film.
We've invited 6 top industry experts to serve on our judging panel to pick the 5 winning films which will be screened at the Festival in L.A. in May 2016 and will receive awards and prizes approximately valued at $20,000.

EARLY BIRD RATE TO ENTER ENDS DECEMBER 20th, 2015
DEADLINE FOR ALL FILMS IS FEBRUARY 7th, 2016

---
MARK YOUR CALENDARS FOR THESE UPCOMING LAPPG MEETINGS:
January 14th, 2016 – LAPPG Meeting (Roth Hall)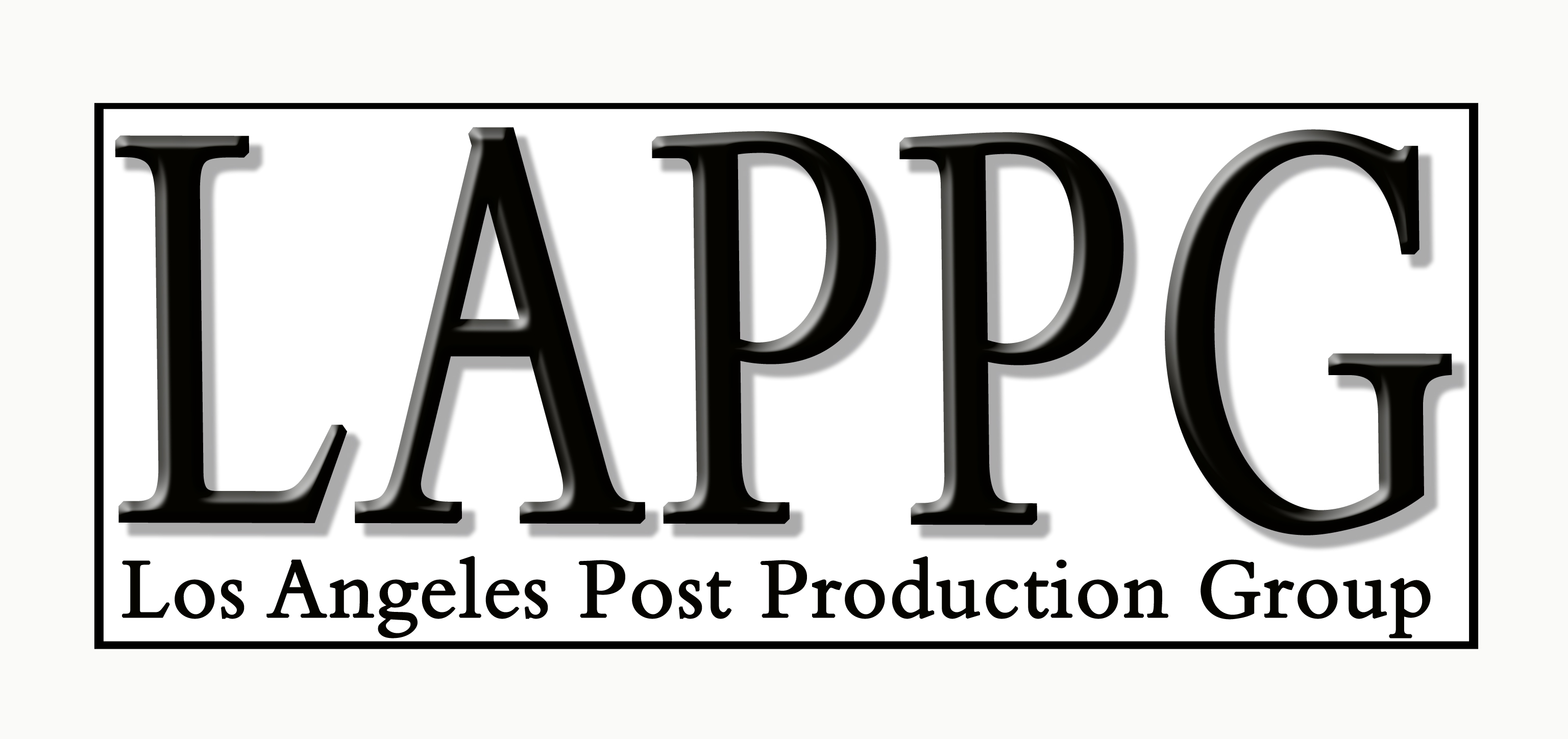 February 10th, 2016 – LAPPG Meeting (Roth Hall)
March 9th, 2016 – LAPPG Meeting (Roth Hall)                                                                          

---
GREAT INFORMATION AT 4 WAYS TO A 4K FINISH

We were lucky enough to be invited to join our friends at Digital Cinema Society for their "4 Ways to a 4K
Finish" event at Raleigh Studios on November 21st.

The day was filled with informative presentations from many great companies including our sponors Blackmagic Design and Adobe, plus, insightful panel discussions. Congrats to James and Charlene Mathers for producing this informative event!

Thank you to the always generous Digieffects for their donation of a copy of Damage that we give away at the event.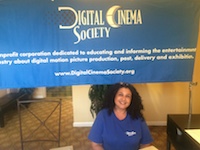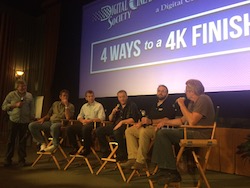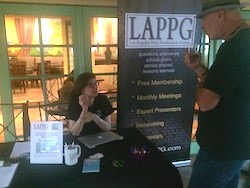 DCS's Charlene Mathers at check-in.         Panel discussion of the presenters.         LAPPG signs up new members.
---
We graciously thank the following partners for their generosity and support of our monthly meetings. Please visit them:
Adobe, Advantage Video Systems, Art of the Guillotine, Artbeats, Audio Network, Below The Line, Blackmagic Design, BorisFX, CSS Music, Creative Handbook, Digieffects, Digital Rebellion, Focal Press, HDSLR Shooter, HighPoint Technologies, Inc., Imagineer Systems, Intelligent Assistance, iZotope, Larry Jordan & Associates, Lynda.com, MacMall PRO, Moviola, Mercury Production Report, Post Production Buyers Guide, Pro Sound Effects, Pro Video Coalition, ProductionHUB, Randi Altman's postPerspective, Shutterstock, Sony Creative Software, Sorenson Media, Sound & Picture, Videoguys.
We look forward to seeing you on Wednesday, December 9th!
Sincerely,

Los Angeles Post Production Group
Please visit www.lappg.com for member offers, book reviews, job listings, industry news and more.
When & Where

Crossroads School for Arts & Sciences - Roth Hall
1714 21st Street
Santa Monica, CA 90404


Organizer
Los Angeles Post Production Group
The Los Angeles Post Production Group is a professional organization for people with a passion for film, video and the digital media finishing process.

The LAPPG discusses all aspects of post production, from picture and sound editing to color correction, visual effects, codecs, storage and post workflows.

Expert presenters and leading companies come to our monthly meetings and share new technologies, techniques, tools, products and best practices to aid us in telling great stories.
We also provide our members with great offers and discounts as well as opportunities to network and make industry connections.
Membership is free and you need not live in Los Angeles to take advantage of this great resource.
To become a member please email your name and information about yourself to membership@lappg.com.
Best Practices for Branded Video Content + More @ Dec. LAPPG Meeting