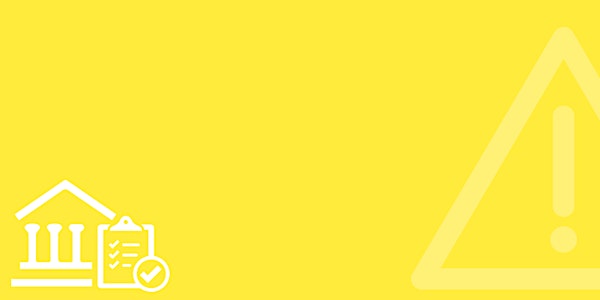 Best Practices For Banking Fraud Prevention And Control
Best Practices For Banking Fraud Prevention And Control
About this event
Date: Nov 15, 2022.
Time: 1 PM EST
Duration: 60 Minutes
Level: Intermediate to Advanced
Group Packages: Please contact ben@complyrules.com
Description
Fraud is of more concern to banking leaders today than ever before. This is driven by national media coverage, actual dollar losses, the attack on trust (which is key to customer relationships), costs to allay customer concerns, changing regulatory environment and changes in how fraud efforts are being organized.
Fraud is no longer just a "cottage industry", it is moving to an industrial model where specialists steal data and sell it to others who organize high-volume attacks by multiple perpetrators. Banks cannot combat the "Fraud Industry" with yesterday's methods.
There are reasons to believe that fraud losses are actually higher than recognized. Some fraud losses are buried in card interchange fees. A significant amount of fraud losses likely gets reported in banks' accounting as credit losses. But they weren't due to poor credit decisions, they were fraud scams from day-one.
Software is widely installed to identify specific patterns and "unusual" transactions. But the fraudsters know this and are constantly striving to create new patterns where their transactions are designed not to be flagged. Like in a game of chess, the advantage goes to the side that thinks the most moves ahead.
Areas Covered:
Reasons for focus on fraud, it is not just the money.
Two step process: Identity and Execution
Specific Identity aspects of frauds
Payment systems issues (check image, ACH growth)
Credit issues (cards and loans)
Centralizing financial crime responsibilities
Eight points where fraud can be addressed by a bank
Four ways to add value to your bank
Why should you attend?
Recent massive data exposures have put the spotlight on fraud risks to banks, merchants, and personal banking customers. Fraudsters are always looking for new opportunities and new weaknesses. The availability of customer data on the black-market gives them new power tools to use to enrich themselves. A bank has responsibilities to its shareholders and customers to protect them from these ever-changing threats.
Who will benefit?
Retail Banking Leaders
Risk and Compliance Officers
Loss Control Managers
Fraud and Financial Crimes Departments
Important: Please plan to bring a multidisciplinary group from your Company to gain the most from this very important seminar.
In-Person Seminar going Virtual with increased learner satisfaction.
Yes, attend this seminar from anywhere. We are making it real and more interactive – Here's a sneak peek:
Our enhanced delivery process and technology provides you with an immersive experience and will allow you to access:
The real-time and live presentation as in in-person events
Private chat for company-specific conversation – the same as you would get in an in-person seminar
Opportunities to connect with your peers to share knowledge at different times and have group discussions
Live workshop activities
Live Q&A during the event and offline Q&A assistance after the event
As usual more content, activities and case studies and now adding homework for a comprehensive understanding
Additional service: (Personalized session)
We also do various similar customized events for our clients and it is specially tailored as per the client's requirement. We arrange calls between clients and our course instructors to better understand the training requirement and accordingly a training program is designed. The course duration ranges between 90 Mins and 12 hours. Most 6 hours and 12 hours of classes are split into 2 to 3 days considering customer convenience.
We have 500+ consultants who are associated with us and each have their own specialization example GxP, GMP,GLP, 21 CFR, Computer system validation, FDA Audit & Inspection, Bioassays, Design Control, Data Integrity, FDA regulation, Clinical compliance, and almost everything that falls under Risk, Quality and Compliance arena in the Life Science industry.
If you think that your team needs some kind of boost, update or refresher in Risk management and Regulatory compliance then let me know and we can design a highly cost efficient program for you.