Our Annual Best Practices Club is back!
About this event
Our Annual Best Practices Club is back! Join us for our first in-person event of 2021! This event will be held at Parsons Behle & Latimer in Salt Lake City.
Topics include: Ethics for In-House Attorneys, Cloud Service Agreements, Purchase Agreements, and Anti-Corruption.
Agenda:
8:00-8:30 Registration/Breakfast
8:30-9:30 Ethics Presentation
9:30-12:30 Roundtable Discussions
12:30-1:00 Lunch & Networking
8:30-9:30
Attorney Ethics for In-House Counsel: This presentation is designed to address common ethics and professional responsibility issues encountered by attorneys working in an in-house setting. Topics include the nuances of representing organizational clients, the attorney-client privilege in a corporate setting, ethics issues related to internal investigations, and navigating conflicts of interest.
Presenter:
Alex B. Leeman, General Counsel & Shareholder, Parsons Behle & Latimer
9:40-10:40
Anti-Corruption, Anti-Bribery and Anti-Government Enforcement: How to Avoid Becoming a Target of Government Regulators
If your business buys or sells product overseas; is regulated by the government; or has potential whistleblowers, you should be prepared to be the target of a government investigation. Join us to learn practical steps that help businesses minimize risk associated with government enforcement actions. We will review areas of law that often expose companies to enforcement risk, including:
• The Foreign Corrupt Practices Act
• The False Claims Act
• Anti-Money Laundering regimes
• U.S. Sentencing Guidelines governing corporate compliance programs
Attendees will also receive advice on managing government investigations, including:
• Preparing employees for government scrutiny
• Best practices for managing internal investigations
• Preserving protections provided by attorney-client privilege
Presenter:
Jeffrey C. Corey, Shareholder, Parson Behle & Latimer
10:50-11:50
Purchase Agreements – A Primer: In this inter-active session, we will analyze a case study for a stock acquisition and key provisions of a Purchase Agreement. Among other sections, we will discuss heavily negotiated provisions such as representations and warranties, limitations of liability, and clauses regarding employees (pre-signing and pre-closing offers, non-competition covenants, etc.), as well as the impact of knowledge and materiality qualifiers. We will also address timely topics such as representations and warranties insurance and anti-trust considerations.
Presenters:
Barbara Bagnasacco, Shareholder, Parsons Behle & Latimer
Allison Blais, Director & Associate General Counsel, Adobe
12:00-1:00
Cloud Service Agreements – Negotiation of Critical Terms: This presentation will focus on significant contested terms and conditions in cloud services agreements that arise during negotiations between customers and cloud providers. From limitations of liability, representations and warranties, indemnification, to the intricacies of SLAs, this discussion will shed light on current trends in the planning and negotiation of agreements involving cloud services, remote access, and data storage technologies
Presenters:
Angela Edwards, Director, Legal BU & Sales and Legal Operations, Micron Technology
Christopher G. Simboli, Shareholder, Parsons Behle & Latimer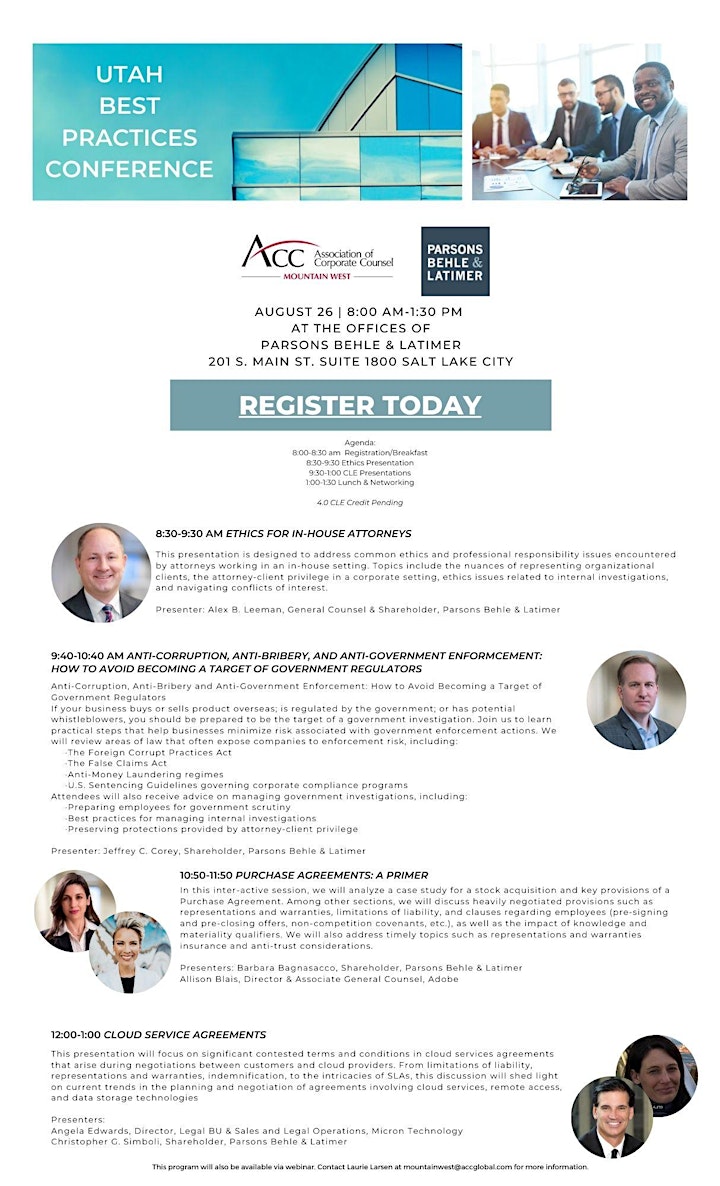 Organizer of Best Practices Club
ACC Mountain West is an award-winning organization made up of over 280 active in-house counsel members representing leading local, national, and international companies. Serving in-house counsel in Idaho, Montana, Utah, and Wyoming, the Mountain West Chapter covers the largest geographical region of any chapter in the Association of Corporate Counsel. The Mountain West Chapter was the winner of the Association of Corporate Counsel National Chapter Challenge Award in 2010 for its programming and membership growth.
Working with our sponsors, the Chapter provides several CLE programs throughout the year, as well as a number of networking and community service events. Some highlights are the Annual Idaho Corporate Counsel Awards Gala, the Utah Best Practices Club, Operation Homeless Connect Salt Lake City, Zoo Boise event benefiting Big Brothers Big Sisters of Southwest Idaho, and Women's/Diversity Seminars.
For more information, please contact the Mountain West Executive Director, Laurie Larsen.ACC Mountain West Website