Description
The Best of World Conference on Lung Cancer (WCLC) San Francisco 2019
The Best of WCLC - San Francisco, now in its sixth year, is a one-day Continuing Medical Education (CME) conference, held on Saturday, November 23, 2019 at the InterContinental San Francisco, 888 Howard Street. This conference summarizes the important findings of the International Association for the Study of Lung Cancer's (IASLC) 20th WCLC held on Sep 7-10, 2019 in Barcelona, Spain. The Best of WCLC will highlight the most significant advances in the treatment of lung cancer and other thoracic malignancies for those unable to attend the 20th WCLC in Barcelona.
Co-chairs: David R. Gandara, MD - UC Davis; David Jablons, MD - UCSF; Heather Wakelee, MD - Stanford University
The Best of WCLC-San Francisco's program faculty consists of regional thoracic oncology experts from UC Davis, UCSF and Stanford.
CME: This activity has been approved for AMA PRA Category 1 Credit™
Program: The Best of WCLC is an educational initiative of IASLC to engage practitioners and researchers who are interested in the latest summaries of key findings from the 20th WCLC.
Sessions will include: I) Screening/Prevention/Early Stage Lung Cancer; II) Locally Advanced Non-small Cell Lung Cancer/ Pathology & Biology III) Systemic Treatment for Advanced Stage Non-small Cell Lung Cancer: and IV) Small Cell, Mesothelioma and Thymoma.
FAQs
Use of public transportation or Uber encouraged. Valet parking is offered by the InterContinental San Francisco at cost.

Meals and beverages are provided with conference registration. A continental breakfast is available from 7:00-8:00 AM. A buffet lunch is provided at 12:00-1:00 PM. Gluten-free, vegan and vegetarian options available. Complimentary coffee and light edibles available throughout conference.

Wifi is available through the hotel at cost.

No refunds provided. If this presents a hardship, please contact (916) 734-8452.

Conference check-in is required pre-conference. No printed tickets necessary. Please plan to arrive early to register, enjoy a continental breakfast and visit the exhibitor tables of our Best of WCLC sponsors.

For further questions or assistance with the Best of WCLC 2019, please call (916) 734-8452.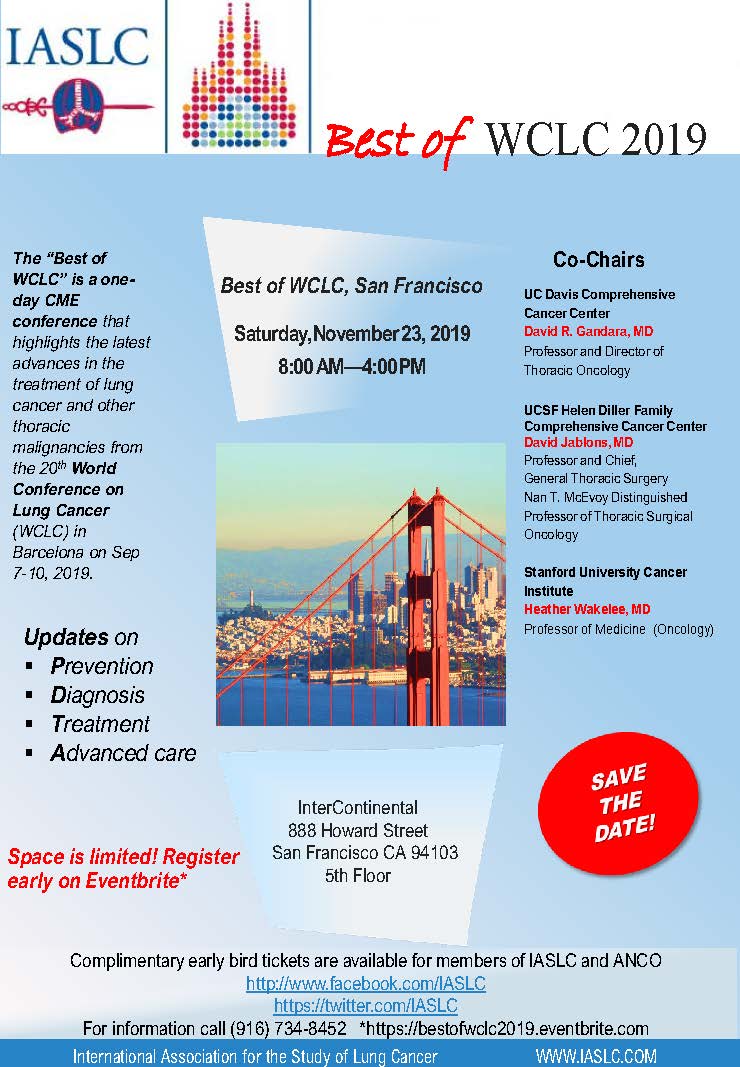 Please click on the link below to view agenda.
Organizer of Best of the WCLC 2019
The International Association for the Study of Lung Cancer (IASLC) is the only global organization dedicated to the study of lung cancer. Founded in 1974, the association's membership includes more than 7,500 lung cancer specialists in over 100 countries.
IASLC members work to enhance the understanding of lung cancer among scientists, members of the medical community and the public. IASLC publishes the Journal of Thoracic Oncology, a valuable resource for medical specialists and scientists who focus on the detection, prevention, diagnosis and treatment of lung cancer.
to embrace the study of the etiology, epidemiology, prevention, diagnosis, treatment and all other aspects of lung cancer and other thoracic malignancies;
to provide education and information about lung cancer and other thoracic malignancies to IASLC members, to the medical community at large, and to the public;
to use all available means to eliminate lung cancer and other thoracic malignancies as a health threat for the individual patient and throughout the world.