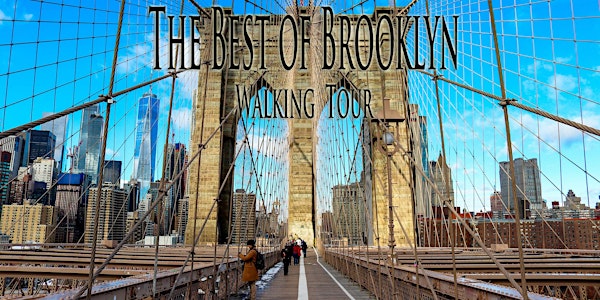 Multiple dates
BEST OF BROOKLYN WALKING TOUR-Brooklyn Bridge, DUMBO, & Brooklyn Heights
Discover the Brooklyn Bridge and the best of Brooklyn on this exciting scenic and historical walking tour! DUMBO, Brooklyn Heights & more!
By Revolutionary Tours NYC
Date and time
October 26, 2018 · 12pm - August 25 · 3pm EDT
Location
Tweed Courthouse 52 Chambers Street New York, NY 10007
Refund Policy
Refunds up to 1 day before event
About this event
THE BEST OF BROOKLYN WALKING TOUR - Brooklyn Bridge, DUMBO, Brooklyn Heights & Brooklyn Bridge Park!
Discover the best Brooklyn tour on this exciting walking tour!   
Discover the revolution that is Brooklyn on this exciting Brooklyn walking tour!   Step back in time and experience the Brooklyn Bridge, DUMBO, Brooklyn Bridge Park and Brooklyn Heights.  Discover the borough's incredible history and modern reinvention.  Take in breathtaking waterfront vistas, extraordinary locales, picturesque parks, and cultural surprises.  The Revolutionary Brooklyn Walking Tour is led by a 20-year historian and licensed New York City tour guide.
Our journey begins by crossing the historic Brooklyn Bridge from Manhattan.  Learn about the 14-year epic saga of the great engineering achievement of the 19th century that connected the "twin cities" of Brooklyn and New York.
We'll continue in DUMBO (Down Under the Manhattan Bridge Overpass) where you'll discover how an antiquated seaport, warehouse, and factory district was transformed into a prime residential, cultural, and commercial center that businesses like Etsy and West Elm call home.  We'll visit the Jacques Torres Chocolate, the first store of New York City's most famous chocolatier.
As we progress through the Brooklyn tour you'll see the stunning Brooklyn Bridge Park, you'll see awe-inspiring views from below the Brooklyn and Manhattan Bridge, plus a perfectly restored 1922 carousel revolving within a "crystal" box.
Next, we'll explore Brooklyn Heights, New York City's first suburb and historic district, with spectacular views of Manhattan from the Brooklyn Heights' Promenade. We'll stand near where George Washington conducted a maritime retreat that saved American independence during the Revolutionary War and where Robert Fulton ran his steamboat ferries to and from the Brooklyn suburbs.  Discover dozens of elegant pre-Civil War homes and hear the stories of famous residents such as Truman Capote, Norman Mailer, Arthur Miller, and W.E.B. Dubois.  See a house from the movie "Moonstruck," (starring Cher and Nicholas Cage) and discover the 1847 church visited by Abraham Lincoln and led by the abolitionist Henry Ward Beecher, the most famous preacher in America around the time of the Civil War.
Experience the cultural and historical phenomenon that is Brooklyn on this walking tour.  Reserve your place by joining the "Brooklyn Revolution" tour today!
Here are just a few of the many experiences that await you:
Discover the cultural significance of Brooklyn, the most populated borough
Learn the history, design engineering accomplishment that is the Brooklyn Bridge.  See historic images and photos.
Walk through the DUMBO neighborhood and experience the transformation of a factory and warehouse district to offices and homes.
Take in views of the old converted piers to the 85 acre Brooklyn Bridge Park.
Visit historic locations involving George Washington and the Revolutionary War.
Visit the historic district that is Brooklyn Heights and the tranquil tree-lined streets of hundreds of 19th Century houses.
Learn about literary residents such as Truman Capote.
Visit a historic 19th Century church visited by Abraham Lincoln and led by a famous minister.
See sites of famous movies such as Moonstruck, Prizzi Honor…and a whole lot more!
Experience the cultural and historical phenomenon that is Brooklyn on this walking tour.  Reserve your place by joining the "Brooklyn Revolution" tour today!
Led by a licensed New York City tour guide who has spent more than 20 years of leading tours of New York City.
Please see our current TripAdvisor reviews.
Additional Information:
The tour is conducted in the rain, snow or shine.  No refunds, exchanges, or rescheduling within 24 hours of start of tour.
BE ON TIME. It is nearly impossible to find the group once we depart.
The tour is approximately 2.5 miles and takes about 3 hours.  The walk is of moderate difficulty as there are inclined walkways/sidewalks on the Brooklyn Bridge and along the tour.  Wear appropriate shoes and clothing depending on the weather.
The TOUR BEGINS IN LOWER MANHATTAN not far from the entrance to the Brooklyn Bridge and the TOUR ENDS IN BROOKLYN.  The meeting location will be sent upon registration.
The closest subway to the end of the tour is the A, C High Street station.  The 2, 3 Clark Street station is within walking distance.  Please check the MTA.info website for subway closures and service restrictions. 
There are no food or drinks included on the tour. 
Dress appropriately for the weather and wear comfortable shoes for walking about 2.5 miles.
COVID PRECAUTIONS:
SOCIAL DISTANCING/MASKS: Please practice social distancing from the people not in your party. You and your party are welcome to wear masks if you choose.
By taking this tour, you and your party voluntarily assume all risks and those related to exposure to COVID.
FAQs
 Do I need to purchase tickets in advance or can I purchase walk-up tickets?
Please purchase your tickets online in advance.  If you already purchased tickets and need to add people contact us at revtours@discovernewyork.com or 917.475.6839 and we will try to accommodate you.
What is your Refund Policy? We have a 48-hour refund policy for tickets purchased directly from this web site. Please contact us no later than 48 hours before the start time of the tour at revtours@discovernewyork.com.  If you do not cancel your tour within this time frame you will be held responsible for the total amount of your tour.  A refund will be issued if we need to cancel a walking tour because of severe weather or a tour guide is ill and no substitute is available.
What is your Rescheduling Policy? Tour tickets can be rescheduled with at least 48 hours before the tour start time at revtours@discovernewyork.com  with the following exceptions:
In case of extreme weather in the forecast, we will contact you at the email address you provided when you booked to offer you rescheduling options.  Otherwise, we conduct our tours rain, snow or shine. There are no refunds, exchanges, or rescheduling for rain or snow.
If we have to cancel a tour.
Do you cancel your walking tours in the rain or snow? All of our walking tours take place rain, snow or shine. We can still show you the sights of the tour—just bring an umbrella and dress appropriately. However, in cases of severe inclement weather (i.e. severe tropical storm, blizzard, etc.) we do reserve the right to cancel a tour. In these instances, we will notify you via the email provided at purchase and offer refunds and rescheduling options. There are no refunds, exchanges, or rescheduling for rain or snow.
Are there group size minimums and maximums? We like to limit tours to approximately 15 adults to keep it intimate (and so we don't need to carry fluorescent flags or bullhorns).  As for minimums, we reserve the right to cancel a public tour if a minimum of 4 participants is not reached.  In these cases, we will offer customers the option to reschedule.  If there are no rescheduling options, we will offer full refunds for the tickets.
If I miss the walking tour I purchased, can I just show up for another one? No, your ticket is only valid for the tour you selected at time of purchase (both date and time-specific). This allows us to reserve your spot. There are no refunds, exchanges, or rescheduling if you are running late.
I live in New York.  Will I appreciate the tours? We're proud to say that many of our participants have lived in New York for many years or were born in New York and are surprised to find how much they learn about neighborhoods they've passed through many times.
Do you offer private tours? Yes, we offer tours customized for your group or occasion.  Private tours are a great way to see exactly what interests you or your group and at the most convenient day and time.  Fill out the form on the contact page and provide as much information as possible or call us at 917.475.6839. 
Is the tour suitable for children? We recommend our tours for children ages 10 and older.  Please also consider a private tour if you would like a tour specially tailored for children.
How much will we walk and is it strenuous? Our walking tours are not very strenuous and move at a moderate pace.  There will be stairs in some locations.  As for distance, we'll cover about 3 miles on the 3-hour tour.
What clothing should I wear? You should definitely wear shoes comfortable for walking on the city streets.  Check the forecast and wear suitable clothing for the weather.
Will there be a restroom stop? Yes, there will be one restroom stop on our tour.
Are gratuities included in the walking tour price?  Gratuities are not part of the tour fee, but if you enjoyed your time on the tour, gratuities are very much appreciated.
Where do we meet for the tour? We will email you a confirmation and the precise meeting location right after you have purchased your tour.  If you don't see the confirmation please check your email spam folder/filter if you haven't received the confirmation email within 15 minutes after your purchase.
What do I do if I am late? The tour starts promptly at the designated time, so please try to arrive 5 to 10 minutes early. If you are not at the meeting location at the start time, we will begin the tour and leave without you for the sake of the attendees who arrived on time. If you don't find us, we will provide you with a contact number in the email in case an urgent matter prevented you from showing up on time. We will try to assist you in finding your tour group.
Do I need to show a ticket at the start of the tour? Yes, please either print the confirmation email or show the email on your mobile device to your tour leader.
Can I purchase a gift certificate? Yes, tour gift certificates are available and can be purchased using the "Book Your Tour!" link on www.revolutionarytoursnyc.com.
Is my email address required to purchase tickets? Yes, we require a valid email address to send you a purchase confirmation, instructions on where to meet at the beginning of the tour and alerts if there are any changes to the tour (i.e. cancellation because of weather, etc.).  As per our privacy policy, we will not sell or rent your email to third parties.
Is there a contact number or email address to contact you with any questions? You can email us at revtours@discovernewyork.com or call us at 917.475.6839.
About the organizer
Tours are conducted by Bruce Racond, a licensed New York City tour guide, who has been leading historical and entertaining tours for over twenty years.
Here's a sampling of testimonials:
Dear Bruce,
Just a note to let you know, again, how much I enjoyed the tour of New York City.  Your intimate knowledge of the City with your own personal touch provided a wonderful overview of the beauty of NYC.  Thank you for sharing so much of yourself with us on the tour and for making our travels around the city so easy and enjoyable. 
As a parent I truly appreciate your on-on-one interaction with each member of our group.  Your passion for NYC, especially Ellis Island and the Lower East Side segment was very touching.  In my previous tours of NYC, I have never had quite the personal touch you gave for the tour.  Again my most sincere appreciation to you for your excellent work.
D.M.
===========================================================
...I would just like to take a moment to express my and my families, appreciation for Bruce during our recent tour of New York. He turned out to be a wealth of information about commonly, and not-so-commonly known facts about the city and its history. I learned more about New York in three days than I did in the three years that I lived there.
Bruce's demeanor was very professional. His friendly attitude, patience, and his ability to answer virtually all of our questions made our experience in New York a great pleasure. Bruce is a credit to your organization.
Yours Truly,
G.R.T., D.K.T., J.M.T., I.E.
===========================================================
...The New York trip truly is a labor of love for everyone involved - We are immensely grateful to have our New York "connection"!  Without you the trip would not be the amazing experience it is!
Your love of the city transfers to all who are fortunate enough to share this time with you (& Robert).
Your careful planning and extensive knowledge make it unforgettable and irreplaceable!  We are indeed fortunate.  Thanks so much for ALL you do!!
S.S., B.C. Middle Schools
Bruce (A.K.A. Big Dog),
===========================================================
WOW! What a trip for a SLP student to NYC!  We are all home safely.  We are all a little tired, but we all have fond memories of our trip.
Thanks so much to you and your team for planning and executing a wonderful trip for our students.
You are well organized, flexible, thoughtful + very kind.
Warm Regards,
M.B. representing S.L.P. /sponsored by G.S. Corporation
===========================================================
Dear Bruce,
I just wanted to write you a brief note to say Thank You for being so good to us while we were in New York.  Thank to you no one got lost or hit by a car-that is a feat in itself.  I cannot tell you how much I love the city and I was fascinated by all its history (especially that story about the woman that jumped off the Empire State building--and lived-WOW!)
Bruce you made the trip fun.  You are the reason we actually enjoyed walking in the cold rain, because you were constantly rattling off little known facts about the stuff we passed along the way.  I am amazed that your brain can hold all that information, and still have room for your own name.
You live in such a wonderful place and I really hope I can get backup up there soon.  It's hard to slow down to the pace here, after being in New York-I think Mississippi would actually kill you, because there is no way you would ever be able to fill your day.  But the next time you decide to drive to Tupelo, you could drop by to say "hey"-We all love you so-
Thank you again for all your hospitality as we visited your home town-Bruce, if you had been any more gracious, we would have had to make you an "honorary Southerner"-
Sincerely Yours,
K.K.
===========================================================
Bruce,
Well we are back in coastal Georgia and recovering from the wonderful whirlwind tour of the Big Apple.  I want to again thank you for your guidance and expertise in showcasing the city to all of our group.  Given the diverse background of all attendees, you did a fantastic job of presenting the city in an understandable and informative format.
Personally, I would like to let you know I was very sincere in my offer to allow you to use the coast property during a visit to the area...Certainly your significant other would be welcome as well.
Best Wishes,
C.A.S, MD
===========================================================
...My mother who I might have mentioned, is a 72 year old very well-read woman who in most cases finds a little something wrong with everything, reported nothing but GOOD...GOOD...GOOD the highest of praises for both the tour and Bruce. She found it very enjoyable and interesting and especially liked learning about some of the history of New York. My husband reported he too enjoyed everything about the tour and especially enjoyed chatting with Bruce...
M.W., Omaha, NE
===========================================================
To Bruce
Thank you...
You are a star in every sense of the word!
Thank you again for being the very best tour director anyone could ever ask for.  I cannot tell you how much we appreciated you on our tour last week.  You were just the best.  Good Luck Always!!!!!
M.E.P.
===========================================================
Dear Bruce
This is just a short letter to say a very big THANK YOU for making our stay in New York one we will NEVER forget!
We were fortunate to be included in the Vauxhall Bite the Big Apple trip...
We were privileged to have you as our tour guide for the organised trips...and what a BRILLIANT tour guide you are!
Not only did you give us so much information you made the whole process interesting and humorous at the same time.
We especially enjoyed the trip to Ellis Island on the Sunday, it was a very emotional experience, hearing your personal connection regarding your (very beautiful) grandmother made everything seem more real than ever.
It was such a HOT weekend but you never faltered once, a true professional.
We really wanted you to know Bruce how much we appreciated your hard work and dedication.  THANKS once again for making our trip to your wonderful city such a memorable one.
We wish you every success for whatever the future brings.
Kind regards and best wishes
G. & S. B.
Berkshire, England
 ===========================================================
 ...On behalf of … the District 26 staff members and myself, we want to say, "THANK YOU, THANK YOU, THANK YOU!" You made our first Saturday trip venture (for teachers) an adventure. You added a very special touch and the teachers were so impressed that we had hired a tour guide just for them.
Due to your abundant knowledge of Ellis Island, the history of immigration and your excellent delivery, our tour was truly special. We thank you for sharing that with us...
We hope that we will be able to work with you again.
Sincerely,
O.G., Board of Education of the City of New York
===========================================================
Hi Bruce,
Judy and I wanted to take a moment and thank you for sharing two week end mornings with us.  Your review of the Statue of Liberty and Ellis Island tours and the Museum tours and Central Park will be key activities to our President's Club.  We will incorporate all of your comments and suggestions into our Program and as a result of your input our Program is at the highest level of expectation.
Bruce, you did us a big favor helping us out on the week end so we could keep on schedule and I want to make sure you know how much we appreciated your efforts.  I look forward to you joining our program and I am sure we will be talking about tour details in the near future.  Thank you once again.
D.D., S. Corporation
(This was for a corporate site inspection that led to a program of 110 people.)
===========================================================
Dear Bruce,
Provided is a copy of our student newspaper.  I thought you might like to see - and read - about the trip to New York!
Your patience and flexibility in ministering to the many individual desires of the group were appreciated.
Sincerely,
S.G.
===========================================================
Hi Bruce,
Thank you so much for sharing "Your" city with all of us Baton Rouge Travelers!
You are the BEST GUIDE I EVER HAD!
Take care,
Fondly
U.G.