Description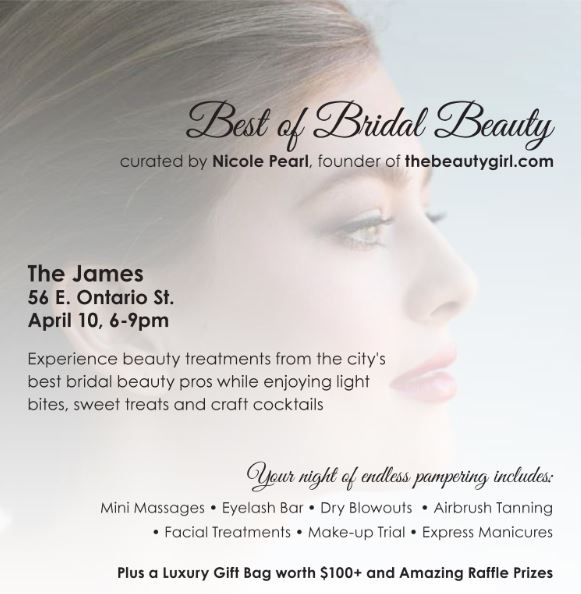 Facial Treatments include dermaplanning, hand peels, treatment masques, lash and/or brow tinting and tweezing!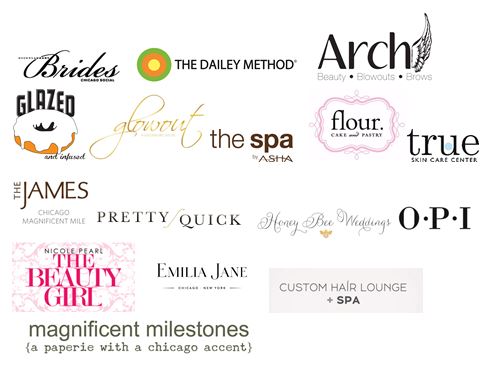 Raffle Prizes include:
engagement photo session, courtesy of Emilia Jane Photography (

valued at

$600 )
one night stay at the James along with a spa treatment (valued at $500)
bridal workout package, courtesy of The Dailey Method (valued at $450)
bridal portrait, courtesy of Diane Bronstein (valued at $350)

full set of eyelashes for the bride and half set of eyelashes for the Maid of Honor (valued at $350)

anti-aging skincare products, courtesy of True Skin Care Center (valued at $332)

gift card to

Brideside.com (valued at $250)
engagement photo session styling (mani, pedi and hair styling for the bride and hair cut and style for the groom), courtesy of Custom Hair Lounge (valued at $200)
four airbrush tanning, courtesy of Golden Girl Chicago (valued at $155)
custom facial, courtesy of True Skin Care Center (valued at $150)
basket of Aveda products, courtesy of Asha (valued at $100)
dozen cupcakes, courtesy of Flour Cake and Pastry (valued at $40)
gift card for City Girl package, courtesty of Arch Apothecary (valued at $80)

and many more great prizes!
Organizer of Best of Bridal Beauty Curated by Nicole Pearl, TheBeautyGirl.com
Nicole Pearl, The Beauty Girl and founder ofTheBeautyGirl.com, is a nationally acclaimed beauty expert who delivers behind-the-scenes scoop, hot tips and trends on all things beauty to Chicago.  A former New York-based beauty writer/editor, Nicole has written for various national magazines such as inStyle, Allure, Self, Health, Marie Claire, Seventeen andCosmopolitan, has served as an expert in TV and radio segments, and has been the featured speaker for major beauty corporations. 
Nicole offers one-on-one personal consultations and The Beauty Girl parties, perfect for bachelorette parties, bridal and baby showers, sweets sixteens and more. For more info. or to book, email nicole at info@thebeautygirl.com or call 773-698-8103.