Description
The fourth annual BEST OF ALASKA BUSINESS awards are here!
Join us for the signature business party of the summer. Our readers have spoken and selected the Best of Alaska Business 2019 winners in over 20 categories. Get your tickets now to this limited engagement.
This is NOT some stuffy awards ceremony.
We Alaskans know summer is short so we have to make the most of it. Don't get stuck indoors at a boring after-hours business event. Come party with us on the sun-drenched deck at 49th State Brewing Co. and enjoy:
Live Music - Start tapping your toes now: We're excited to have Blackwater Railroad Company take the stage!

Blackwater Railroad Company is a folk-rock group built from diametrically opposed backgrounds, coincidentally brought together by love of music and Alaska. Like good moonshine, this group was formed in a dark basement, in the middle of winter, and consistently delivers warm, raucous evenings

.


Beer - Every admission gets a drink ticket for 1 beer, wine or cocktail. Premium cocktails are available for purchase (including a couple 49th State signature "Best of Alaska Business" cocktails).


Prizes - Every ticket holder gets entered to win door prizes last year's was 2 tickets on Alaska Airlines, come find out what we're giving away this year. (Hint it's going to be awesome!)


Beer - Because... Beer.


SWAG - Everyone at the party will be leaving with some sweet gear in a Best of Alaska Business tote.


Food - The best Alaskan grub you have ever tasted in your life, Guaranteed.*


Beer - Did we mention beer?


Sunshine - Guaranteed.**
*Best Grub Guarantee: The award-winning 49th State is cooking up some amazing grub options. If it's not the best food you have ever eaten at we guarantee you don't have to go back for seconds.
** Sunshine Guarantee: If it's not sunny we guarantee we will not make you stand out in the rain. The party will move indoors and we'll crash the 49th State Brewing Co. Theater.
Come celebrate the Best of Alaska Business with us.
The top three businesses in each category will be honored with the Denali, St. Elias, and Foraker Awards, representing Alaska's tallest peaks and highest business honors. Winners will be revealed in the July issue of Alaska Business and celebrated at the Best of Alaska Business party at 49th State Brewing Co. on Thursday, July 11 from 4 p.m. to 7 p.m.
Get your tickets to this limited engagement now.
Sponsorship opportunities are available. Please call Alaska Business at 907-276-4373 for more information.
Act now to become part of the Best of Alaska Business party!


_____________________________________________________________
FAQs
Are there ID or minimum age requirements to enter the event?
Because this event is being held on the deck of 49th State Brewing Co. you must be 21 or older to attend.
How can I contact the organizer with any questions?
Feel free to call Alaska Business with any questions or sponsorship inquiries at 907-276-4373

Do I have to bring my printed ticket to the event?
You do not need your ticket to get into the event. All attendees must have a valid ID and your ticket will be verified against that.
This sounds amazing! Where do I park?
Parking is free on weekdays in downtown Anchorage after 6pm. There is a complimentary lot for all Best of Alaska Business party-goers located one block north of 49th State Brewing Co.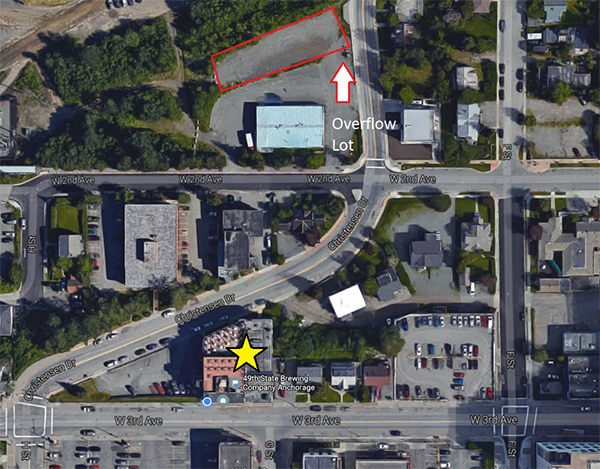 What is this "beer" you keep telling me about?
Great question. According to Wikipedia, Beer is the world's oldest[1][2][3] and most widely consumed[4] alcoholic drink; it is the third most popular drink overall, after water and tea.
See also 49th State beers.
That artwork is amazing! Where can I see more?
We were lucky to have the amazing talent of the Alaskan artist, Jontue Hollingsworth at Hollingsworth Design create this year's art work. See more of his work at hollingsworthdesign.co
Organizer of Best of Alaska Business 2019 Summer Party
Alaska Business was established in 1984 and is Alaska's premier business magazine and website. Our goal is to promote economic growth in the state by providing a thorough and objective discussion and analysis of the issues and trends affecting Alaska's business sector. We feature stories about individuals, organizations, and companies that shape the Alaska economy.
Alaska Business emphasizes the importance of all enterprises, from the large multinational corporations that do business in the state to the numerous sole proprietorships. We stress a statewide approach to business coverage with stories from all regions of the state and offers topical diversity just as broad as the Alaska economy itself.

We are Alaska's Business advocate.