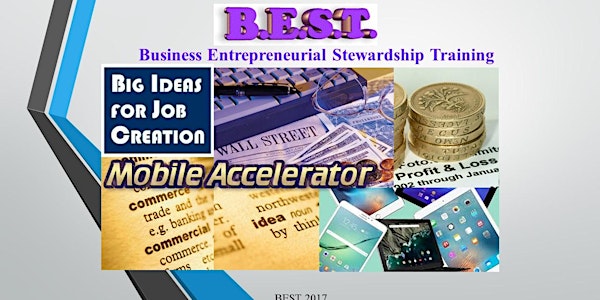 BEST Mobile Accelerator Special Summer 2020 Live Online Conference
Special ZOOM Live Conference Series For Entrepreneurs and Small Business Owners seeking doing business after the "New Normal".
About this event
Due to the worldwide and national COVID-19 Health Panademic, our Live-Conference Meetings have been suspended. However, our Mission to serve entrepreneurs and small business owners continues with the use of Live Video Conference Meetings!
The American Entrepreneurial Spirit has historically proven that creativity, innovation and ingenuity is driven through crisis and unprecedented challenges which paves the way for new ideas and opportunities. During the current mandated Stay-At-Home Self-Quarantine, social-distancing and gradual re-opening; there is no better time than now  to plan strategies and develop ideas for new products or services.
Have a great business idea and ready to get started? Have to pivot your business due to the COVID-19 challenges? The Business Entrepreneurial Stewardship Training Mobile Accelerator will assist you in building your Business Plan using a new Mobile Business Planning Tool App on your smartphone or tablet. Additionally, Audio Books, Online Courseware Materials and Guest Speakers will serve as resources for implementing your Business Plan. All graduates of the program will receive one-to-one consulting and coaching; and will have opportunities to connect with mini-loan ($1,000-$10,000), micro-loans ($10,000-$50,000) and expansion $50,000-$250,000) lending financial resources to raise capital for their venture. If you are currently a small business owner, you may qualify for various funding resources available to small businesses due to the COVID-19 Emergency.
The Conference Series Training (8-Live Meetings) is FREE (Value at $3,500) courtesy of program sponsors. Registration for all eight meetings plus coaching and materials is only $79.00 per person, with limited enrollment.