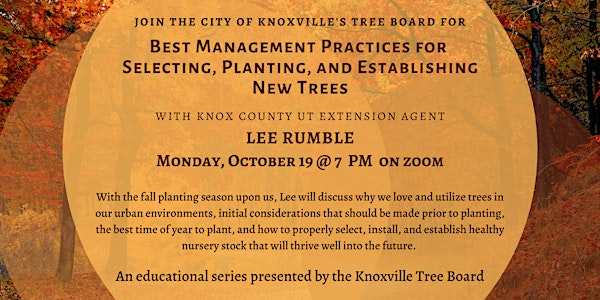 Best Management Practices for Selecting, Planting, & Establishing New Trees
City of Knoxville's Tree Board presents "Best Management Practices for Selecting, Planting, and Establishing New Trees"
About this event
With the fall planting season upon us, join us on Monday, October 19, 2020 @ 7:00 PM for a live virtual presentation from Lee Rumble (UT Extension) about how to best select, plant, and establish new trees in the landscape. In this continued educational series, Lee will discuss why we love and utilize trees in our urban environments, initial considerations that should be made prior to planting, the best time of year to plant, and how to properly select, install, and establish healthy nursery stock that will thrive well into the future.
Lee Rumble is a Tennessee native with nearly two decades in the arboricultural industry. He received his International Society of Arboriculture (ISA) Arborist Certification in May of 2010, and would follow up this milestone with an A.S. in Horticulture (2014), a B.S. in Plant and Soil Science (2016), and an M.S. in Botany (2019)—even conducting his master's research in Great Smoky Mountains National Park. In January of 2020, Lee joined the Knox County UT Extension Office as an Extension Agent in Agriculture and Natural Resources. Lee works closely with commercial landscapers, nursery producers, fellow arborists, and the residents of Knox County in order to promote the proper management and care of plant material in both urban and rural landscapes.