Description
You're invited to transform your life!
There's a movement starting right here in the Triangle! A movement of people who desire to live their best lives and help others do the same. These people are gathering together on October 20 at the 2018 Best Life Summit, and you're invited!
The 2018 Best Life Summit is featuring world-changers from right here in the Triangle and from across the country. These powerhouse speakers will pack motivation, transformational stories, and practical action steps for best-life living into short, life-changing messages.
Get ready for a day jam-packed with high-energy activities, impactful talks and practical strategies for thriving in all areas of life and work. After we learn together, we'll dine together. This event will not be short of interaction, new information, prizes, and delicious food and refreshing drinks.
Here's why you must join us:
YOU'LL LEARN, GROW & BE INSPIRED
We've compiled some of the world's greatest experts on topics such as peak performance, mindset, influence, courage, and more. All coming together for this once a year event!
YOU'LL BE AROUND OTHER TOP 'MOVERS & SHAKERS'
As the great Jim Rohn once said, we are the average of the 5 people we spend the most time with. If you're ready to level up your game in business and in life, it might just be time to level up your network!
YOU'LL BE CHALLENGED BEYOND BELIEF!
Sometimes all we need is a good "kick in the butt." Most of us have far more more potential in us than we realize. We just need a little accountability to push us over the edge into greatness!
YOU'LL HAVE A BLAST!
You know that feeling when you know you're in the right place... at the right time... with the right people. Your people... Other people who also want to live their best lives? Yeah, it's pretty damn fun, isn't it?
WE THINK YOU SHOULD BE THERE! Get ready to launch your very best life.
---
THANKS TO OUR AMAZING SILVER & GOLD LEVEL SPONSORS!
Agape Lawn Company: Agape provides top-notch residential landscaping, full-service lawn care, and irrigation services to residents in and around the Triangle area. | info@agapelawnco.com | 919.274.1815
Professional Recovery Consultants: PRC was founded in North Carolina in 1979 and has since grown to become the region's premier provider of fast, efficient, and hassle-free debt recovery and accounts receivable services. This growth has been a direct result of our concentration on client service while remaining on the cutting edge of new technology and collection technique development. | info@prorecoveryinc.com | 800.868.7724
---
THE SPEAKERS + TOPICS:
Click here to learn more about this year's speakers.
"What are the practical tips and guiding principles for turning average days into powerful and life-giving ones?" -Jesica Averhart | Event Production Expert and Executive Director | Leadership Triangle | Durham, NC
"Entrepreneurs, this is for you. You're smart and work hard, so why do many new businesses fail? It comes down to mindset." -Steve Arnold | Peak Performance Coach & Trainer, Business Growth Coach, Former Software Entrepreneur | Best Life Global | Raleigh, NC
"You know life is challenging and great. We can't avoid the roller coaster of ups and downs, but we can put the odds in our favor." -Brett Blair | Author, Speaker, Coach, Entrepreneur | Best Life Global | Durham, NC
"Listening to others who are different from us is risky. We might realize our view of the world is wrong, but we'll gain insight." -Dan Cates | Racial Reconciliation Expert, Accounting Professional | Backpack Buddies | Durham, NC
"Life will always throw you curve balls. How you respond to these curve balls and challenges is what defines you." -Jen Cheraso | Executive Coach, Organization Effectiveness Consultant, Former Human Resource Executive, Entrepreneur | JKC Coaching & Consulting | Phoenix, AZ
"Refreshing your perspective can create a new attitude and direction in life and business." -Allan Curtis | Swimming Pool Designer, Philosopher, Business Owner | Legendary Escapes | Brighton, MI
"'To be inspired' means 'to receive breath or spirit.' What does this mean for us today?" Katie Curtis: Videographer, Story Teller, Entrepreneur | Howell, MI
"There are four things that can change your life forever. They involve relationships, executed ideas, and moral obligations." Dr. Tom Hill | Author, Speaker, Life Coach, Former Professor, Former Real Estate Business Owner | Eagle Goal Coach | St. Louis, MO
"Dismiss the imposters. You might even think you're an imposter. Pay attention- I'll teach you how to combat this." Kris Kelso | Executive Coach, Leadership Development Consultant, Former IT Executive | The Kelso Group | Nashville, TN
"I'm honored to serve as year's emcee and to bring entertainment to the event. An event that lacks fun is no event at all." -Armand Law | Youth Director, Leadership Development Specialist | Christ Central Church | Durham, NC
"It's a privilege to share in hosting and coordinating this event. I am excited to see the transformation that attendees will experience!" -Kaylee Law | Marketing Director, Former Non-Profit Leader | Best Life Global | Durham, NC
"Insight is the power or act of seeing into a situation. It's clarity on the true nature of something. Let's gain some of this." -Sandi Maki | Marketing Expert, Business Owner | Legendary Escapes | Brighton, MI
"What are you missing? Have you lost your passion? To live the life you want, you must see what you cannot see right now." Rebecca Mott | Continuous Improvement & Innovation Specialist, Change Maker | The Art of U by Rebecca | Chattanooga, TN
"Grow a pair of antlers. Learn to courageously make the fearless climb and lead your heard!" -Kathleen Ries-Jubenville | Coach, Author, Leadership Expert, Entrepreneur | The Fearless Climb | Los Angeles, CA
Dr. Nilay Shah: Neurologist, Technology Entrepreneur, Physician | Brain Research Institute of NY & NJ | Brooklyn, NY
"The automotive industry is changing. What does the future hold? How will these changes impact our society?" -Steve Spadoni | Automotive Engineer, Technology of the Future Expert | Ford Motor Company | Plymouth, MI
"The choice to lead your best life is boiled down to how you choose to think." -Sean Stallings | Entrepreneur | Certitrek Group | Apex, NC
"At 47 years old my life changed. I finally stopped making excuses and started living my best life. I can't wait to share my journey with you." -Tom Thomson | Executive Recruiter, Teamability Expert, Nature Photographer, Business Owner | Sanford Rose Associates | Franklin, TN
"We are behaving like bullies when it comes to embracing Millennials and Generation Z's in the workplace. Let's turn this around!" -Ralf Weiser | Speaker, Blogger, Workplace Culture Consultant, Executive | Aerzen USA | Coatesville, PA
"There is value in defining and changing what our legacy will be. It's about more than money." -Wil Weldon | Videographer, Story Teller, Film Producer, Entrepreneur | Growler Visual Media | Durham, NC

---


TYPES OF TICKETS:
We are thrilled to offer three types of tickets for your enjoyment:
General Admission Ticket: This regular-priced ticket is available all the way up until the day of the event -- we can't wait to see you there!
VIP Ticket: If you're ready to get the star treatment, get yourself a VIP ticket! Our VIP guests enjoy:
An invitation to the Summit Pre-Party, complete with food, drinks, and access to behind the scenes and speakers
A free merchandise item
Access to the pre-event gathering, which includes a meet-and-greet with the speakers
Priority entry
Priority seating
Two free beverages delivered to you during the event
Free professional headshots
Exclusive access to the VIP lounge
Free signed books from various published speakers
---


THE LINE UP:
THE FRONTIER AT RTP | 800 Park Offices Drive, Research Triangle Park, NC 27709
12 p.m. to 1 p.m.: REGISTRATION/CHECK-IN
1:30 p.m. to 7 p.m.: THE SUMMIT
The Summit will be packed with short, impactful talks from each speaker, which are intermixed with informative and exciting activities and opportunities to connect with other high-performing individuals.
7 p.m. to 9 p.m.: THE PARTY
Come hungry -- let's celebrate together with food, drink, and music. Mingle with other people who are eager to live their best lives for the rest of their lives.
---


SPONSORSHIP OPPORTUNITIES:
Want to see your company's name and logo throughout our promotional efforts in the days leading up to the event? Want to see them plastered all over the event space? Want to hear them from the stage? Want to advertise to dozens and dozens of attendees who are excited about thriving in life? Become an event sponsor!
Click here to learn more!
We are offering three types of sponsorships:
Sponsor Levels:

In exchange for their gift, sponsors will see their company name featured at ten different ways throughout event promotion and day-of festivities! Choose the Gold, Silver or Bronze option. The prominence and frequency of sponsored companies' logo and name increases as the sponsorship level increases. Sponsors also receive free event tickets as an added bonus.

Sponsor Levels Plus:

In exchange for their gift, sponsors choose an aspect of the event they wish to have named after their company. For example, sponsor the drink station, and people will grab drinks from the "Insert your company's name here" Drink Station (i.e., The Jim Home Services Drink Station) throughout the event. This opportunity also includes all of the benefits associated with the sponsored item's respective sponsor levels. Sponsor at the highest plus level, and your company gets to feature and sell its products or services in an interactive activity during the event; it will also receive free VIP tickets. This sponsorship comes with multiple benefits and free event tickets!

Event Co-Sponsor:

This option is open to one company that wants to join Best Life Global as the co-sponsor of the event. Best Life Global will put in the work to plan and execute the event, but the co-sponsor is featured just as prominently as Best Life Global on promotional materials and at the event. Co-Sponsors also receive free VIP tickets.
Click here for more details, or to become a sponsor today!
---
THANKS TO OUR AMAZING BRONZE LEVEL SPONSORS!
Hunter Rowe [Kim Blair, Broker]: Buying or selling a home can be overwhelming. At Hunter Rowe, we combine exceptional customer service with the right tools and processes to ensure our buyers find and win "the one" and sellers get top dollar for their home. A unique firm in residential real estate, we are where process improvement and extraordinary service intersect. | kim.blair@hunterrowe.com | 919.452.9148
OptSus WordPress Management: You can rely on OptSus WordPress Management to keep your business online by monitoring your website and digital marketing. Since 1999, we have been building websites and working on internet marketing projects for small and large businesses around the world. | hello@OptSus.com | 828.479.5663
Thrive Kitchen and Catering: Thrive catering offers fresh & healthy catering options for all occasions! Rice & quinoa bowls, boxed lunches, sandwich & wrap trays, muffin & pastry trays as well as full buffet style meals for any corporate function or get together! | info@thrivedurham.com | 919.660.3753
Triangle Sports Magazine: Triangle Sports Magazine will profile Teams, Athletes, Coaches, and Medical Professionals. It will highlight how sports can impact a community in ways that extend far beyond the field or court. | john@trianglesportsmag.com | 919.641.6321
---
ACCOMMODATIONS: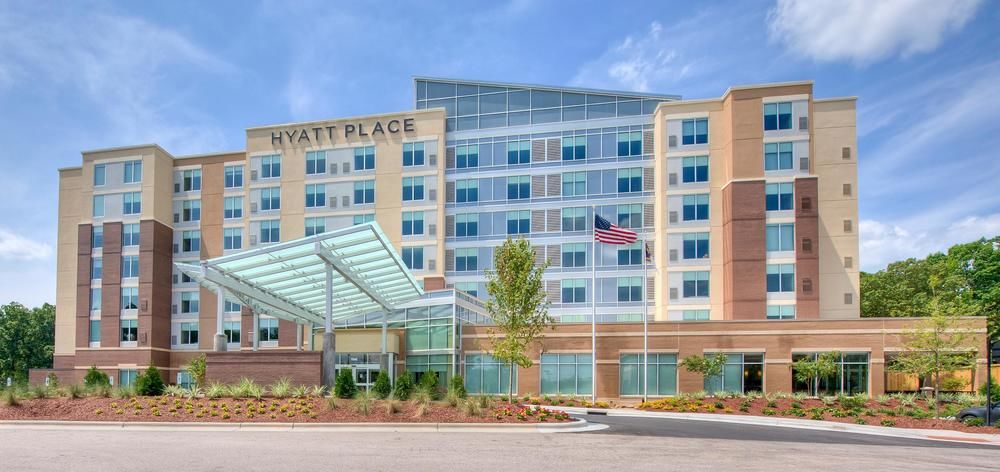 Traveling to the event from out of town, state or country? We've got a discounted hotel rate just for you. But hurry!
You must book before 5 p.m. Friday, September 21st, to receive the discount! Click here to do so.
The Rate:
The Hyatt Place at Durham/Southpoint Hotel has a block of rooms booked for Best Life Summit attendees at a discounted rate of $124/night plus tax. Rooms include your choice of queen or king-sized beds, and this discount is available for both Friday, October 19th and Saturday, October 20th. You must book before 5 p.m. Friday, September 21st, to receive the discount.
The Address:
Hyatt Place Durham Southpoint Hotel | 7840 NC Highway 751, Durham, NC 27713
The Location:
Conveniently located a little over 10 minutes from The Frontier (the event venue), The Hyatt is walking distance from The Streets at Southpoint Mall, which features dozens of restaurants, stores, and a movie theater. It's also less than 20 minutes from downtown Durham, where you'll find some of the best food and dining experiences in the nation.
The Perks:
You'll experience complimentary wifi and a hot breakfast each morning. You'll have access to a business center, a full bar, an onsite lounge, a fitness facility and a large salt-water pool. Check in at 3 p.m. and check out at 11 a.m.
The Booking Process:
Click here to book your room. When booking, use the group code G-BLSG.
If you would rather book via phone, call 919.688.7800, choose option "0" to speak with a reservation team member, and mention the "Best Life Summit" group block.
You must book by Friday, September 21st, to receive the discount.
---
THE DEETS:
Where will the fun be?

The Frontier, 800 Park Offices Drive, Research Triangle Park, 27709
What about parking?

There is a large parking lot surrounding the Frontier -- parking is free.
You said food and drinks! Tell me more.
Your ticket also provides you with dinner and drinks. The provided food, beer and wine comes with your ticket purchase.
I want to come, but I can't stay the whole time! What do I do?

Tickets for the Summit and the Party are sold together only. If you can only stay for part of the time, no worries at all - we are happy that you are coming for as long as you are. However, to enter the event for any amount of time, a purchased ticket is required.
I have kids, and I would love for them to come! Can they?
This event is limited to people 14 years of age and older (high-school aged people and up). For any questions about this, feel free to contact Kaylee at klaw@bestlifeglobal.co
I've never been to anything like this. What should I expect?
Get ready for lots of energy, inspiring people and a tool belt of knowledge. Come with an open mind and leave with action steps for living your best life!
I have a short attention span. Do you think I can handle this event?
We've got you covered! There will be snacks, lots of breaks, time to network and interactive activities. Remember, in addition to getting equipped for your best life, you'll get to top off the day with incredible food and some refreshing beverages.
I have some questions about this event! Who can I talk to?
Feel free to contact Kaylee Law at klaw@bestlifeglobal.co - she loves answering your questions!

Download an event flyer here!