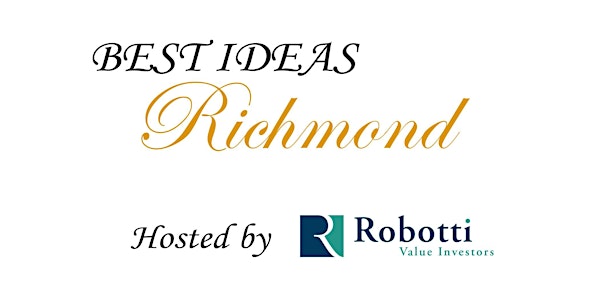 Best Ideas Richmond
When and where
Location
Jefferson Hotel - Grand Ballroom 101 W Franklin St Richmond, VA
Description
Due to the popularity of the Best Ideas Omaha event, Robotti Securities will be hosting a Best Ideas Richmond event centered around the Markel Annual Meeting.
The format will be a mini-conference of Best Idea pitches from select Value Managers. Refreshments will be provided.
Please register on this site to attend the event. Walks ins are also welcome.
Preliminary Speaker line up:
Bob Robotti (Robotti & Company)
Chas Burkhart (Rosemont Investment Group)
Mark Meulenberg(Masonry Capital Management)
Larry Pitkowsky (GoodHaven Capital Management)
Curtis Jensen (Robotti & Company)
Evan Vanderveer (Vanshap Capital)
Jeff Stacey (Stacey Muirhead Capital Management)
Peter Keefe (Avenir Corporation)
David Waters (Alluvial Capital)